Masterworks or copies? How science reveals the truth behind art
New methods of scientifically analysing the composition of paintings has opened our eyes to the past. Through his collaborations with galleries, museums, and heritage sites, Art Historian Professor Maurice Howard has played a key role in shaping and sharing this knowledge.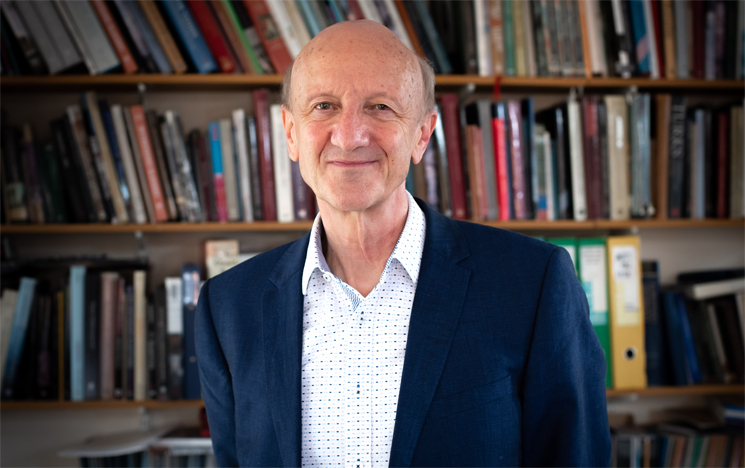 Maurice Howard remembers the excitement he felt when he was able to look at three versions of a celebrated 16th century portrait of Elizabeth I, known as The Armada Portrait, under the microscope.
"It was extraordinary," say the University of Sussex Professor of Art History. "Although I had seen all three portraits on separate occasions in different locations, when they were brought side by side I could see the differences in how they were made - from the colour pigments used and their varying states of deterioration, to the variations in the brush stroke, to the judgment of quality, which usually only comes with seeing this material over many years.
"When you analyse art in technical detail you can build a much richer picture of what was going on in art, in society, in travel and trade at that time."
Howard, a specialist in the Renaissance period, was a key coordinator in Making Art in Tudor Britain (MATB), a collaborative project that began in 2007 between Sussex, the National Portrait Gallery (NPG) and the Courtauld Institute of Art.
MATB involved examining more than 120 Tudor and Jacobean portraits in the NPG, and a further number from other public and private collections, using the latest scientific techniques - including infrared reflectography, X-ray, photomicroscopy, pigment and media analysis and dendrochronology (tree dating).
Sharing knowledge
The findings have enabled art historians, curators and conservators to reach new understandings about painting practices in Britain between 1500 and 1620 and, importantly they are now sharing the knowledge widely through an online database, workshops and international collaborations.
Although it was known that many of these works were produced in studios by teams of artists, new information has confirmed how tracings were made of popular portraits – particularly of monarchs - to create copies to meet the market demand.
In addition, X-ray analysis has revealed when the painted wooden panels were reused to cover older works, or whether changes were made at an earlier stage of the composition, while photomicrography has illuminated the tiniest and often-missed details created by the artists.
"This huge database has enabled us to question what is a masterwork and what is a copy," says Howard. "If you look at six different versions of a particular portrait of Elizabeth I and overlaid them with computer technology, you can see that the face and tracing is exactly the same. So people clearly did take tracings of pre-existing portraits and handed them over to somebody else in the studio to make copies.
"And if we've got, say, eleven surviving versions of that picture of Queen Elizabeth, then there were probably fifty originally. So this really is quite an industry of making, and you can only prove that by doing this technical examination.
"Then you start to see networks of workshops, how geographically and socially they intermingled, when new colour pigments became available, and when wooden boards were re-used."
One examination revealed a religious subject beneath a portrait, yet both compositions had been made in a very short space of time. "This demonstrates that religious paintings were still being produced even after the Reformation," says Howard.
Renaissance revival
This new mass of data has not only been significant for art specialists, it has piqued the interest of public audiences through displays at the NPG and online information explaining some of the insights.
In addition to the analysis, Howard worked with the actor Simon Russell Beale and the Royal Shakespeare Company to produce a DVD filmed in the Society of Antiquaries. Howard, a former President of the Society, recalls: "Simon read texts from Shakespeare's history plays and I talked about the portraits of Yorkist and Tudor kings and queens that are in the Society's collection and were there in the room in which we were performing."
Howard, who has specialised in Tudor and Jacobean art and architecture since arriving at Sussex as a Lecturer more than 40 years ago, acknowledges the renewed interest in the Renaissance period is partly due to the recent popularity of novels such as Hilary Mantel's Thomas Cromwell trilogy – and various historical television series.
"When I started out there were probably only about a dozen or so people across the country working in my area," he says. "I know this from the small-scale conferences my former colleague Nigel Llewellyn and I convened. Now, with the public interest, it's become big business and there are many, many more people looking at the physical and documentary evidence."
The Sussex network
What has also undoubtedly helped has been the fact that Howard and his Sussex colleagues have built relationships and collaborations with a wide range of arts and heritage organisations through their former students who have gone on to work in these places.
"These collaborative projects start because of people knowing each other," says Howard. "The NPG project started with Tarnya Cooper, who was then senior curator at the National Portrait Gallery and is now at The National Trust. Tarnya did her PhD at Sussex with Nigel, I was the internal examiner and the relationship started from there.
"Now, I'm pleased to say, that former Sussex students are working in galleries and museums around the world. Through maintaining these connections and bringing about collaborations, it's wonderful to see how we are continuing to enhance knowledge about the past in such a rich and innovative way."
---