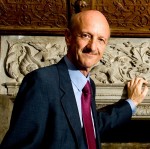 Biography
Biography
Professor Maurice Howard has a History degree from Christ's College, Cambridge (B.A. Hons) and History of Art degrees from the Courtauld Institute, London (M.A., PhD). He came to Sussex after Lectureships at Pennsylvania State University, U.S.A. and the University of St. Andrews, Scotland. He is a Fellow of the Society of Antiquaries of London and was Honorary Research Fellow at the Victoria and Albert Museum, London from 2002 to 2007. He was Chair of the Society of Architectural Historians of Great Britain, 1991-94. Professor Howard was Visiting Chair at the Centre for Renaissance Studies, University of Tours, France, in 2000. From 2005-10 he is serving on the Advisory Council of the Paul Mellon Centre for Studies in British Art. In 2007 he was elected Director of the Society of Antiquaries of London.
Professor Howard is principally an architectural historian of Early Modern Europe whose researches have encompassed the arts of painting and the applied arts. His work has focused mainly on architecture in England in the 16th and 17th centuries, dealing with issues of patronage and the transmission of continental influences into this country. He currently working on aspects of transformation, originating in the examination of monasteries converted to other uses in the post-Reformation period, looking at the architecture of the period in terms of evolving language, regional differences, social and class interaction, and attitudes to the past.
His teaching responsibilities over the years, beyond English visual culture into French and Italian architecture and Dutch 17th-century painting, have underpinned his belief in the importance of comparative work for understanding the context of England, caught between established and emerging technologies of building, stylistic traits medieval and Renaissance, keen consumerism across the visual arts and religious scruples which sought to prescribe luxury trades. Publications on the broad themes of the period stand alongside in-depth analysis of particular sites, such as Laughton Place and The Vyne, where he has worked alongside archaeologists and curators.
Through the University of Sussex Exchange scheme with the Victoria and Albert Museum Professor Howard has had close involvement with two major projects in recent years. He assisted on the preparation of the Gallery of European Ornament and co-authored a book on the subject. He was later Senior Subject Specialist for the Tudor and Stuart sections of the British Galleries, which opened to great acclaim in 2001. This latter work involved curatorship, writing text to support the museum's publications and educational provision, and organising a major conference on the Tudor and Stuart interior. Work at the Museum has re-inforced his commitment to the study of objects in their physical settings as part of understanding buildings in the fullest sense. His current Directorship of the Society of Antiquaries of London, with responsibility for publications and research, extends his fields of interest in the physical remains of the past.
Professor Howard teaches undergraduate and postgraduate courses in interdisciplinary and disciplinary settings:
First year:
Stories of Art
Sites of Art
Exhibition Studies
Objects of Art
Second year:
Domestic and Urban identities: Dutch painting in the 17th century
Third year:
Architecture: Theory, Practice and Social Context.
M.A. Objects and Methods (Core Course), Creating the Court: England and France in the 16th century

Postgraduate Supervision
Recently completed PhD candidates:
Margit Thøfner The Bearing of Images: Religion, Femininity and Sovereignty in the Spanish Netherlands 1599-1635 (funded by a Sussex School of Cultural and Community Studies Scholarship).

Wendy Hitchmough Studies in the Symbolism and Spirituality of the Arts and Crafts Movement.

Lucy Worsley The Architectural Patronage of William Cavendish, First Duke of Newcastle 1593-1676 funded by English Heritage).
Cristiano Ratti Garden Buildings in Urban and Rural Britain, c.1690-c.1780: Style, Form and Function (funded by the AHRC)

Sandra Steele: King Charles II's Winchester Palace 1683-85.
Recently completed M.Phil candidate:
Christopher Guy The Château Fort in Early Modern France c.1477-1565.

Current PhD students (provisional titles):
Susan Bracken: Aspects of Collecting in England 1600-1640.
Emily Cole: The State Apartment in the Early Stuart Country House 1603-1640 (funded by English Heritage)
Alden Gregory: Knole: the 15th century archbishop's palace (funded by the AHRC in collaboration with the National Trust)
Edward Town: Knole: the 17th century transformation (funded by the AHRC in collaboration with the National Trust)
Samantha Twomey: Later 17th century ironwork in England: aspects of manufacture and ornament

Through Professor Howard, the Art History Department at the University of Sussex is part of the 'England's Past for Everyone' Project, 2005-7, supported by the Heritage Lottery Fund and administered by the Victoria County History, University of London. A Postdoctoral Fellow, Dr Jayne Kirk, will write an architectural and social history of Parham House, West Sussex, and a volunteer team will undertake projects on the house and estate with the aim of providing information for visitors, schools and local groups.
Howard, Maurice (2013) The gatehouse and the frontispiece: entering the great house in early modern England. In: La genie du lieu : la réception du langage classique en Europe, 1540-1650 sélection, interprétation, invention. Picard, Paris, pp. 175-188. ISBN 9782708409545
Howard, Maurice (2012) Craftsmen and courtiers: Italian military expertise at the court of Henry VIII. In: The Anglo-Florentine Renaissance: Art for the Early Tudors. Studies in British Art, 22 . Yale University Press, New Haven and London, pp. 265-280. ISBN 9780300176087
Howard, Maurice (2012) Nation, land and heritage. In: British design from 1948: innovation in the modern age. V&A Publications, London. ISBN 9781851776740
Howard, Maurice (2010) The Post-Reformation School in England, 1540-1640. In: Public Buildings in Early Modern Europe. Architectura Moderna . Brepols Publishers, Turnhout, pp. 333-42. ISBN 9782503533544
Howard, Maurice (2008) The Building of Elizabethan and Jacobean England. Paul Mellon Centre for Studies in British Art . Yale University Press, New Haven and London. ISBN 9780300135435
Howard, Maurice (2007) William Sandys: a courtier in a changing market. In: Late Gothic England: Art and Display. Shaun Tyas, Donington, pp. 25-34. ISBN 9781900289801
Howard, Maurice (2006) The Hunting Lodge in England 1500-1650. In: Maisons des Champs dans l'Europe de la Renaissance. Maisons des Champs dans l'Europe de la Renaissance . Edition A. et J. Picard, Paris, pp. 291-298. ISBN 9782708407374
Howard, Maurice (2004) Elizabeth I: A Sense of Place in Stone, Print and Paint. Transactions of the Royal Historical Society, 14. pp. 261-268. ISSN 0080-4401
Howard, Maurice and Wilson, Edward (2003) The Vyne: A Tudor House Revealed. National Trust. ISBN 0707803179
Howard, Maurice (2003) All'antica ornament: its use and limitations in England 1520-1550. In: L'invention de la Renaissance. La réception des formes à l'antique au début de la Renaissance. Picard, Paris. ISBN 9782708406902
Howard, Maurice (2003) Re-cycling the Monastic Fabric: Beyond the Act of Dissolution. In: Conference on the Archaeology of Reformation, 15-17th February, 2001, British Museum, London.
Howard, Maurice (2002) The Historiography of 'Elizabethan Gothic'. In: Gothic Architecture and its Meaning, 1550-1830. Spire Books, Reading, pp. 52-70. ISBN 9780954361501
Howard, Maurice (2002) The treatise and its alternatives: theory and practice in sixteenth-century England. In: Théorie des arts et création artistique dans l'Europe du Nord du XVIe au début du XVIIIe siècle : actes du colloque international organisé les 14 et 16 décembre 2000 à l'Université Charles-de-Gaulle--Lille 3 par le Centre de recherches en histoire. Université Charles-de-Gaulle--Lille 3, Villeneuve d'Ascq. ISBN 9782844670359
Howard, Maurice (2001) Fashionable Living 1500-1700. In: Design & The Decorative Arts: Britain 1500-1900. V&A Publications, London. ISBN 9781851773381
Howard, Maurice (2001) A Drawing by 'Robertus Pyte' for Henry VIII. Architectural History, 44. pp. 22-28. ISSN 0066-622X
Howard, Maurice and Wilson, Edward (1998) The Vyne (Hampshire). National Trust. ISBN 1843590220
Howard, Maurice (1998) Inventories, Surveys, and the History of Great Houses 1480-1640. Architectural History, 41. pp. 14-29. ISSN 0066-622X
Howard, Maurice (1997) Civil Building and Courtier Houses: new techniques and materials for architectural ornament. In: The Age of Transition: The Archaeology of English Culture 1400 - 1600. The Society for Medieval Archaeology Monograph, 15 . Oxbow Books, Oxford, pp. 105-114. ISBN 9781900188555
Howard, Maurice (1996) The Tudor Image. Tate Publishing, London. ISBN 9781854371591
Snodin, Michael and Howard, Maurice (1996) Ornament: A Social History Since 1450. Yale University Press, p. 232. ISBN 0-300-06455-1
Howard, Maurice (1987) Early Tudor Country House: Architecture and Politics, 1490-1550. Hamlyn, London. ISBN 9780540011193