Cecily's story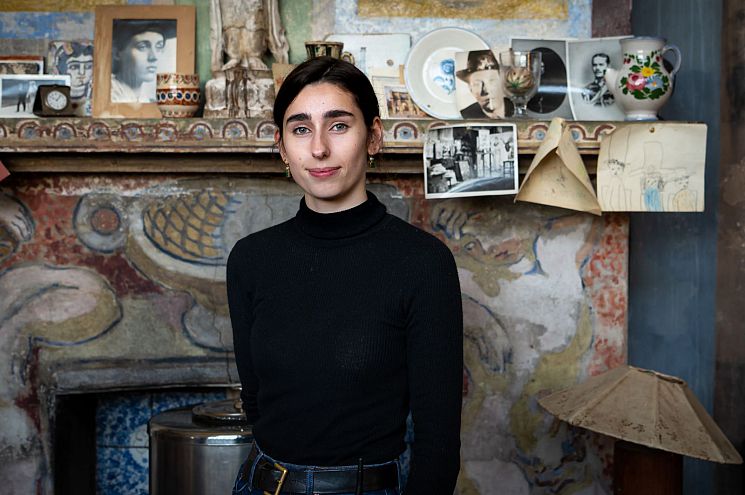 Gaining this experience during my degree has given me great insight into how house museums work – it has really built my confidence."

CECILY DAFFERN


Art History BA
"I never knew that Art History was a subject when I was at school because it wasn't offered as an A-level. I was originally interested in set design, and I was considering studying Art or English at university. But when I heard about Art History, I realised that it combined the two and I found that appealing.
I applied to Sussex after I saw one of the University's lecturers talking on a television documentary. When I researched Sussex, I discovered that some well-known people in the art world – such as the TV presenter and author Lucy Worsley, and Turner Prize-winner Jeremy Deller – had also studied Art History here.
In my second year, I started volunteering at Charleston Farmhouse, the former home of Bloomsbury artists Vanessa Bell and Duncan Grant. I'd heard a lecture on them by one of my Art History lecturers, Dr Wendy Hitchmough. She was also the curator at Charleston, which is just a few miles away from campus, and had been responsible for a £1-million conservation project.
I didn't know anything about the Bloomsbury Group but I found the history and the stories fascinating. When I began volunteering, I was given the opportunity to help at events such as the annual Charleston Festival. I became involved in conservation work and developing the gallery. Within a month, I was employed as a part-time visitor assistant.
I like that it's an independent house museum and that I get to work with artworks and objects that belong here. In fact, I was inspired by the ceramics in the house – made by Quentin Bell, who was the son of Vanessa Bell and once a professor of Art History at the University of Sussex – to write an essay on how ceramics help us interpret house museums.
I'm now considering a Masters in Art History and Museum Curating, and would like to continue working in this area. Gaining this experience during my degree has given me great insight into how house museums work – it has really built my confidence."
You might also be interested in: