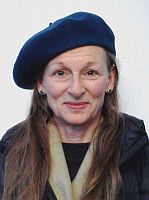 Dr
Wendy Hitchmough
Biography
Dr Wendy Hitchmough has History of Art degrees from the University of Manchester (B.A. Hons) and the University of Sussex (D.Phil). She was Curator at the Bloomsbury artists' home, Charleston, for twelve years. There she was responsible for the £1m conservation project, Charleston Regained, leading to MLA Accreditation and the digitization and online publication of Charleston's collection.
She established a research culture at Charleston including collaborations with the University of Sussex and the British Library National Sound Archive. She contributed full biographical recordings for Anne Olivier Bell and Angelica Garnett to the Sound Archive's Artists' Lives series and co-supervised four AHRC collaborative PhDs with Sussex. Key acquisitions for Charleston that she was responsible for include Vanessa Bell's Iceland Poppies, Duncan Grant's John Maynard Keynes, and the 'Angelica Garnett Gift' of over 8,000 works by Bell and Grant. Working with Charleston's Director, Wendy devised and led a £7m capital project to acquire the 18th-century barns neighboring Charleston Farmhouse and to build new galleries and a collection store. She led the HLF application and project managed the design process to achieve planning permission in 2011.
Wendy was Head of Historic Buildings & Research at Historic Royal Palaces from 2014 to 2018. She achieved Independent Research Organisation Status for the Palaces and was responsible for planning and delivering their research strategy. She established a research partnership between Historic Royal Palaces and Queen Mary University of London. Working collaboratively with curators, she supported the development of innovative academic research projects and AHRC applications. She managed the team of Historic Buildings Curators across six palace sites including the Tower of London, Hampton Court Palace, the Banqueting House Whitehall and Hillsborough Castle in Northern Ireland.
Wendy is currently a member of the AHRC Peer Review College.
She is Honorary Vice-President of the Voysey Society.
Role
Senior Lecturer in History of Art
Location: Arts A A168
Email: W.Hitchmough@sussex.ac.uk

Research expertise: History of art