Media and Communications
Explore our courses, including undergraduate, Masters and PhD degrees in Media and Communications.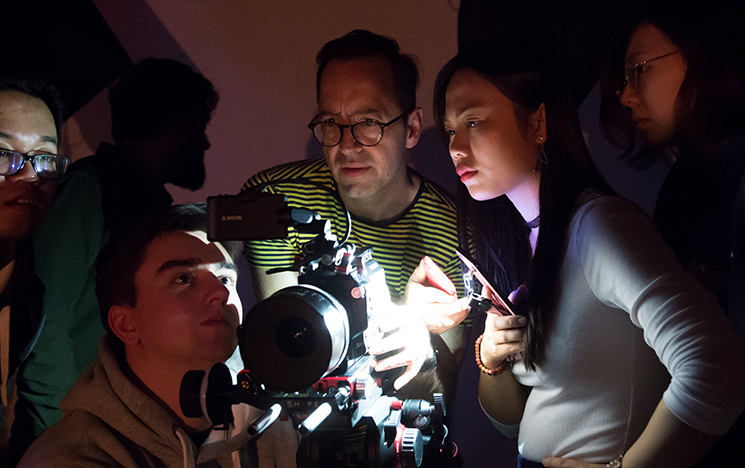 Develop an understanding of the role the media play in shaping our political, social and cultural worlds.
You'll learn from leading researchers concerned with equalities, freedom, social justice and critical thinking in contemporary societies. And you can access our specialist facilities, including:
a news room
edit suites
a sound-proofed studio.
Brighton is a hub for digital and creative media – perfect for work experience and career opportunities.
Explore Media and Communications at Sussex
Meet Georgia
Georgia Walters studied for five weeks at a Social Marketing: Making This World a Better Place course at Nanyang Technological University (NTU), Singapore. The opportunity came about through Sussex's partnership with NTU, with Sussex covering her tuition fees, and providing a bursary for living costs.
The undergraduate view
Video transcript

Hi, my name is Dana Wehbi.

I study Media and Communications at Sussex University.

Today I'm going to talk to you about why I chose Sussex as my university and my subject. I will give you a few tips and hopefully it will help you.

[ON SCREEN TEXT] CHOOSING SUSSEX

So why Sussex?

Because Sussex is one of the top universities of Media Communication, before I even applied to Sussex, I was doing the research to find out what is the best universities of Media Communication.

So, Sussex is one of them.

[ON SCREEN TEXT] STARTING UNI

I know that so many people don't go to this university because their friend doesn't go to that one, which is totally wrong because you are going to make new friends, you are going to meet new people who are studying the same subject as you.

For example, me, I started university with none of my friends, none of them went to Sussex University.

So from the first day I met this group of people who were studying Media Communication, we made a group chat that we always talk about.

We ask questions, we get support and we always go to the library to study together.

[ON SCREEN TEXT] FAVOURITE THINGS

My favourite thing about Sussex is the library, they have a really huge library with the nicest view ever, and it is very calm and quiet there.

I always go to the library to study.

[ON SCREEN TEXT] HOW I'VE CHANGED

As a person, university has changed me, changed my personality.

I am busy all the time with working, studying, going to university, reading books.

Also, Sussex gives support to people who have English as their second language.

So, there is a workshop to help you with the grammar and essays.

Also, there are so many societies you can join.

Voluntary and paid jobs.

[ON SCREEN TEXT] MY ADVICE

Last thing, there is a word advice from me to you: going to university will give you the chance to gain an intensive understanding to foundational aspects of your subjects.

Also, it will give you the chance to strike out on your own and to build your confidence.

So remember, it will give you the freedom to become you.
More about life at Sussex
Virtual tour
Could there be a better place to be a student than our beautiful campus? Nestled in the South Downs National Park, we're just nine minutes from one of the UK's most iconic cities.
To get a picture of life on our campus and the excitement of being in the city of Brighton, take our virtual tour.
Explore more subjects at Sussex: