Film Studies
Discover our Film Studies courses including undergraduate, Masters and PhD degrees.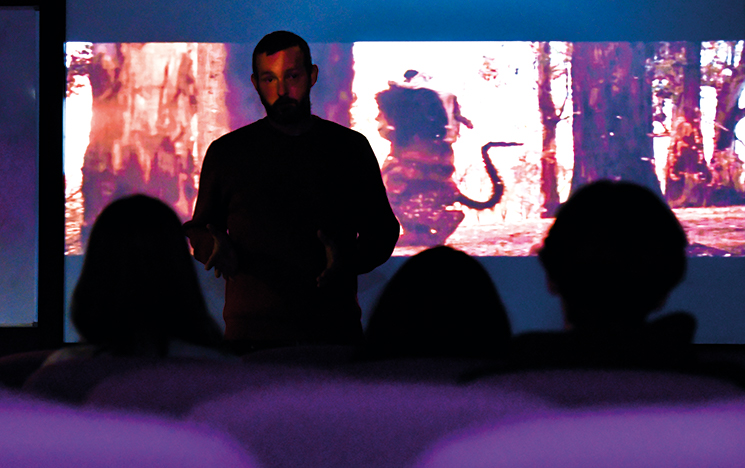 Film Studies helps you understand how cinema entertains, informs and influences its audiences. You'll investigate film as an art form and as an industry.
You can follow your passion – from Hollywood blockbusters to activist filmmakers, and from Latin American cinema to representations of gender, race and sexuality. You'll be able to find the films that interest you, and explore new genres, through our collection of over 5,000 films.
Brighton is the perfect place to study film as it hosts several film festivals every year.
Explore Film Studies at Sussex
Meet Jordi
Jordi Carter feels his Drama and Film Studies degree has made him a lot more knowledgeable about society, culture and art. He's looking forward with confidence to pursuing his performance career.
The undergraduate view
Video transcript

Hello, my name is Jack, and I'm a second year Film Studies student.

In this video, I hope to provide some sort of insight into what it's like to study film at Sussex.

[ON SCREEN TEXT] CHOOSING SUSSEX

One of the things I liked the most about Sussex is the campus itself.

So... I can go for a walk in the countryside, which surrounds the campus if I'm studying all day and it's getting stressful.

It's got that tranquil environment, but at the same time there's always something going on.

I also like the fact that everything's all in one place.

You've got the pharmacy, the library, the study spaces.

[ON SCREEN TEXT] STARTING UNI

Starting university was quite different to anything I had experienced before.

But luckily, by the end of the first term, I had adjusted to this new way of living.

It certainly is different to sixth form or working full-time, and staff are quite accommodating to that because everyone is in the same boat.

[ON SCREEN TEXT] FAVOURITE THINGS

One of my favourite things is that you're not restricted to studying... modules that are related just to your course.

Since Film Studies falls under the domain of arts and humanities, you can also study art history, language, media, english... and that helps to contextualise your learning.

[ON SCREEN TEXT] HOW I'VE CHANGED

Professionally, I have grown.

I know, of course, a lot more about the film industry.

But on a more general level, I can conduct research, collate data and... the whole way that I approach a project has become much more frictionless.

ON SCREEN TEXT] MY ADVICE

My final words of advice is that there are many... factors that determine whether or not a university is right for you, so it's important to follow your intuition.

I know that Sussex however, does have a bit of everything.

It's got the... campus, the city, the countryside and the sea.
More about life at Sussex
Virtual tour
Could there be a better place to be a student than our beautiful campus? Nestled in the South Downs National Park, we're just nine minutes from one of the UK's most iconic cities.
To get a picture of life on our campus and the excitement of being in the city of Brighton, take our virtual tour.
Explore more subjects at Sussex: