Jordi's story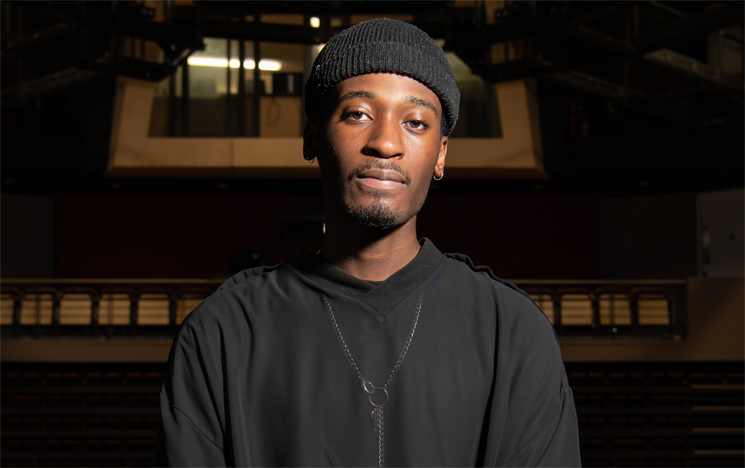 Wherever I go next, I know that what I've done at Sussex will act as a stepping stone to finding and taking up space in the industry."

Jordi Carter


Drama and Film Studies BA
Young Associate at the Young Vic Theatre, London
"After graduating, I was lucky enough to become the Taking Part and Directors Program Young Associate at the Young Vic Theatre in London. My role involves engaging community members, young people, emerging artists and professional directors in the work of the theatre. I also contribute to the creative delivery of the theatre's projects, productions and output.
"I've also been selected for the BBC Open Music Programme, where I'll be spending the next 12 months being mentored by a BBC presenter. I'll collaborate with other creatives on the programme and within BBC Radio & Music in the run-up to the BBC Proms in 2022.
"As a Black actor and creative, the most important thing for me is being surrounded by others who use their responsibility as storytellers to provoke change.
"My goal is to be part of work that celebrates how important stories are on stage and screen – as representations of culture and thoughts – as well as the voice of the many that don't have the access to be heard. Because everyone has stories to tell.
"My Sussex degree allowed me to focus on understanding the power of theatre and film as gateways for human relatability. Being able to acknowledge how instrumental these art forms are in spotlighting cultural narratives is why I am in this industry. I focused my attention on past and present examples of Black voices, Black experiences and Black narratives within theatre and film. I wanted to figure out how I could use my craft to join the work of Black creatives who are re-imagining the histories and futures of Black art and representation.
"Taking control of what I wanted to see and learn about in my education showed me the work I want to create in the future. The choices I made with my degree at Sussex have honoured my creativity and purpose. Wherever I go next, I know that what I've done at Sussex will act as a stepping stone to finding and taking up space in the industry."
You might also be interested in: