Drama and Theatre
Choose from a range of Drama and Theatre courses, including undergraduate, Masters and PhD degrees.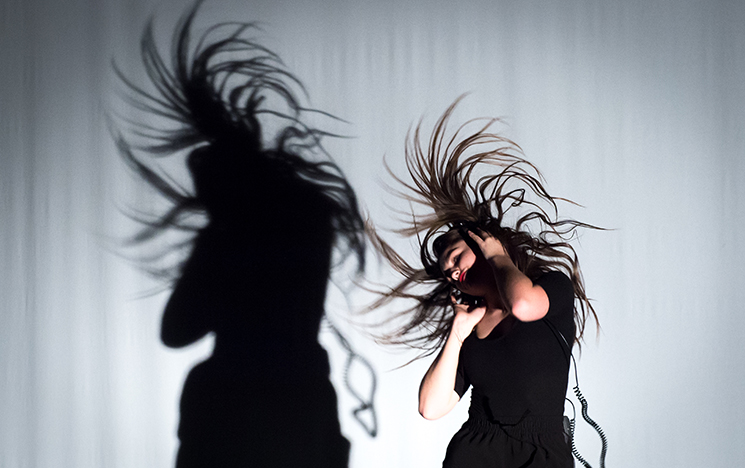 Theatre and performance have the power to change perceptions, express complex ideas and create playful encounters across society.
You'll develop performance, writing, directing and analysis skills. And via practice and theory, you'll examine theatre's historical, political and cultural contexts. You'll enjoy:
versatile campus facilities, including the Attenborough Centre for the Creative Arts (ACCA)
regular theatre trips in Brighton and beyond
international practitioners bringing shows to the ACCA and running visiting artist workshops at Sussex.
Explore Drama and Theatre at Sussex
Meet Jordi
Jordi Carter feels his Drama and Film Studies degree has made him a lot more knowledgeable about society, culture and art. He's confidently looking forward to pursuing his performance career.
The undergraduate view
Video transcript

Hello, my name is Ella, and I am in my final-year of studying drama at Sussex.

I am also a bit of an art lover in general, which might not come as too much of a surprise, and I'm going to talk a bit about my experience at Sussex.

[ON SCREEN TEXT] CHOOSING SUSSEX

So firstly, why did I choose to study at Sussex?

Well, I looked at the website, I read about the course and I was quite interested in the fact that it has a contemporary focus.

So it looks at performances which are relatively new, often performances which intersect with dance and live art and other forms of art making and which are also often very politically oriented.

So I was interested in all of these different things, but what sealed the deal for me was actually coming to the University and walking around the campus and getting a feel for the atmosphere.

[ON SCREEN TEXT] FAVOURITE THINGS

So my favourite part of being at Sussex so far has been making theatre not just as part of the course, but also within the Drama Society.

In both of these different places, people are really passionate and really open, and it's quite easy to make friends.

[ON SCREEN TEXT] HOW I'VE CHANGED

So I think I've grown the most as a writer.

Not only how I become more confident in my approach to writing.

I've also developed my own niche interests, which I think will propel me nicely towards my dissertation, but also set me up well for the future in terms of knowing what it is that I want to do.

[ON SCREEN TEXT] WHAT'S NEXT?

So what's next?

Well, I am going to be in my final term of University very shortly and I will be doing the work experience module, which means that I get to travel up to London and work at Arts Admin, an organisation that I'm really interested in.

I'll also be doing my dissertation and then once I graduate, I want to get some experience in the arts and start working towards directing and writing.

[ON SCREEN TEXT] MY ADVICE

My parting words of advice are if you get the opportunity to, do come and visit the University.

It's really helpful in allowing you to visualise yourself working and studying and living in the University and in the city of Brighton.

All of these things are useful when you need to make a decision about what it is that you want to do, and where it is that you want to do it.
More about life at Sussex
Virtual tour
Could there be a better place to be a student than our beautiful campus? Nestled in the South Downs National Park, we're just nine minutes from one of the UK's most iconic cities.
To get a picture of life on our campus and the excitement of being in the city of Brighton, take our virtual tour.
Explore more subjects at Sussex: