Philosophy
Discover our undergraduate courses, Masters and PhD degrees in Philosophy.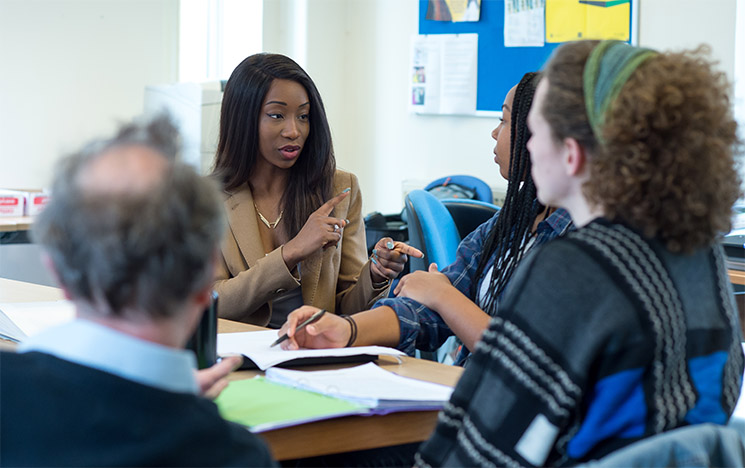 Studying Philosophy at Sussex you'll have the rare opportunity to explore both analytic and continental philosophy. You can combine the traditional with the alternative and explore a range of unexpected approaches to the basic questions of philosophy.
We also offer PPE (Philosophy, Politics and Economics), where all three subjects are taught by experts carrying our original and innovative research.
From our lively Philosophy Society to Brighton's Philosophy Café, you'll experience stimulating culture and debate. You'll study in a supportive environment where you're encouraged to also explore other subjects. This allows you to follow your interests and gain a range of transferable skills for your future career.
Explore Philosophy at Sussex
Meet Valerie
As a Junior Research Associate, Valerie Kpoyre's (Philosophy and English BA) work celebrated the rich history of generations of Black Sussex alumni. She worked with playwrights, filmmakers, sociologists and photographers.
The undergraduate view
Video transcript

Hello, my name is Charlotte, and I'm currently studying a History and Philosophy, joint honors degree.

And today I'm going to have a quick chat with you about my life at Sussex on the Philosophy course.

[ON SCREEN TEXT] CHOOSING SUSSEX

I was initially advised to look into the course at Sussex by my A-level philosophy teacher and through the virtual Open Days, I found that the course was a lot more modern than some of the more traditional courses that other universities have to offer.

So I just decided to go for it and apply, and it's worked out pretty well so far.

[ON SCREEN TEXT] STARTING UNI

When I first came to Sussex, it was definitely quite daunting.

But everybody here is so lovely and the lecturers could not have been more accommodating.

So I did settle in so quickly and it was definitely a very positive start to my time at Sussex.

[ON SCREEN TEXT] FAVOURITE THINGS

What I have enjoyed the most about the course so far is the opportunity to learn new aspects of Philosophy that I would have never even considered.

The breadth of knowledge and the resources that you have access to has been absolutely fantastic.

And it's definitely made the course for me so far.

[ON SCREEN TEXT] HOW I'VE CHANGED

Since starting at Sussex, I have definitely changed so much as a person, I've become a lot more confident in my abilities, both as a student and as someone outside of academics.

I've met so many amazing people and I've made so many amazing memories, and it's definitely brought me out of my shell a lot more.

[ON SCREEN TEXT] WHAT'S NEXT?

Sussex has given me the push to make the most of any, and all opportunities given to me.

And because of that, I have enrolled in an additional module that will help me prepare for a placement in my third year, which is very, very exciting.

And I don't think that would have been possible without the confidence boost that I've gained from my time at Sussex.

[ON SCREEN TEXT] MY ADVICE

On a final note to any of you who were worried about making the right decision in terms of your course.

I initially applied to study the English and Philosophy joint honours degree, but I decided that wasn't the right fit for me and the University was so accommodating towards that.

You can really tailor your course to you.

So I honestly wouldn't worry.

Thank you very much for listening, and I hope to see you around campus next year.
More about life at Sussex
Virtual tour
Could there be a better place to be a student than our beautiful campus? Nestled in the South Downs National Park, we're just nine minutes from one of the UK's most iconic cities.
To get a picture of life on our campus and the excitement of being in the city of Brighton, take our virtual tour.
Explore more subjects at Sussex: