Valerie's story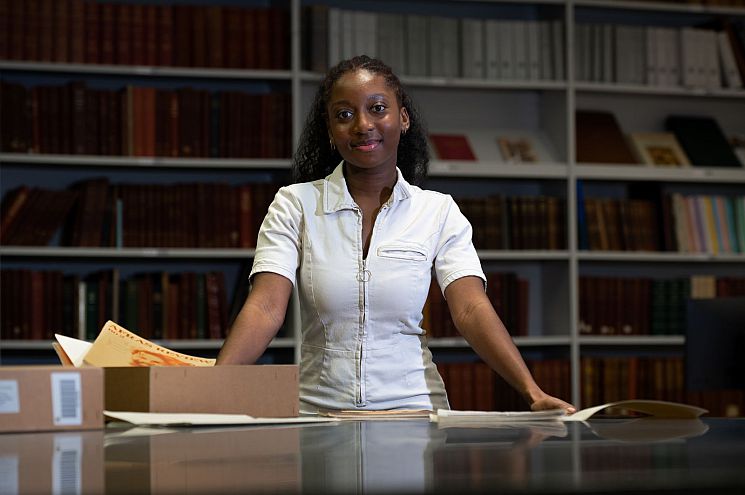 I hope I've been able to make a difference in building that community and awareness of Black people at Sussex and their histories."

VALERIE KPOYRE


Philosophy and English BA, Junior Research Associate
"I applied to be a Junior Research Associate (JRA) after I heard about the Black at Sussex project, which is a celebration of the history of Black students at the University.
I didn't know anything about how many incredible Black people came here, and how much difference they had made in Black British culture and British culture. There was such a rich tapestry. It made me feel like I had a community that was backing me in my education.
For my research, which I did for eight weeks before starting my third year, I worked with Black Sussex alumni to get a sense of what it'd been like across generations. I interviewed playwright Michael McMillan, filmmaker Topher Campbell and sociologist Paul Gilroy. And I collaborated with photographers Eddie Otchere and Charlie Phillips on the photography of Black alumni.
One central theme was how Sussex had changed them. Even though it wasn't easy for them, it was a pivotal moment in their lives in understanding and exploring their identity. I also went to The Keep for my research and looked at archive documents from what used to be the University's School of African and Asian Studies.
It made sense that people came to Sussex to study because this was a space where they felt they could gain something. It was so exciting to see this written history, especially around Sussex's involvement in the anti-Apartheid movement. It has led on to so many things for me, such as taking part in a panel discussion at the Black Cultural Archives in Brixton – founded by Sussex alumnus, the late Len Garrison. Being a JRA reminded me how much I love education. I'd like to take some time out after my degree, but I'd like to do a Masters and maybe a doctorate. I think it's a different way of understanding the world around you.
I always try to add value to the spaces I occupy in any way, shape or form, and I hope I've been able to make a difference in building that community and awareness of Black people at Sussex and their histories. Sussex has been such a wonderful place to explore who I am and what I want."
You might also be interested in: