Black Cultural Archives host University of Sussex's inaugural event for its 'Black at Sussex' programme
By: Alice Ingall
Last updated: Thursday, 22 September 2022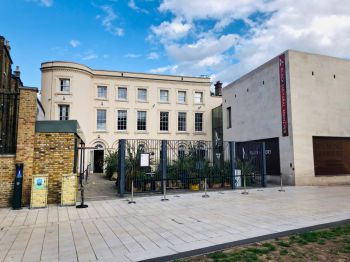 At an intimate event this evening (Thursday 22 September 2022), members of the University of Sussex, Black Cultural Archives, and figures from arts and culture, will come together to celebrate the first event of the University's five-year 'Black at Sussex' programme.
Black at Sussex aims to improve the experience of Black students at Sussex through the celebration of University of Sussex Black alumni and their contribution to British life, alongside a programme of critical discussion about the experience of being a Black student at Sussex.
Held at the Black Cultural Archives, founded by Sussex alumnus and curator of Black British history, the late Len Garrison, the event will recognise the life and work of Garrison and mark the beginning of the University's collaboration with the UK's home of Black British history.
The event, titled 'Photography, Archiving & Power,' will explore the importance of photography in documenting and archiving the Black experience and will feature internationally renowned photographers Charlie Philips and Eddie Otchere, speaking about the Black at Sussex photography project, for which they were commissioned to take portraits of a number of influential Black University of Sussex alumni. They will be joined by filmmaker, theatre director, and writer Topher Campbell and the playwright, author, and educationalist Michael McMillan, who are two of the photographed Sussex alumni.
Chair of the Board of Trustees at Black Cultural Archives, Dr Yvonne Thompson CBE|DL says: "It is often said that photographs say a thousand words. Therefore, as a medium, photography is a compelling way to imprint easy and accessible learning for everyone; thereby leaving an indelible footprint of our history in their memory. At Black Cultural Archives, we welcome and congratulate the Black at Sussex programme and learning around photography, archiving and power which reflect our history, heritage, and culture in its true light."
Vice-Chancellor of the University of Sussex, Professor Sasha Roseneil, who will be giving an address at the event, says: "It is fitting to hold this inaugural event in the Black at Sussex programme at the Black Cultural Archives, which showcases the extraordinary life's work of esteemed Sussex alumnus, Len Garrison. Through Black at Sussex we seek to celebrate the many achievements of Black Sussex alumni, and to explore the impact they have had on the world. Staying true to the founding spirit of Sussex, the programme also seeks to challenge convention and complacency, asking difficult questions about how it feels today, and has felt historically, to be a Black student at Sussex, as part of the work we need to do to create a radically diverse, inclusive, anti-racist university.
"I am thrilled that we are embarking on this journey in such illustrious company and I look forward to an event that will be as illuminating and thought-provoking as it will be entertaining."
Through a series of conversations led by cultural curator, educator, and producer Karina H Maynard, the speakers will explore approaches to archiving, drawing on themes of power, gaze, and the significance of Black photographers. They will also explore how the identities of the photographer and subject influence the process and experience and how this shapes overall narratives and power dynamics when documenting Black history.
Discussion with Philips and Otchere will focus on their work and photography partnership on the Black at Sussex project, whilst Campbell and McMillan will speak with Maynard about their individual stories as cultural figures and artists and how they experienced having their photos taken by Black photographers for the purpose of this project.
Marie Garrison (Len Garrison's widow) will discuss Garrison's personal relationship with photography and how he felt about photographing the diaspora, focusing on his images taken in Ghana, South Africa, and Nigeria. Garrison's son, Tunde, has created a playlist of his father's favourite songs, which will provide a soundscape to the event.
The audience will be treated to a performance by another Sussex alumna, the poet Jenny Mitchell who recently won the Ironbridge Poetry Prize 2022 with her poem 'One Bright Morning'.
And Valerie Kporye, currently studying Literature and Philosophy at Sussex, will also be speaking to the event attendees about her involvement in the Black at Sussex programme and what it means to her as a Black student at Sussex.
Kporye says of 'Black at Sussex': "Both the purpose and title of the Black at Sussex programme are incredibly powerful. As they unveil a history of featured and esteemed Black alumni, they also reintroduce a community of Black students at Sussex, which, I feel was previously missing. Showcasing the wonderful and varied legacies of these individuals enhances that sense of belonging, providing inspiring examples of what can be achieved by Black Sussex graduates."