Iconic co-founder of the Black Cultural Archives and Sussex alumnus, Len Garrison celebrated for 60th anniversary
Posted on behalf of: Internal Communications
Last updated: Friday, 4 February 2022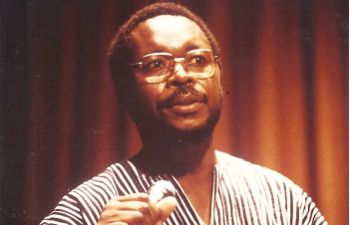 The remarkable cultural contributions of activist, historian, educationalist and University of Sussex alumnus, Len Garrison, will be remembered and celebrated at an event at the Attenborough Centre for the Creative Arts, on the afternoon of Wednesday 9 February.
An African and Caribbean History Sussex graduate, Garrison, who sadly died in 2003, dedicated his life to cataloguing the development and teaching of Black British identity and history, notably through co-founding the Black Cultural Archives and the Afro-Caribbean Education Resource (ACER).
As part of the University of Sussex 60th anniversary celebrations, the event will be the first in a series of events, which will celebrate the cultural contributions and achievements of Black alumni from the University of Sussex, and explore the experiences of Black students at Sussex.
The event will take the form of a series of conversations led by cultural curator, performing arts educator, and producer of the Black British Theatre Awards, Karina H-Maynard, with guest speakers including: Garrison's widow, Marie their son Tunde, and Dr Yvonne Thompson CBE, Chair of the Trustees of the Black Cultural Archives. Also present will be internationally recognised photographers Charlie Phillips and Eddie Otchere who have been commissioned to capture new portraits of some of the leading Sussex Black alumni celebrated in the event series; along with students and academics Gavin Mensah-Coker and Professor Martin Evans from the School of Media, Arts and Humanities.
The event, entitled Black at Sussex: A Celebration of Len Garrison, will run from 2-4pm at the Attenborough Centre for the Creative Arts and is free and open to all, but tickets must be booked via The Attenborough Centre website. Live music will be playing Reggae and African Hi Life Beats from 12.30pm to welcome guests.
A series of Black at Sussex events will take place in the coming months. On 2 March, Sussex alumnus Bernard Coard, will be in conversation with Gavin Mensah-Coker about his seminal text How the West Indian Child is Made Educationally Subnormal in the British School System. On 31 March, Sussex alumni, Clive Myrie and Topher Campbell will be in conversation about their experience of Sussex, supported by Nzinga Sounds System. Further details to follow.