American Studies
Discover our undergraduate courses and PhD degrees in American Studies.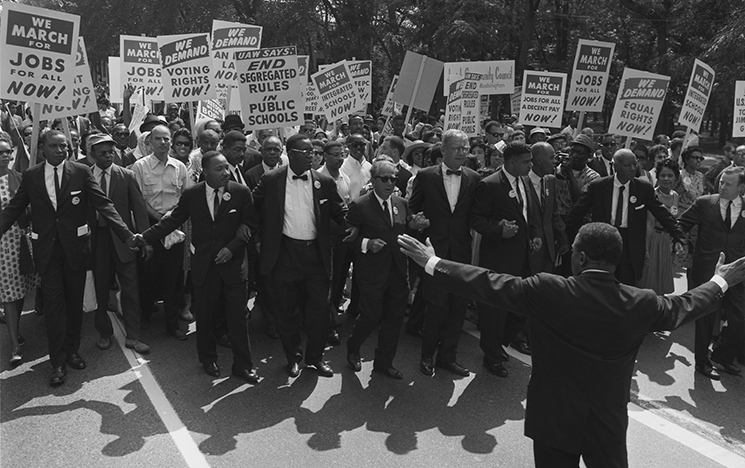 Since the early 1960s, students have undertaken BA American Studies degrees at Sussex; by studying American history, politics, literature and culture, you'll better understand the world we live in today.
Our research interests are broad and our teaching reflects this diversity. You'll have the opportunity to study what inspires you most.
A year studying at a university in North America will build your confidence and expand your intellectual horizons. Our prestigious partner institutions include universities such as UC Berkeley and Georgetown.
Explore American Studies at Sussex
Meet Victoria
Victoria Gill, American Studies (with a study abroad year) BA, was interested in how class and race are represented in society. After a year spent studying in Los Angeles, Victoria returned to Sussex and set up the University's first fashion magazine, Fabrik, with the motto 'reclaim, redefine, empower'.
The undergraduate view
Video transcript

Hi, my name is Ewan.

I'm a final year American Studies student here at the University of Sussex.

Today I will be discussing why you should seriously consider putting Sussex as your first choice.

There are several reasons actually, I think the first one is its location.

You're a stone's throw away from London, it's about an hour on the train.

You also get the combination of a campus that's on the edge of the South Downs that is surrounded by beautiful woodland.

And you're in the middle of nowhere, essentially.

But it's also incredibly accessible to Brighton.

You have the hustle and bustle of the city and the peace and quiet when you need to study.

So, I really like that aspect of it a lot.

[ON SCREEN TEXT] STARTING UNI

So starting at university can be a really intimidating and scary time, and it's completely normal.

It is quite scary at first, but you settle in really quickly and you know, it's not this idea of, you know, going out all the time and partying, you know, because not everybody's into that and that's completely fine.

There are so many other things to do.

There's so many societies and sports teams, clubs.

For example, in my first year, I took part in the Dog Walking Society, which is amazing.

I highly recommend it.

You just get to spend the day with dogs.

It's great, and the people here are amazing.

One of the bonuses of being on a campus university is everything's really accessible and it's really easy to meet up with your friends.

It's really easy to meet people and, you know, just getting around is easy.

[ON SCREEN TEXT] FAVOURITE THINGS

The wealth of opportunity and just in general, things to do like there is never a boring moment here, which I love, but also like the course itself is amazing.

You know, the class sizes are a decent size, which means you get all the valuable materials from your lecturers and all the support you need.

It also means you can meet the best people because the class sizes aren't huge.

Specifically in a subject like American Studies like it's not a very big course, but there's enough of you that you can make friends.

You have that sort of academic support and that camaraderie, which I think lacks sometimes in bigger subjects.

So I really, really love that.

[ON SCREEN TEXT] HOW I'VE CHANGED

My first year, I served as a student rep. In my second year, I was able to land a paid internship over the summer, which really helped, especially during COVID.

And there's just so much support in terms of assignments.

And, you know, applying for Masters programs like I'm doing at the moment, just the level of support and opportunities is really exceptional, and I couldn't recommend it more, honestly.

[ON SCREEN TEXT] WHAT'S NEXT?

The American Studies programme is so interdisciplinary that you gain so many valuable skills, including analytic and research skills, communication, writing, all of these skills that are transferable and can be put into a multitude of employment sectors.

For example, I think I mentioned at the beginning that I'm planning on doing my Masters here, at Sussex in Geopolitics and International Affairs.

And my goal is to work for the Ministry of Defense, hopefully one day.

I'm not completely set on a career as such, but that's OK, I have time.

And also, the process of actually applying to the Masters was really easy and getting academic references and things like it sounds really stressful.

I promise you, it's not.

It's so easy.

[ON SCREEN TEXT] MY ADVICE

Really live in the moment because it does go so quickly, it only seems like yesterday that I was like moving into halls and I'm now about to start my final term.

So it's gone like that, it's crazy.

So really, enjoy it.

That's all I'm going to say really is really, really enjoy it because it does fly.

And I can honestly say, hand on my heart that these have been the best three years of my life and I wouldn't want it any other way.

Even with COVID, you know?

Um, so yeah, just enjoy it.

I hope everybody's exams go well and the application to uni isn't really stressful.

I hope to see some of you here at Sussex next year, take care.
More about life at Sussex
Virtual tour
Could there be a better place to be a student than our beautiful campus? Nestled in the South Downs National Park, we're just nine minutes from one of the UK's most iconic cities.
To get a picture of life on our campus and the excitement of being in the city of Brighton, take our virtual tour.
Explore more subjects at Sussex: