What to do with a Mathematics degree
Explore the careers you might be interested in going into after studying a Mathematics degree.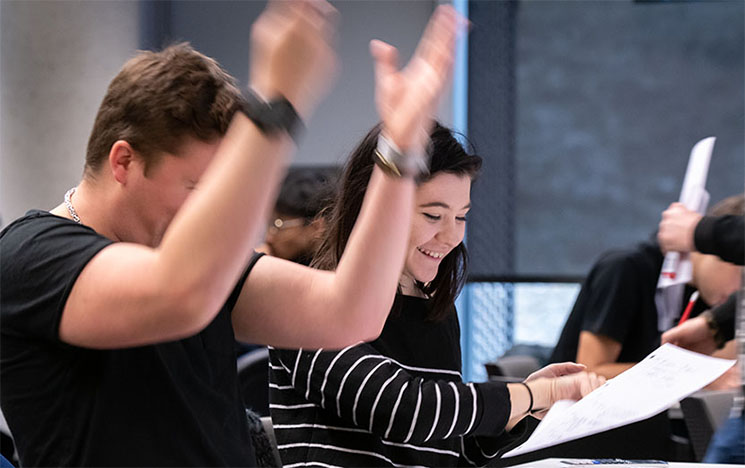 What can you do with an undergraduate Mathematics degree?
Mathematics students can go into a number of career areas, including engineering, finance, IT and business consultancy.
If you decide to study at Sussex, you can choose from a range of modules and use industry-standard software such as MATLAB, Python and R.
Already at Sussex? Visit our careers site.
What jobs can you get with an undergraduate Mathematics degree?
Jobs may include, but are not limited, to:
statistician
actuarial or data analyst
software or sound engineer
investment analyst
chartered accountant
data scientist
game designer
CAD technician
financial trader
software tester
teacher.
If you haven't studied a degree yet and you're considering a Mathematics course, you may want to browse our:
What do our Mathematics graduates do?
Recent Mathematics graduates from Sussex have gone into careers including:
actuarial pricing analyst, Canopius
analytics consultant, Capgemini Invent
assistant pricing and planning manager, Volkswagen Financial Services
assistant project accountant, BAE Systems
audit and assurance, PricewaterhouseCoopers (PwC)
business development manager, CCS Prepay
data analyst, Kubrick Group
data scientist, IG
head of quality assurance, Fusion GFX
specialist risk manager, Lloyds Bank.
Some of our graduates have also gone on to study for a PhD or teaching qualification.
(Department of Mathematics career database)
I work in corporate banking, dealing with trading and businesses. The analytical skills I gained during my degree are crucial in my job.

"

MARIANNE THOMPSON


Mathematics BSc graduate
Business Associate, Clydesdale Bank
Skills
You'll develop knowledge and skills highly valued by employers:
an understanding of the theories and techniques that underlie modern mathematics and the ability to apply them
an analytical approach to problem-solving
effective use of industry-standard software for analytical and modelling skills
working independently to tight deadlines
developing research skills to help prepare you for a career in research.
At Sussex, you can further develop your study skills by signing up for a range of workshops, tutorials and online resources.
At GE, we're looking for confident, creative graduates who can make things happen. Mathematics graduates have the ability to analytically approach problems, find solutions and apply them.

"

MIRANDA LOUEY


Information Technology Leadership, GE Healthcare
Work experience and placements
You can gain work experience by doing a placement with an organisation.
At Sussex, during your degree, you can choose to apply for one of the below:
a professional placement
a research placement (you may be able to do a research placement if you are a high-performing student on a selected science course)
an integrated placement if it is a requirement for a course.
This may help you gain skills and work experience before you graduate. You'll be responsible for applying for and securing your placement. Find out more about placements and internships at Sussex.
You may also want to look for work experience opportunities at organisations, in areas such as:
banking
consulting
computing
financial services
the Civil Service
retail.
Recent students have gone on placements at:
Rolls-Royce Motor Cars Ltd
NATS Holdings
HEFCE.
(Department of Mathematics career database)
I very much enjoyed my placement. I worked as an actuarial pricing analyst. My coding improved so much and I feel I got a great insight into actuarial roles.

"

AMY VAN DAMME


Mathematics with Economics (with a professional placement year) BSc
Placement at Legal & General
Employer Programme opportunities
We are a core part of the SEPnet (South East Physics Network) consortium, which gives us links to universities and industries across the region. SEPnet's Employer Programme creates opportunities for our Mathematics, Physics and Astronomy students to apply for eight-week funded summer placements.
Learn more about the opportunities offered by the Employer Programme.
---
What can you do with a Masters in Mathematics?
You might want to pursue a career in any of the above jobs. Or you could think about continuing your education further.
At Sussex, we offer research (PhD) degrees in the following subject areas:
You may then be able to go into an academic career, including roles such as:
researcher
higher education lecturer
professor.
For more information about what to do after a Mathematics degree, see the Prospects website.
If you're a current student, see more advice from our careers section.
---
You might also be interested in: