Physics and Astronomy
From astronomy to theoretical physics and quantum technology – at Sussex, you can choose from a range of undergraduate, Masters and PhD degrees.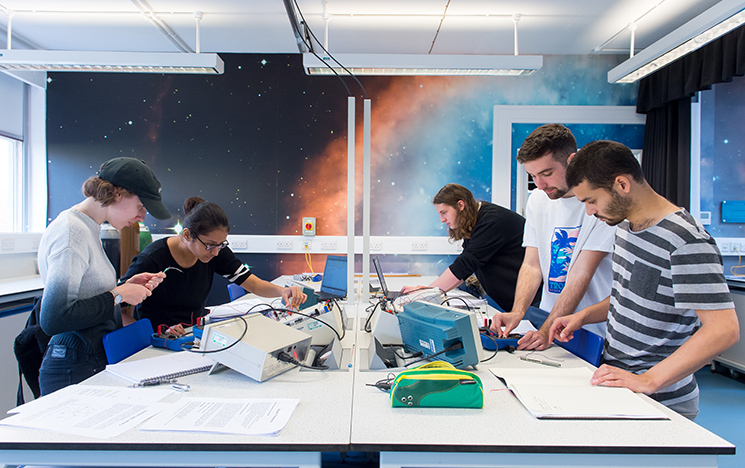 We're at the forefront of physics and astronomy research:
developing next-generation quantum technology, devices including quantum sensors and quantum computers
working on the ATLAS experiment at the CERN Large Hadron Collider and the latest neutrino experiments
observing the origins and evolutions of our universe with the largest available telescopes and gravitational waves

exploring high energy theory, such as unravelling the nature of dark matter, quantum gravity and quantum effects in black holes.
Our research underpins your teaching. From the mysteries of the quantum all the way up to the large-scale structures in our cosmos.
You'll be part of our close community. You'll have opportunities to work alongside our world-leading faculty on ground-breaking discoveries. And you'll have access to the latest equipment, including a rooftop optical, radio, and muon telescope.
Explore Physics and Astronomy at Sussex
Meet Shobita
Shobita Bhumbra, PhD researcher in Quantum Physics, is working with ultra-cold atoms to see how tiny currents help change stem cells in neurons (brain cells). This could potentially lead to treatments for dementia and brain damage.
The undergraduate view
Video transcript

Hello, my name is Callum.

My pronouns are they/ them.

I'm studying in my fourth year of a Physics MPhys at the University of Sussex.

The main takeaway message that I want to give you today is that the University of Sussex has really helped me to find out who I am as a person and what I want to get out a life, both in terms of my academic and personal life.

[ON SCREEN TEXT] CHOOSING SUSSEX

You may have already heard that the University of Sussex is a world class research institute, especially if you read league tables.

But I'm here to tell you that in my experience, that has been found true.

The same passion that you are communicated in Open Days and Applicant Days by people in Astronomy and Particle Physics in particular that carries through and those same academics are the same people teaching you and giving you that inspiration every day they teach.

And I think that inspiration has been a crucial part in helping me to further my interest and passion for physics.

[ON SCREEN TEXT] STARTING UNI

Starting university, there's always a fear of making friends.

I was definitely afraid, but I'm here to tell you that studying Physics at the University of Sussex, that was quite easy.

You had the stuff involved with the Students Union with freshers fair and the many societies involved there.

But within the School of Mathematical and Physical Sciences, we have our own subject induction to get to know people.

And within the structure of the degree, there are workshop classes that you can really get to know each other as you work through the problem content with your peers.

[ON SCREEN TEXT] FAVOURITE THINGS

My favourite thing about studying Physics at Sussex is the community aspect you get as being a part of the department.

It's quite a small department.

There's no more than 60 people per year group and that means that everyone is known by face and name within the department.

And so that means there's always someone you can go to for personal or academic support within our department.

There's also an excellent careers team associated with MPS, which has really helped to find summer placements and graduate prospects for myself and others within the department.

[ON SCREEN TEXT] WHAT'S NEXT?

Right now, I am studying my final year project involved with the Particle Physics Research Group at Sussex, looking at the ATLAS experiment and through this work, which I think is quite exciting, I want to take this further and do a Ph.D. in Physics when I graduate.

[ON SCREEN TEXT] MY ADVICE

My advice for anyone considering a degree or a physics degree is to really pick somewhere where you can make the degree your own and follow your heart and follow your passions.

And I believe Sussex can really offer you that chance.
More about life at Sussex
Virtual tour
Could there be a better place to be a student than our beautiful campus? Nestled in the South Downs National Park, we're just nine minutes from one of the UK's most iconic cities.
To get a picture of life on our campus and the excitement of being in the city of Brighton, take our virtual tour.
Explore more subjects at Sussex: