Computer Science and Artificial Intelligence
From computer science and computing, to artificial intelligence courses – at Sussex, you can choose from a range of undergraduate, Masters and PhD degrees.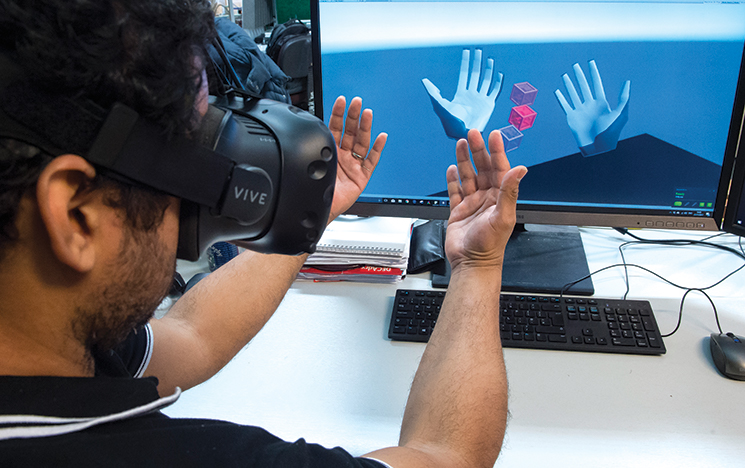 From the first intercontinental computer link in 1973 to today's research into artificial intelligence and bio-inspired computing, we come up with creative solutions for the technology of tomorrow. You'll study in our Future Technologies Labs and benefit from a student-focused hub, suites of high-spec computers, and new teaching and project workspaces. You'll have the opportunity to study what interests you most, from machine learning to wearable and haptic interface devices.
If you have a passion for digital media, from video to games, you can combine a professional education in computing with specialised study of the technology for creating and communicating multimedia content. You'll be in Brighton – a city at the forefront of the UK's creative and digital industries.
Explore Computer Science and Artificial Intelligence at Sussex
Meet Alice
Alice Torjussen is doing her PhD in Animal-Computer Interaction. She combines a mixture of engineering/design, computer science and animal behaviour/cognition to investigate dogs' perception of disembodied technology, such as Skype or FaceTime.
The undergraduate view
Video transcript

I'm Chloe.

I'm a Digital Media student in my final year here at Sussex.

I really like badminton, rock climbing - I've joined the mountaineering club here at Sussex, and I love playing video games!

[ON SCREEN TEXT] CHOOSING SUSSEX

I chose Sussex because it has a really unique course.

So, I'm doing Computing for Digital Media, which no other university does.

And that includes a good balance of computer science and also design work - a more creative side to it.

[ON SCREEN TEXT] STARTING UNI

I remember fresher's week being a lot of fun.

There were going in nights and going out nights.

I was quite nervous.... (umm) and it was quite daunting.

But they had so many events where you could go and meet people and just have a lot of fun.

So I remember going to a Sussex dance taster session with the Dance Society and it was street dance and I was absolutely awful.

But, I got to meet some really nice people there.

[ON SCREEN TEXT] FAVOURITE THINGS

My course had some really fun modules.

I remember the video production module being so much fun, especially being in the Media Technologies Lab, which had a great studio set up.

And also the teachers were amazing - Patrick and Kobe.

They had so much enthusiasm for the course and it made it really enjoyable.

Sussex has a great support system, so you get a student advisor... (umm) an academic advisor.

So that's a Professor in the school that can help you with academia stuff.

So I was feeling a bit overwhelmed, and I got help from Jolane from the Student Centre.

That helped me put some things back on track.

[ON SCREEN TEXT] HOW I'VE CHANGED

At the start of university, I didn't know how to cook, (laughs) but now I can cook at least something!

[ON SCREEN TEXT] WHAT'S NEXT?

As it's my final year of university, I'll be graduating in the summer....

(umm) So the plan is to do a postgraduate course or a certificate in design.

So I'm currently doing Computing for Digital Media and now I want to explore more the creative side of it as well.

I think the course is very important.

[ON SCREEN TEXT] MY ADVICE

You've got to love the course because you'll be studying it for three years.

Really check out the modules that are in the course itself, and make sure there's something you're interested in.

And also definitely come to our Applicant Visit Day.

It made such a big difference to me and really confirmed that I wanted to come to Sussex.

Useful links
More about life at Sussex
Virtual tour
Could there be a better place to be a student than our beautiful campus? Nestled in the South Downs National Park, we're just nine minutes from one of the UK's most iconic cities.
To get a picture of life on our campus and the excitement of being in the city of Brighton, take our virtual tour.
Explore more subjects at Sussex: