Engineering and Robotics
Discover our undergraduate courses, Masters and PhD degrees in Engineering and Robotics.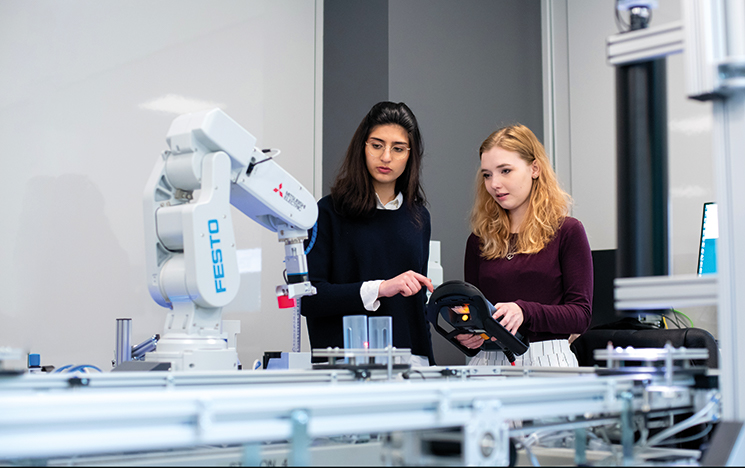 We work on technology that matters, that has the potential to make the world a better, cleaner and safer place.
Our research includes sustainable power generation, efficient jet engines for aircraft and robot technology for medicine. We work across disciplines – from engineering to biology to computing – to develop solutions for today's complex issues. You'll be inspired to come up with novel developments that can change people's lives.
You'll study in our Future Technologies Labs with computer suites and automation/robotics facilities. In our dedicated manufacturing lab, you can work with CNC machines, 3D printers and industry-sponsored electronics laboratories. All this, and our links to world-leading companies, mean you get an excellent start to your career.
Explore Engineering and Robotics at Sussex
Meet Jazz
Jazz Turner, Mechanical Engineering BEng, came to Sussex after building her own boat. She takes part in the Sailing World Championships every year, competing in national events all over the country.
Whether she's researching jet engines or empowering young women into STEM, Emma is proof that our students are engineering a better tomorrow
The undergraduate view
Video transcript

Hello. I'm James.

I'm studying Electrical and Electronic Engineering with Robotics.

I chose the course because Electrical and Electronic Engineering is everywhere in modern day life making it such a varied and exciting area to study.

[ON SCREEN TEXT] CHOOSING SUSSEX

I found the course interesting because it teaches a wide variety of electronic and electrical topics.

I've studied the design of electronic circuits, microprocessor development, power system design and a whole lot of other subjects.

[ON SCREEN TEXT] FAVOURITE THINGS

It's been great having access to the University's labs and resources because it's given me the opportunity to learn using hands on methods.

This has helped to show where the theory can be used in practical situations, and that work has given me the opportunity for additional creativity in my work.

Another thing that I think is great about the course is the option to take part in an industrial placement year.

I did my placements at GE Aviation, where I worked on aircraft electrical equipment.

While it can be a bit challenging to get a placement, it's definitely worth the time and effort.

The placement itself was very enjoyable and rewarding, allowing me to put into practice what I had learnt earlier in the course and helped me in my third and fourth years at the University.

The third year of study involves an individual project where we are all given the opportunity to develop a unique and innovative product from scratch.

I chose to create a wireless sensor network for smart agriculture, which combined embedded systems design with sensor design.

It was really satisfying to develop a system from scratch and seeing it through to the final product.

[ON SCREEN TEXT] WHAT'S NEXT?

The fourth year involves a group engineering project working in an industry inspired product.

For this, I'm working on the electric Formula Student team where we are creating an electric car to compete with other universities at Silverstone.

Like the individual project, it's really satisfying to develop a system from scratch to the final product.

In this case, seeing it onto the racetrack.

[ON SCREEN TEXT] MY ADVICE

I've really enjoyed my time at Sussex.

The course has been challenging but really fun, and I have developed my skills and knowledge too.

Every opportunity I've been given has been worthwhile and I can't recommend the course enough.
From building formula racing cars to gaining inspiring work experience, at Sussex we prepare you to excel in your future career
More about life at Sussex
Virtual tour
Could there be a better place to be a student than our beautiful campus? Nestled in the South Downs National Park, we're just nine minutes from one of the UK's most iconic cities.
To get a picture of life on our campus and the excitement of being in the city of Brighton, take our virtual tour.
Explore more subjects at Sussex: