Jazz's story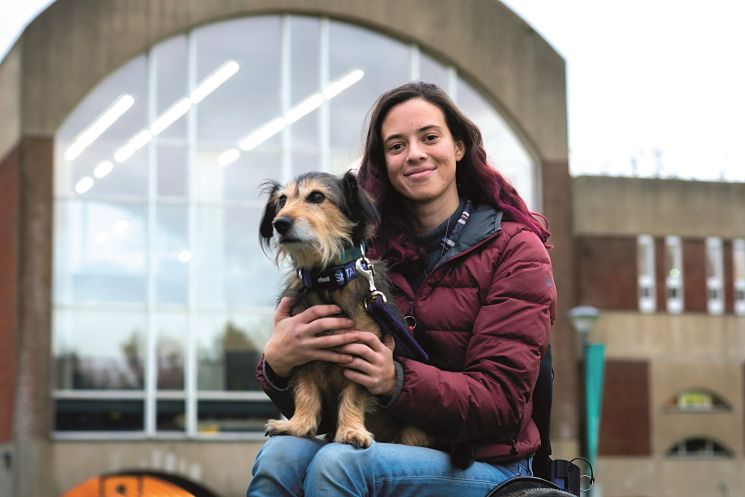 I'm grateful for all the support I get from everyone, including Sussexsport. My community is definitely my sport."

Jazz Turner


Sussexsport scholar
Mechanical Engineering BEng
'I started sailing when I was 14. I was always sporty as a kid. But when I was 18 I was diagnosed with a progressive condition, hypermobile Ehlers-Danlos syndrome, which causes my joints to dislocate.
'I'm in a wheelchair now, but I never thought I'd stop doing sport. I can still compete in sailing against those without disabilities as I have a yacht – a 2.4mR one-person keel boat – that's been especially adapted with hand controls.
'I came to Sussex because I was able to receive both a sports scholarship and an academic scholarship. I chose Mechanical Engineering because I'd built my own boat. I like building things and hope to work in medical engineering, designing and making equipment for those with disabilities.
'My sport keeps me really busy. I take part in the Sailing World Championships every year and compete in national events all over the country.
'I'm grateful for all the support I get from everyone, including Sussexsport. My community is definitely my sport. I'm also one of the leaders of US Girls Can and ActiveUS, which is about getting more female participation in sport on campus, and looking at increasing disabled participation. I'm so pleased that we now have wheelchair basketball on campus, which is for those with and without disabilities. I also help other wheelchair users who come to the gym as I have found a way to do most exercises.
'I was thrilled to be nominated as Disabled Sports Personality of the Year in the (county of) Sussex Sports Awards 2019 after finishing fourth in two national sailing competitions, and for being the first female finisher in the Brighton Half Marathon wheelchair race.'
You might also be interested in: