Scan do attitude: How a Sussex spin-out became a global lifesaver
Innovative clinical software that helps to detect cancer and other serious health conditions at early stages was developed by computer scientists and engineers at the University of Sussex.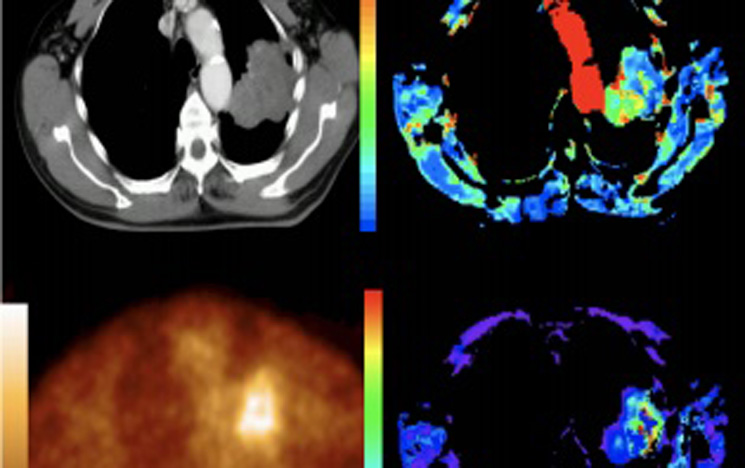 You fall ill. The doctor suggests a scan. You lay yourself before the machine and then await the results. Few of us give even a second to think of the processes involved, we just expect an accurate, infallible and instant response.
In between having the scan taken and your results coming back, some very smart engineering, computing and science has to take place. And it needs to be smart because it can, and often is, a matter of life and death.

Fortunately the technology in this area is becoming ever more intuitive and accurate in identifying the first stages when something might be going wrong. One such piece of software that's helping to identify an ever-expanding number of cancers, as well as other deadly conditions, was developed at the University of Sussex.

TexRAD was the invention of researchers from Brighton and Sussex Medical School (BSMS) and the Department of Engineering at the University of Sussex, who collaborated to develop innovative and cost-effective software to help clinicians manage diseases such as cancer. It wasn't long before the worldwide potential of the project was being realised.

Co-founder Chris Chatwin, Professor in Engineering at the University of Sussex, says: "In 2007, an analysis of 28 colorectal cancer patients' historical CT data demonstrated a relationship between liver texture and blood-flow, and provided a rationale for the use of liver-texture analysis as an indicator for patients with metastatic colorectal cancer. Texture analysis at different image spatial frequencies correlated with disease severity and progression.
A global cancer diagnosis product
"Similarly, liver blood-flow variations reflected as subtle coarse texture changes can be used to identify colorectal cancer patients with an apparently normal liver appearance. It was these results that made us aware that TexRAD could be a global cancer diagnosis product."

The development of this novel image processing technology gave doctors the capability of detecting tissue abnormalities, which could indicate the presence and severity of cancer, and also allow for the assessment of a patient's response to treatment and a reliable prediction of their survival.

TexRAD co-founder Dr Balaji Ganeshan, then a researcher in BSMS and the Department of Engineering at the University of Sussex, says: "The algorithm behind the TexRAD IP extracts, enhances and quantifies subtle features from a radiological scan (e.g. CT, MRI, mammography, X-ray, PET etc.) that are invisible to the naked eye of the radiologist."

"At the same time, the innovation within the TexRAD algorithm means it has a biological intuitiveness in sync to a radiological assessment which has been key to its overall adoption."

Co-founder Dr Rupert Young, Reader in Engineering at the University of Sussex, says: "We understood how energy was distributed into the spatial frequencies of an image and discovered a mechanism for tuning in to the important frequency content of an image to identify the features that we were looking for."

TexRAD software has been installed in more than 60 leading medical centres across Europe, North America, Asia and Australasia and is also used by a host of world-leading research centres, including University College London Hospitals, John Hopkins University, Sapienza University of Rome, and the University of Tokyo at the Institute of Medical Science Japan.

For patients, TexRAD's development has meant accurate diagnosis and prognosis through a non-invasive software analysis technique. It potentially reduces the need for additional, complex and expensive procedures while providing the prospect of an improved cancer care pathway.
Low cost system for targeting patient's treatment
For clinicians, the software is an efficient tool that can be used on routine clinical images to provide more objective information than a standard subjective visual assessment. Doctors have a low-cost system that can be installed on existing imaging systems with the capability of assisting them with the targeting of a patient's treatment.
The technology has been spun out into a company, TexRAD Ltd, which is part Feedback Plc (listed on the London Stock Exchange) that now has a market capitalisation in excess of £10 million.

TexRAD Limited was set-up to facilitate the sale of the cancer diagnostic software to leading medical research institutions. This has meant that the software has been used in a number of large independent clinical studies and referenced in more than 100 academic publications.

The blueprint for creating something with the potential to be life-changing for millions is surprisingly simple says Chatwin, even if delivering on that is anything but.
He says: "You need something that is original and solves a global problem for which many people are seeking a solution. Cancer diagnosis and prognosis is one such problem. You then need the funding to allow you to address the market that you have identified."

The true value and range of TexRAD is only now becoming apparent as it is used by more and more clinical specialists around the globe. New uses, new diseases and new organs to which it can be applied are still being explored and developed more than a decade since its commercial release.

Chatwin says: "TexRAD has proven useful for diagnosis of many types of cancer, including prostate, breast, colorectal, head & neck, lung, liver, kidney, pancreas, cervical. Each of these cancer types have specific market characteristics that requires customisation of the TexRAD software, so the different types of cancer all represent new markets.
"Our texture-based radiomics analysis can also be a key component in Machine-Learning and AI architecture, which is currently gaining a lot of interest and emphasis in today's world particularly in medical imaging and digital health. So the market potential is still huge and has a long way to go."
Emerging applications for disease treatment
TexRAD IP has further been licenced to StoneChecker Software Limited (Co-founded by Dr Balaji Ganeshan), which is part of IQAI Ltd (listed on the London Stock Exchange) that now has a market capitalisation in excess of £5 million. StoneChecker software uses the TexRAD IP in the analysis of kidney stones on CT to assist the urologists to predict outcome (success/failure) to non-invasive shockwave lithotripsy used to fragment the stones. StoneChecker software has received CE-mark, Korean FDA (KFDA) and US FDA clearance to market the StoneChecker software in the key regions.
Ganeshan says: "In addition to the oncology applications, we are still seeing exciting possibilities in new areas of emerging applications in other key disease areas.

"TexRAD's potential in terms of cardiology is now being explored with a few publications from Cambridge and London peaking the interest of cardiologists. We've also seen it being successfully applied to liver, lung disorders including fibrosis and chronic lung diseases including Covid-19 with recent work at University College London. And there are emerging applications in neurology and psychiatry with some initial work at BSMS and Sussex with Professor Hugo Critchley that provides some promising applications in schizophrenia and Asperger syndrome. There are other potential applications in Alzheimer's and dementia."

With so much success behind them and with such exciting possibilities ahead, the TexRAD founding team take a quiet satisfaction in all they have achieved.

Chatwin says: "Clearly it is very satisfying to know that your research has been of use in helping people to survive major illnesses."
Ganeshan adds: "It is extremely motivating and inspires us to undertake further impactful work that builds on what we have already achieved. It definitely gets me out of bed each day."
---