What to do with a Physics and Astronomy degree
Explore the careers you might be interested in going into after studying a Physics and Astronomy degree.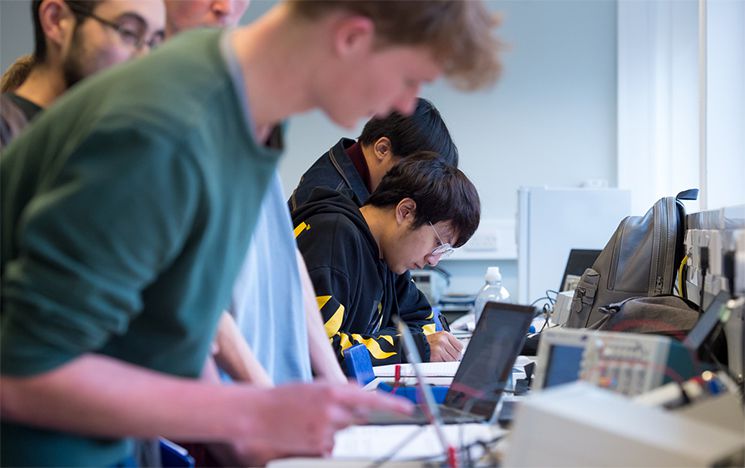 What can you do with an undergraduate Physics and Astronomy degree?
A degree in Physics and Astronomy from Sussex will equip you with a wide range of skills. With our specialist support throughout your degree, you'll be well prepared for your future career.
VIEW OUR PHYSICS AND ASTRONOMY COURSES
Already at Sussex? Visit our careers site.
What jobs can you get with an undergraduate Physics and Astronomy degree?
As a Physics and Astronomy graduate, you'll have the skills and knowledge for a wide range of careers. This includes:
becoming a professional scientist in industry, government or academia
working in the financial sector, where physicists' ability to handle complex abstract models is particularly valued
pursuing careers in law, consultancy and business management.
If you haven't studied a degree yet and you're considering a Physics and Astronomy course, you may want to browse our:
What do our Physics and Astronomy graduates do?
Recent Physics and Astronomy graduates from Sussex have started working in jobs including:
associate technologist, KLDiscovery
business analyst, Aviva
business consultant, IBM
business technologies associate, Accenture
data analyst, iProov
data engineer, Quantexa
development engineer, Torr Scientific
geophysicist, CGG
graduate financial software developer, AquaQ Analytics
industry data analyst, OVO Energy
instrumentation researcher and developer, Pall Life Sciences
MWM consultant, CPS
performance analyst, South East Water
software developer, Arm
systems engineer, Mass
technical director, BuilderStorm
trainee project manager, GHC
trainee solutions developer, JHC.
Some of our graduates have also gone on to study for a PhD or teaching qualification, or to pursue a career in academia.
(Department of Physics and Astronomy career database)
I got my first job because of the C programming skills I gained in my third-year module. My degree has given me the skills to come up with robust solutions and the mindset to handle challenges across different disciplines.

"

DOMINIC ORME


Theoretical Physics BSc graduate
Technical Director, BuilderStorm
Skills
You'll develop knowledge and skills highly valued by employers:
an understanding of fundamental physics laws and principals, and the ability to apply them
an analytical approach to problem-solving
effective use of IT for analysing data
working independently and to tight deadlines
the ability to clearly communicate scientific information
research skills to help you prepare you for a career in research.
At Sussex, you can further develop your study skills by signing up for a range of workshops, tutorials and online resources.
Picking things up quickly and sorting through information efficiently are skills I gained on my course that have helped me succeed in my career. My experience at Sussex has given me the confidence to do my technically and logistically challenging job.

"

SAM RASON


Physics with Astrophysics MPhys graduate
Senior Radiation Environments Engineer, Surrey Satellite Technology Ltd
Work experience and placements
You can gain work experience by doing a placement with an organisation.
At Sussex, during your degree, you can choose to apply for one of the below:
a professional placement
a research placement (you may be able to do a research placement if you are a high-performing student on a selected science course)
an integrated placement if it is a requirement for a course.
This may help you gain skills and work experience before you graduate. You'll be responsible for applying for and securing your placement. Find out more about placements and internships at Sussex.
You may also want to look for work experience opportunities at organisations, in areas such as:
aerospace and defence
education
energy and renewable energy
engineering
health and medicine
instrumentation
manufacturing
meteorology and climate change
nanotechnology
oil and gas
science and telecommunications.
Employer Programme opportunities
We are a core part of the SEPnet (South East Physics Network) consortium, which gives us links to universities and industries across the region. SEPnet's Employer Programme creates opportunities for our Mathematics, Physics and Astronomy students to apply for eight-week funded summer placements.
Learn more about the opportunities offered by the Employer Programme.
---
What can you do with a Masters in Physics and Astronomy?
You might want to pursue a career in any of the above jobs. Or you could think about continuing your education further.
At Sussex, we offer research (PhD) degrees in the following subject areas:
You may then be able to go into an academic career, including roles such as:
researcher
higher education lecturer
professor.
For more information about what to do after a Mathematics degree, see the Prospects website.
If you're a current student, see more advice from our careers section.
---
You might also be interested in: