Through the deluge: Forging ahead with sustainability research!

Date: 15-16 September 2020
Location: Zoom
As the way we work changed since the last annual Sussex Sustainability Research Programme (SSRP) Symposium, the 2020 event was held online over five sessions across two days. Delegates could attend all sessions, or just the sessions they were able to. The symposium focussed on how research is adapting in the face of the pandemic and global social justice movements, offering delegates an opportunity to reflect on the disruption to their sustainability research and get inspired to get back on track.
Programme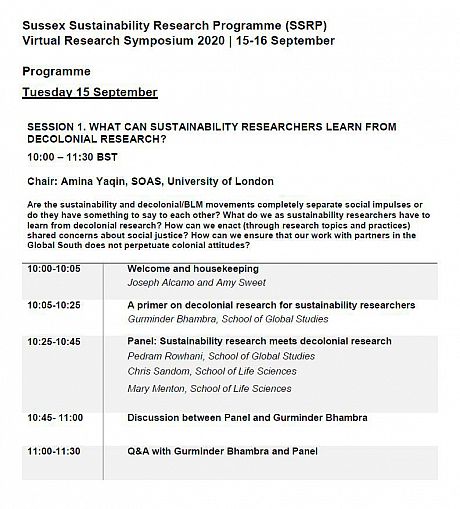 Presentations


Session 2 - The poverty and education goals in the face of COVID-19 financial crisis - Andreas Antoniades [PDF 771.21KB]
Session 2 - Socio-environmental impacts COVID-19 in the Peruvian Amazon - Milagros Toala [PDF 2.64MB]
Session 2 - The two crises The pandemic and global warming - Melissa Lazenby [PDF 775.16KB]
Session 2 - Setbacks and opportunities for the water goal - Mohammad Shamsudduha [PDF 2.73MB]
Session 3 - Impact of Covid-19 on Research Funding - Tina Lehmbeck and Mark Raven [PDF 252.81KB]
Session 3 - A Rapid Assessment of the Impact of Covid-19 on food systems and rural livelihoods in Africa - John Thompson [PDF 703.43KB]
Session 3 - Developing capability partnerships and research in ageing and HIV in Zambia in the time of COVID-19 - Jaime Vera Rojas and Belinda Chihota [PDF 1.38MB]
Session 3 - Forecasting with fishers out of a job - Max Martin [PDF 1.60MB]
Session 4 - Launch of the SSRP Methods Catalogue - Joshua Moon [PDF 298.35KB]
Session 4: The Global Biodiversity Convention - Anthony Alexander [PDF 409.80KB]
Session 4 - Closing gaps in global environmental treaties The ozone later treaty - Joseph Alcamo [PDF 668.34KB]
Session 4 - Closing Gaps in Global Environmental Treaties some key themes - Emanuela Orlando [PDF 217.24KB]
Session 4 - Outdoor air pollution, health and poverty - Wei Shen [PPTX 7.00MB]
Session 4 - Drought, poverty and HIV in KwaZulu-Natal, South Africa - Collins Iwuji and Kingsley Orievulu [PDF 808.98KB]
Session 5 - Governing urban growing space for community resilience - Bonnie Holligan [PDF 257.43KB]

Recordings


Tuesday 15 September


Session 1: What can sustainability researchers learn from decolonial research?

Session 2: The SDGs take a hit
Session 3: So now what do I do? Tactics, North and South, for coping with disrupted research
Wednesday 16 September


Session 4: Before the deluge: new research findings coming on-line



Session 5: What's next? Plans for pandemic-related sustainability research
Please note: the automatically-generated transciptions with these recordings are yet to be fully proof-read and corrected. If you need assistance with the transcripts, please contact ssrp@sussex.ac.uk