Call for greater action towards tackling UN Sustainable Development Goals at SSRP symposium
By: Stephanie Allen
Last updated: Wednesday, 25 September 2019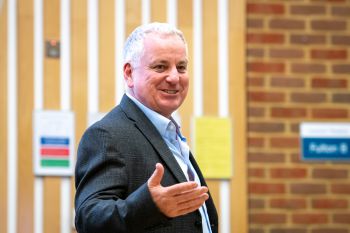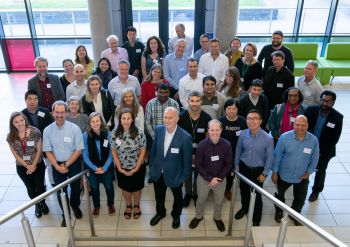 The second annual symposium for the Sussex Sustainability Research Programme (SSRP) featured a passionate call to action by former Scottish First Minister, the Rt Hon Lord McConnell of Glenscorrodale.
The Labour backbencher has been a firm advocate for international development over the years, and was invited to the University of Sussex on 18th September to talk to researchers about the UN Sustainable Development Goals (SDG).
After praising researchers' summaries of the day's discussions, and the research carried out thus far, Lord McConnell admitted feeling concerned as he described governments 'failing' in their actions to tackle the SDGs.
He said: "I think we face a challenge in these next 12 months […] to shake up the system, and to make sure the system delivers more in terms of real action – by government and by others."
Referencing the momentum prompted by the youth strikes for climate, Lord McConnell also called for 'massive civic and popular pressure' both in the UK and around the world to raise the SDGs further up the agenda.
He said: "The goals are for everyone and I think that makes them everyone's responsibility as well.
"What we do in our own lives is important. Our strategy to deliver the goals needs to partly be about international action […] partly about how the government conducts itself inside the UK, but also about private businesses and industries, universities, local authorities […] as well as us, as individuals, playing a part too."
Lord McConnell's speech came at the end of a day in which researchers were able to present findings from projects which aim to provide science for the SDGs. During two poster sessions, projects showed how an integrated approach to tackling multiple SDGs can be more efficient, particularly in low- and middle-income counties. They also highlighted where there are synergies between the goals and warned of potential trade-offs (i.e. the response to one goal having a negative impact on the response to another goal)
Discussions also took place throughout the day across four key areas relating to the SDGs including interactions in food and climate, critical transition zones, planetary health, and impacts of economic globalisation.
Director of the SSRP, Professor Joseph Alcamo said in his closing address: "After two years of hard research the SSRP is beginning to produce exciting new results that will contribute to setting priorities for the SDGs.
"We're finding, for example, that it will be particularly difficult to implement the SDGs in what we have coined "critical transition zones". But we are also uncovering success stories, as in the cases where conservation and public health programmes have been combined, making it more feasible to achieve both the land conservation and health conservation goals."
The symposium comes just a week before the UN Summit on the SDGs in New York, at which Professor Alcamo will be attending. Just four years into the framework, this will be the highest level meeting yet on the SDGs, and almost all speakers will be Heads of States.