Making Meaningful Mischief
Can pranks, mischief, and creativity change the course of history?
25 May 16.30 Fulton 104

Mike Bonanno of The Yes Men will deliver a lively talk that begins with a brief history of tricksters and progress, and ends with autobiographical lessons they've learned in over 20 years of comic creative direct action.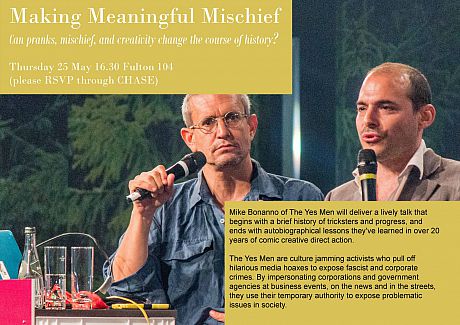 Yes Lab Workshop – Friday 26 May 10-17.30
Please join Mike Bonanno of the Yes Men, Emile Devereaux, the Centre for Material Digital Culture and CHASE researchers for a practice-led event that explores and expands the connections between our research areas and the institutional and social frameworks that intersect with, support, or resist our efforts. What are some of the performative, digital, and media-based techniques that we can use to not just disseminate our ideas but also to generate creative forms of discourse?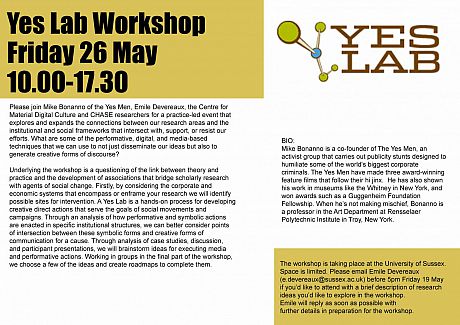 Poetics and Politics of Documentary is a two and a half day practice-led research symposium exploring the interconnections between art and knowlege as they are expressed in documentary practices, broadly conceived. It will be held at the Attenborough Centre for the Creative Arts, University of Sussex, between 2nd and 4th June, 2017.

Workshop & Networking Event
Friday 2nd of June- 1-4pm
University of Sussex
We would like to invite practice-based PhD researchers or those PhD researchers that directly engage with audio/visual forms of storytelling in their research to join us for a workshop and networking event at Sussex University on Friday 2nd of June from 1-4pm.
This networking event is in partnership with the Poetics and Politics of Documentary Conference that has provided us with a chance to directly engage with international practice-based researchers presenting their work at this conference.
To find out more about the event and those who have so far confirmed their attendance please visit: http://plr-beyondempathy.blogspot.co.uk/