The Crime Research Centre brings people together from a variety of disciplines, focused on research into 'crime' broadly conceived. This includes experts from law, sociology, criminology, politics, psychology, international development, and beyond. The Centre provides a forum for researchers to share ideas and develop collaborations, as well as a platform for influencing external debate and reform.
NEW: The Palgrave Handbook of Criminal and Terrorism Financing Law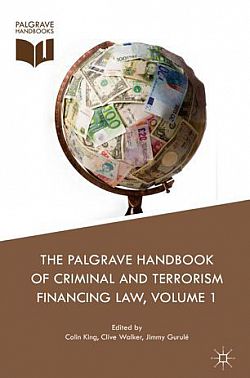 The Palgrave Handbook of Criminal and Terrorism Financing Law, edited by CRC Co-Director Colin King, Clive Walker (University of Leeds), and Jimmy Gurulé (University of Notre Dame) launches 8th November in a special event at the Notre Dame London Global Gateway. The book launch will feature expert commentary from Kennedy Talbot, QC and Professor David Ormerod, QC (Law Commissioner for Criminal Law), as well as an introduction from the handbook's distinguished editors.

The Palgrave Handbook focuses on how criminal and terrorist assets pose significant and unrelenting threats to the integrity, security, and stability of contemporary societies. In response to the funds generated by or for organised crime and transnational terrorism, strategies have been elaborated at national, regional, and international levels for laws, organisations and procedures, and economic systems. Reflecting on these strands, this handbook brings together leading experts from different jurisdictions across Europe, America, Asia, and Africa and from different disciplines, including law, criminology, political science, international studies, and business. The authors examine the institutional and legal responses, set within the context of both policy and practice, with a view to critiquing these actions on the grounds of effective delivery and compliance with legality and ights. In addition, the book draws upon the experiences of the many senior practitioners and policy-makers who participated in the research project which was funded by a major Arts and Humanities Research Council grant. This comprehensive collection is a must-read for academics and practitioners alike with an interest in money laundering, terrorism financing, security, and international relations.
Crime Research at Sussex
Sussex has a long history and reputation for excellence in criminal law and criminal justice research. The Crime Research Group was extremely active in this area for a number of years, and in August 2016 was awarded the status of University Research Centre. This has reflected a significant expansion of research expertise in areas such as criminal law/ evidence, criminology, new forms of criminality, corruption and socio-legal research, to name but a few.
Crime research at Sussex is multi- and inter-disciplinary, with expertise from law, sociology/ criminology, politics, psychology, neuroscience, business, international development, and beyond. The research expertise within this field ranges from doctrinal analysis (eg criminal law; evidence), theories of crime (eg the structure and limits of crime), criminological theories (eg sociology of violence; victimisation; cultural criminology), psychological insights (understanding of hate crime; secondary victimisation; procedural fairness); neuroscience and law (eg impact of drug addiction; understanding judicial sentencing decisions) and regulation theory (eg alternative approaches to criminalisation and punishment). This inter- and multi-disciplinary motivation is a core feature of crime research at Sussex.
The focus of the Centre is outward-looking. Centre members have developed sustained relationships with academics, policymakers, NGOs, and other stakeholders at a local, national, and international level. Members of the Centre have a history of engagement and knowledge exchange with, for example, the Home Office, National Crime Agency, Cabinet Office, as well as national and international charities.
Contact Us
If you are interested to know more about the Centre, or would like to become a member, please contact our co-directors:
To be added to our mailing list for upcoming events, please email H.Crombag@sussex.ac.uk