2019 | Baroness Newlove: Victim's Commissioner for England and Wales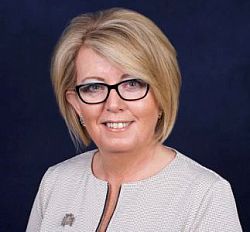 Baroness Newlove, Victim's Commissioner for England and Wales, will give the Crime Research Centre Annual Public Lecture for 2019.
Date: 5th March 2019
Time: 5:30-6:30pm, followed by reception.
Location: Fulton A Lecture Theatre, Falmer Campus, University of Sussex
Baroness Helen Newlove is the Victims' Commissioner for England and Wales. Appointed in March 2013, her role is to promote the interests of victims and witnesses; encourage good practice in the treatment of victims and witnesses; and keep under review the operation of the Code of Practice for Victims.
Baroness Newlove is a North-West based community campaigner and activist. She was given a peerage in the 2010 Dissolution Honours list. She has campaigned tirelessly for victims since the tragic death of her husband Garry in 2007 and her role as the Government's Champion for Active Safer Communities saw her work with local people to make communities safer and to find solutions for local problems.
Accessibility: The venue has wheelchair access and a hearing loop. There are four designated parking bays for blue badge holders at the back of the venue. See further accessibility information for the Fulton Building at DisabledGo.
2018 | Rudi Fortson QC: Drugs and Harm Reduction: Has the UK lost its Crown?

Wednesday 30th May 2018

Rudi Fortson QC has been an independent practising Barrister since 1976, and a Visiting Professor of Law at Queen Mary, University of London. He took silk in 2010. He participated in our 2018 conference with the Sussex Addiction Research Intervention Centre on 'Intoxication, Addiction and the Criminal Law', and is part of the Sussex Prior Fault project team, with Dr John Child and Dr Hans Crombag.

Abstract: The UK, which was once a pioneer and leader in the field of drug harm-reduction, is now falling behind other countries. The Misuse of Drugs Act 1971, which has often been criticised as an instrument of prohibition, was designed to be regulatory and sufficiently flexible to respond to harmful effects of drug use that are sufficient to constitute a social problem. In the event, the intensity of UK drug laws has increased while the incidence of recreational and problematic drug use remains high. Harm reduction initiatives such as onsite drug checking, supervised drug consumption facilities, and the prescription or licensing of cannabis for medicinal purposes, encounter significant legal problems. However – as this talk will demonstrate - there is increasing goodwill between agencies in the public and private sector to promote and to practice harm-reduction measures in the interests of personal and public health.

2017 | Rob Wainwright: The Role of Europol in Countering Organised Crime and Terrorism

Rob Wainwright, Executive Director of Europol, gave the inaugural Sussex Crime Research Centre Annual Public Lecture in May 2017, followed by a wine reception.

We were delighted to welcome Mr Wainwright to share his expertise and insight into countering organised crime and terrorism at the European level.

A copy of the presentation delivered by Mr Wainwright is available to download here.

2016 | Prof Evan Stark: Domestic Violence Reform – the Criminalisation of Coercive Control

In March 2016, in our previous incarnation as the Crime Research Group, we hosted a public lecture by Evan Stark, Professor Emeritus at Rutgers University School of Public Affairs and Administration.

Abstract: Professor Evan Stark's research on the phenomenon of 'coercive control' has been at the forefront of a revolution in the way that we understand domestic violence. His book Coercive Control: How Men Entrap Women in Personal Life (OUP 2007) provided the impetus for the successful campaign for legislative reform in England and Wales in 2015. The new offence of coercive and controlling behaviour in an intimate relationship (Serious Crime Act 2015, s. 76) came into force on 29 December. As well as being the inspiration behind the campaign for reform, Professor Stark was involved with the Home Office consultation process 'Strengthening the Law on Domestic Abuse' at the highest level; and as part of that process advised both the Attorney General and the Home Secretary on the development of the new offence. The new offence represents an important step for criminal justice and has generated an enormous amount of media attention, not all of it positive.

In this lecture, Professor Stark will review the potential impact of the new offence. He will explain the phenomenon of coercive control, and in particular some of the less accessible dynamics of perpetrator behaviours and the harms experienced by victims, to facilitate a better appreciation of why the criminalisation of coercive control marks important progress. He will also highlight some of the pitfalls for police, the CPS, and the voluntary sector as they navigate what will at first be very unfamiliar territory. This lecture is essential for anyone who works with or for survivors of domestic violence, for students with an interest in gender, criminal justice, and/or violence against women, and for anyone wanting to know more about domestic violence and the criminal justice response.