CIRCY was launched at the University of Sussex in 2012, bringing together research, scholarship and expertise on childhood and youth. It is an interdisciplinary and cross-university centre, with a membership that includes researchers from the social and life sciences, arts, humanities and professional fields including social work, law, education and health.
Our aim is to create a space for dialogue, collaboration, creativity and capacity-building - supporting new research and knowledge exchange. CIRCY provides a stimulating environment for doctoral students working in the area of childhood, youth and family studies and a destination for visiting academics and opinion formers.
We aim to become an internationally recognised centre of excellence in the field of researching children, young people and families. We are outward-looking, committed to working with policy-makers, professional colleagues, young people and their carers in order to share expertise, promote good practice and to exchange knowledge.
CIRCY nurtures synergies between research activity and the teaching curriculum through an undergraduate course - the BA in Childhood and Youth: Theory and Practice - and the Masters course - the MA in Childhood and Youth Studies. We also provide training in research methods with children and young people.
CIRCY is directed by Professor Rachel Thomson and Dr Janet Boddy, and supported by a steering group that includes Professor Robin Banerjeeand Dr Sevasti-Melissa Nolas.
Check out the following 4 year PhD Studentship opportunity. Applications must be received by end April 2014.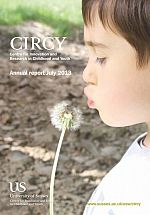 Download the CIRCY Annual Report: July 2013 [PDF 824.54KB]
______________________________________________________________________________________
Don't Miss...
Rachel Thomson gave the inaugural Sussex Lecture on the 22nd January 2014 at the Brighton & Sussex Medical School. See the recording of her presentation 'Digital Childhoods' on our Past Events: 2013/14 page.
Final report available for 'new frontiers' study
The final report is now available to download for CIRCY research project New frontiers in qualitative longitudinal methods: definition design and display. This project was funded by the National Centre for Research Methods (NCRM) and brought together parties central to different histories of QLR in five separate events, along with a new generation of researchers for whom temporal perspectives enable a range of interdisciplinary and emergent research practices.