CIRCY was launched at the University of Sussex in 2012, bringing together research, scholarship and expertise on childhood and youth. It is an interdisciplinary and cross-university centre, with a membership that includes researchers from the social and life sciences, arts, humanities and professional fields including social work, law, education and health.
Our aim is to create a space for dialogue, collaboration, creativity and capacity-building - supporting new research and knowledge exchange. CIRCY provides a stimulating environment for doctoral students working in the area of childhood, youth and family studies and a destination for visiting academics and opinion formers.
We aim to become an internationally recognised centre of excellence in the field of researching children, young people and families. We are outward-looking, committed to working with policy-makers, professional colleagues, young people and their carers in order to share expertise, promote good practice and to exchange knowledge.
CIRCY nurtures synergies between research activity and the teaching curriculum through an undergraduate course - the BA in Childhood and Youth: Theory and Practice - and the Masters course - the MA in Childhood and Youth Studies. We also provide training in research methods with children and young people.
CIRCY is directed by Professor Rachel Thomson and Dr Janet Boddy, and supported by a steering group that includes Professor Robin Banerjeeand Dr Sevasti-Melissa Nolas.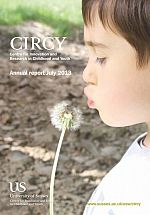 Download the CIRCY Annual Report: July 2013 [PDF 824.54KB]
______________________________________________________________________________________
Don't Miss...
2 x Research Fellow Vacancies
Two new exciting Research Fellow positions are currently available for outstanding, creative social scientists to join a small research team working on a European Research Council funded study on children's participation in public life. The study is based at the Centre for Innovation and Research in Childhood and Youth (CIRCY) at the University of Sussex. Both positions are full-time and fixed for four years.
Salary range: From between £30,728 and £36,661 per annum * It is normal to appoint at the first point of the salary scale
Closing date for applications: 6 January 2014
Interview date: 24 January 2014
Expected start date: 1 February 2014 (or as soon as possible after the start date of the project)
The roles will involve extensive periods of fieldwork in India or Greece. You will work closely with the PI and the rest of the research team, splitting your time between the University of Sussex in England and India or Greece. This is an exciting opportunity to contribute to the theoretical development in the literature on children's participation in public life and to generate much needed empirical material on the topic of a cross-culture nature and importance.
You will have a PhD in one of the following: sociology, social psychology, anthropology or cognate discipline. You will have a strong track record of carrying out research with children, and knowledge of the key issues and debates on children's participation preferably from a childhood and youth studies perspective. Fluency in the language of the study country is an essential requirement.
The successful candidate will need to undertake a full Disclosure and Barring System review.
Download more job details: Research Fellow Role: Connectors, India [PDF 167.42KB] and Research Fellow Role: Connectors, Greece [PDF 167.57KB]
See also: www.sussex.ac.uk/aboutus/jobs/414 and http://www.sussex.ac.uk/aboutus/jobs/413