The Centre for Innovation and Research in Wellbeing (CIRW) brings together research, scholarship and expertise on wellbeing and builds on growth in academic research and service development in this area. The Centre is a leading interdisciplinary, innovative and international centre in the field of wellbeing and focuses on key areas such as mental health, ageing, disability, children, place and environment, cultural diversity, spirituality and migration.
CIRW is directed by Professor Charles Watters (Social Work & Social Care) and Deputy Director, Dr Laia Becares (Social Work and Social Care, Data Intensive Science Centre).
Find out what we've been up to in our latest Annual Report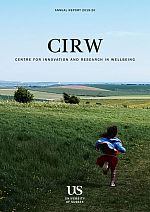 View/download the CIRW Annual Report: 2019/20.
Contacts
For information about CIRW contact:
Anna Ridgewell, CIRW Research Fellow
+44 (0)1273 873364
A.Ridgewell@sussex.ac.uk
cirw@sussex.ac.uk
CIRW Director:
Professor Charles Watters
+44 (0)1273 873364
C.Watters@sussex.ac.uk

Centre for Innovation and Research in Wellbeing (CIRW)
Department of Social Work and Social Care
School of Education and Social Work
Essex House
University of Sussex
Falmer BN1 9QQ