To keep up to date with everything going on within the Department of Social Work and Social Care at Sussex, follow us on Facebook.
Social work at Sussex is currently ranked 5th in the UK according to The Guardian University Guide 2016 (published end May 2015).
It was ranked 1st in the UK by The Guardian University Guide 2014 and 2015, and The Times and Sunday Times Good University Guide 2014. It was ranked 2nd in the UK by The Complete University Guide 2014.
Social work is a rapidly changing profession and here at Sussex we are at the forefront of innovation and development. We offer attractive opportunities in a department noted for its strength in professional education and its contribution to professional knowledge and practice.
We are among the leading institutions in the UK for the quality of our research. The Department currently hosts three research centres: The Centre for Innovation and Research in Wellbeing (CIRW), the Centre for Innovation and Research in Social Work (C-SWIR), and the Centre for Innovation and Research in Childhood and Youth (CIRCY). We also have a proud tradition of providing rewarding opportunities for study, whether at initial qualifying, post-qualifying or doctoral levels.
We constantly build on our strong track record of interdisciplinarity to develop new approaches to inter-professional learning and research which recognise both the distinctiveness and the interconnected nature of social work as a discipline and a profession.
Don't Miss ...
Date: Wednesday 29th June
Time: 4.30pm
Venue: Room 104, Fulton
Host: Centre for Social Work Innovation and Research (C-SWIR)
Speaker: Elaine Sharland, Professor of Social Work Research, Department of Social Work & Social Care, University of Sussex
Title: Predictors and outcomes of social work for children and parents: What can panel and cohort studies tell us?
Seminar Promo: C-SWIR Seminar Promo: 29june2016 [PDF 116.49KB]
See Seminars and speakers: current term for recordings of past events and details of upcoming ones.
Swedish-Anglo Exchange on Social Work Practice Learning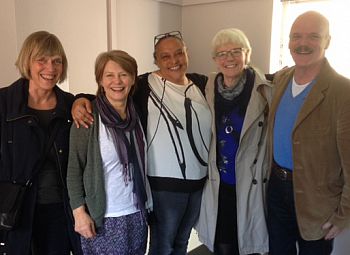 Dr Hilary Lawson (Senior Teaching Fellow, Continuing Professional Development) and Karen Okuefuna-Budd (Director of Practice Learning) hosted three Swedish academics from Linkoping University, Sweden in April 2016 to share good practice in providing quality placements and placement supervisors for social work students.
The trip was a huge success with Swede, Anita Johansson, stating: "It is exciting to see that so much is like, but also that there are other ways to solve difficulties surrounding the practice placement. We have received a lot of inspiration [..]."
Hilary and Karen hope to make a return visit to Linkoping University next year.
Hilary went to Gothenburg University for a week last April to talk about the education of practice supervisors. She is working to develop a Practice Education conference in Italy in 2017.