To keep up to date with everything going on within the Department of Social Work and Social Care at Sussex, follow us on Facebook.
Social work at Sussex is currently ranked 11th in the UK (The Guardian University Guide 2017). It was ranked 1st in the UK by The Guardian University Guide 2014 and 2015, and The Times and Sunday Times Good University Guide 2014. It was ranked 2nd in the UK by The Complete University Guide 2014.
Social work is a rapidly changing profession and here at Sussex we are at the forefront of innovation and development. We offer attractive opportunities in a department noted for its strength in professional education and its contribution to professional knowledge and practice.
We are among the leading institutions in the UK for the quality of our research. The Department currently hosts three research centres: The Centre for Innovation and Research in Wellbeing (CIRW), the Centre for Innovation and Research in Social Work (CSWIR), and the Centre for Innovation and Research in Childhood and Youth (CIRCY). We also have a proud tradition of providing rewarding opportunities for study, whether at initial qualifying, post-qualifying or doctoral levels.
We constantly build on our strong track record of interdisciplinarity to develop new approaches to inter-professional learning and research which recognise both the distinctiveness and the interconnected nature of social work as a discipline and a profession.
Sussex Social Work BA Graduate is 'Sector Star 2016'
Emily Kenward, former graduate of the Sussex Social Work BA, has been named 'Sector Star 2016' for her work with older people living alone at home - an organisation she set up and runs. She has also been awarded funding from sales of Brighton's first ever charity single, Jingle Bell Brighton Rocks, launched with a video starring Brighton's own elderly legends Disco Peter, Dancing Ann - and a few celebrities. Check out the video.
Emily's organisation has also been nominated for two Argus awards in January: 'Charity of the Year' and 'Community Event of the Year' for their Thinking of you at Christmas campaigns. Fingers crossed!!
Our Odi is Student Social Worker of the Year 2016!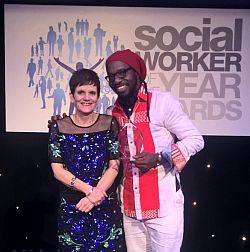 A University of Sussex Social Work MA graduate has received national recognition at the Social Worker of the Year Awards 2016 for showing outstanding potential during his studies.
Following nomination by Social Work Lecturer, Dr Denise Turner (shown with Odi in the pic), Odi Oquosa was named winner of the Student Social Worker of the Year award during the national awards ceremony on Friday 25 November in London.
The mature student, who uses his own experience of overcoming a mental illness to help others, has been responsible for a number of ground-breaking community initiatives in the Brighton and Hove area. These include running a weekly music group in a local community hall for people in need of refuge and working with a national charity, the Afiya Trust, on the over representation of Black Minority and Ethnic (BME) men in mental health services.
Podcast: Dealing with the death of a child
Dr Denise Turner, Lecturer in Social Work and Social Care, is interviewed by Malaysia's BFM Radio about 'dealing with the death of a child'.