To keep up to date with everything going on within the Department of Social Work and Social Care at Sussex, follow us on Facebook.
HAPPY WORLD SOCIAL WORK DAY 2017!
World Social Work Day 2017 was on 21 March. We celebrated by producing a World Map detailing the challenges and developments in social work globally as identified by our international colleagues.
Congrats to Francesca Carpenter, Social Work BA student who was the runner-up in a student activism competition run by the journal Social Work Education.
Social work at Sussex is currently ranked 11th in the UK (The Guardian University Guide 2017). It was ranked 1st in the UK by The Guardian University Guide 2014 and 2015, and The Times and Sunday Times Good University Guide 2014. It was ranked 2nd in the UK by The Complete University Guide 2014.
Social work is a rapidly changing profession and here at Sussex we are at the forefront of innovation and development. We offer attractive opportunities in a department noted for its strength in professional education and its contribution to professional knowledge and practice.
We are among the leading institutions in the UK for the quality of our research. The Department currently hosts three research centres: The Centre for Innovation and Research in Wellbeing (CIRW), the Centre for Innovation and Research in Social Work (CSWIR), and the Centre for Innovation and Research in Childhood and Youth (CIRCY). We also have a proud tradition of providing rewarding opportunities for study, whether at initial qualifying, post-qualifying or doctoral levels.
We constantly build on our strong track record of interdisciplinarity to develop new approaches to inter-professional learning and research which recognise both the distinctiveness and the interconnected nature of social work as a discipline and a profession.
Pioneering social work education partnership launches
The Department of Social Work & Social Care at Sussex has teamed up with East Sussex County Council, Brighton & Hove City Council and the University of Brighton to launch a new teaching partnership.
The South Coast Regional Centre for Education (SCRC), which has secured funding from the Department for Education, focuses on delivering excellent social work education on the frontline. Consisting of three hubs, the Student Learning Hub, Professional Development Hub and Practice Research Hub, the SCRC will provide an enhanced teaching and placement experience for students, a defined career pathway for social work practitioners and research which is driven by issues experienced by adults and children's social workers.
Professor Gillian Ruch, Head of the Department of Social Work and Social Care, said: "The newly constituted South Coast Regional Centre for Social Work Education is an exciting opportunity for our universities and councils to work together to deliver excellent frontline social work education which really benefits our local community.
"It is crucial we do everything we can to support children, adults and families who are experiencing difficult circumstances - by working together through this new partnership we can help to transform the lives of some of the most vulnerable people in our society."
At the SCRC launch Liz Rugg, Assistant Director for Children's Services at East Sussex, commented: "Securing the Teaching Partnership against strong competition was a real achievement and recognises the strong partnerships that are already in place between the two universities and the two local authorities. This exciting development will support us to take social work to the next level in Brighton and Hove and East Sussex."
One of the key aims of the SCRC is to recruit and retain high quality social work graduates in the local area, equipping them with skills and confidence to make a difference for children, adults and families in East Sussex, Brighton and Hove.
Richard Cattell, Principal Social Worker for Adults Services in Brighton and Hove, said: "One of the great things about the SCRC is that it's not only a partnership across organisations but also one which brings together Children's and Adult's Services allowing us to bring a more cohesive and joined up approach to social work."
For more information see:
Our Odi is Student Social Worker of the Year 2016!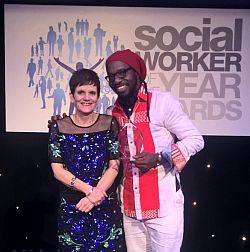 A University of Sussex Social Work MA graduate has received national recognition at the Social Worker of the Year Awards 2016 for showing outstanding potential during his studies.
Following nomination by Social Work Lecturer, Dr Denise Turner (shown with Odi in the pic), Odi Oquosa was named winner of the Student Social Worker of the Year award during the national awards ceremony on Friday 25 November in London.
The mature student, who uses his own experience of overcoming a mental illness to help others, has been responsible for a number of ground-breaking community initiatives in the Brighton and Hove area. These include running a weekly music group in a local community hall for people in need of refuge and working with a national charity, the Afiya Trust, on the over representation of Black Minority and Ethnic (BME) men in mental health services.