To keep up to date with everything going on within the Department of Social Work and Social Care at Sussex, follow us on Facebook.
Social work at Sussex is currently ranked 5th in the UK according to The Guardian University Guide 2016 (published end May 2015).
It was ranked 1st in the UK by The Guardian University Guide 2014 and 2015, and The Times and Sunday Times Good University Guide 2014. It was ranked 2nd in the UK by The Complete University Guide 2014.
Social work is a rapidly changing profession and here at Sussex we are at the forefront of innovation and development. We offer attractive opportunities in a department noted for its strength in professional education and its contribution to professional knowledge and practice.
We are among the leading institutions in the UK for the quality of our research. The Department currently hosts three research centres: The Centre for Innovation and Research in Wellbeing (CIRW), the Centre for Innovation and Research in Social Work (C-SWIR), and the Centre for Innovation and Research in Childhood and Youth (CIRCY). We also have a proud tradition of providing rewarding opportunities for study, whether at initial qualifying, post-qualifying or doctoral levels.
We constantly build on our strong track record of interdisciplinarity to develop new approaches to inter-professional learning and research which recognise both the distinctiveness and the interconnected nature of social work as a discipline and a profession.
Social work degree helps Sussex student to give young disabled adults a voice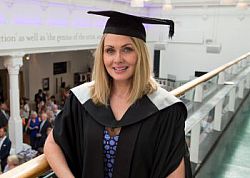 MA in Social Work graduate, Zoe Joyce, talks about culture shocks, talking mats and giving young, disabled adults a voice as she graduates on Monday 18 July 2016.
"Having to learn on your feet how to communicate with someone who is non-verbal and can't sign is a real challenge," says Zoe Joyce, a 34-year-old mature student from Eastbourne.
"My first steps into working in this area have been a real culture shock – but I enjoy finding new ways to communicate with people. Studying at Sussex has definitely influenced my thought process when I'm working – I'm very creative and like to find new ways to converse with people. I supported a young adult with Down's Syndrome who had poor eyesight – by creating a yellow 'talking mat' with symbols on for him to pick from – as yellow is the last colour you lose if your eye sight is declining."
However, Zoe says the time at the University of Sussex which influenced her the most was when she got some vital feedback from one of her lecturers. "I once had to do a viva, where I had to be interviewed. I did fine but the feedback was that I should be a bit more ambitious. It got me thinking maybe I should have more confidence in what I'm doing and this is something that was definitely nurtured at Sussex and helped me to find my niche career-wise."
So what would Zoe say to anyone thinking of a career path in social work? "Social work gets a lot of negative press - but we do so many wonderful things every day that don't get picked up.
"If you want to go into the profession – ask a social worker what keeps them in their job. Lots of people I know have been social workers for 20 to 30 years and they are still in the profession and they still love it – just like I hope to be.
Swedish-Anglo Exchange on Social Work Practice Learning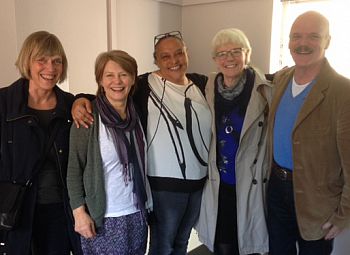 Dr Hilary Lawson (Senior Teaching Fellow, Continuing Professional Development) and Karen Okuefuna-Budd (Director of Practice Learning) hosted three Swedish academics from Linkoping University, Sweden in April 2016 to share good practice in providing quality placements and placement supervisors for social work students.
The trip was a huge success with Swede, Anita Johansson, stating: "It is exciting to see that so much is like, but also that there are other ways to solve difficulties surrounding the practice placement. We have received a lot of inspiration [..]."
Hilary and Karen hope to make a return visit to Linkoping University next year.
Hilary went to Gothenburg University for a week last April to talk about the education of practice supervisors. She is working to develop a Practice Education conference in Italy in 2017.