Guaranteed accommodation at Sussex
You are guaranteed a place in University-managed housing if you are:
a full-time, first-year undergraduate student applying through UCAS for September 2016. You must firmly accept our offer
a full-time, first-year postgraduate student studying a research degree. You must be studying for a full academic year
a student from outside the European Union studying a taught Masters.
You will receive the online housing application from February 2016.
On-campus accommodation
Accommodation options with en-suite bathrooms
Accommodation options with shared bathrooms
Off-campus accommodation
University-managed flats
University-managed houses
Privately rented accommodation
Watch our housing overview video
Find out what Sussex students think
Contact us
We are here to help you with choosing and applying for your housing. Once you move in, you will also have a Residential Advisor who will arrange a welcome meeting for your flat and help with any issues you might have.
If you still have questions, or you need help from the Housing Services team, please get in touch: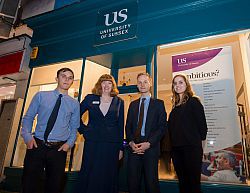 T: +44 (0) 1273 678220
Or visit us at:
Housing Services
Bramber House,
Level 2, North Side
University of Sussex
Falmer
BN1 9QU
UK
You can also like us on Facebook for housing updates, events and information, and see housing images on our Pinterest page.

For full details about accommodation at Sussex, download our 2016/17 Housing Guide [PDF 3MB].