The Centre for Research in Opera and Music Theatre (CROMT) is a national and international centre for research and development in the practice and theory of contemporary opera, music-based theatre and other related forms of sonic or multimedia performance. The Centre promotes innovative artistic and critical practices across a range of forms through academic programmes, creative, theoretical and historical research projects, and research collaborations with relevant professional and educational partners.
CROMT is delighted to announce a collaboration between ourselves, the Puppet Centre and the Attenborough Centre for the Creative Arts. In June, we are launching a series of creative workshops run by renowned theatre maker Rene Baker:
LISTENING TO THE MATERIAL
Puppet Centre in collaboration with The Centre for Research in Opera and Music Theatre (CROMT) and the Attenborough Centre for the Creative Arts at the University of Sussex
Presents
The LISTENING TO THE MATERIAL Series with Rene Baker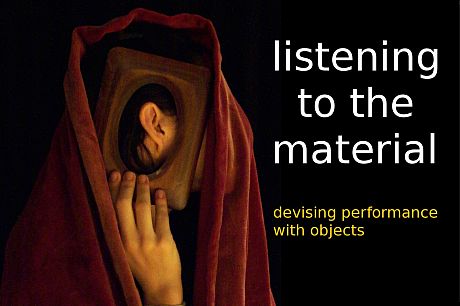 The Listening to the Material Series of workshops examines different aspects of creating visual theatre in which objects become co-collaborators in the creative process.
In a series of three weekend courses over a nine-month period participants will learn techniques for devising theatre with objects, draw on the object's cultural and symbolic associations to transform its meaning and relationship to the human performer, and explore ways of integrating objects and sound so that neither music nor image is in service to the other.
These workshops are conceived as a performance laboratory, combining skills development with experimentation and reflection to make a bridge with participants' personal practice.
The Listening to the Material Series of workshops will appeal to everyone interested in objects in performance – visual artists, actors, directors, dancers, puppeteers, animators, musicians and composers.
The series consists of three weekend courses over a nine-month period. It is possible to take individual weekend workshops or sign up for all three to gain 30 hours of in-depth training in using objects in performance.
Where:
Attenborough Centre Creativity Zone, Pevensey III, Room C7, University of Sussex, Falmer, Brighton (instructions at www.sussex.ac.uk/acca/creativityzone)

When:
1st weekend 1, 2 June 2013
2nd weekend 26, 27 October 2013
3rd weekend 18, 19 January 2014
Cost:
£100 for 2 days
£250 if all 3 weekends are booked in advance
Numbers are limited to 12 places per workshop so early booking is advisable.
Please contact louise.alexander@puppetcentre.org.uk for a booking form
Further Information
Listening to the Material 1, 2 June 2013
An introduction to a method of devising visual theatre that takes the object as a starting point. Participants will learn different ways of brainstorming materials to generate images and theatrical moments, use both perception and analysis for meaning-making, discover the object's poetic and cultural associations, and will compose a visual script that can be used as a basis for rehearsal.
The Sound-Scope of Objects 26, 27 October 2013
A practical workshop for performers, directors, musicians and composers that looks at different aspects of combining sound and objects in visual theatre. The aim is to go beyond using music as support for performance or performance to illustrate music and reach a level of collaboration where both sound and object are partners in the theatrical experience. Tasks include manipulating objects to create live sound scapes and examining how sound can be used to support or subvert the expectations created by the object and vice versa.
From Prop to Protagonist 18, 19 January 2014
Beyond simply being an actor's prop, objects can articulate subtext, function as a symbol or metaphor, or come to life as an independent character. From Prop to Protagonist explores the different theatrical languages of objects, from realism to poetic theatre, and shows how to transform the object's meaning and relationship with the human performer through degrees of presence and focus.
Rene Baker is a theatre-maker who specialises in puppet and object theatre and in 22 years of professional experience has worked as a performer, designer, director, researcher and teacher/trainer/coach.
She trained by apprenticeship at the Little Angel Theatre (London) and worked as a freelance puppeteer for leading UK companies. From 1992-1998 she was a core member of the creative team at Norwich Puppet Theatre, devising and performing shows that have been invited to festivals around the world.
Since 1998 she has been developing training for puppeteers and actors that shows how anything and everything can be brought to life, looking at different aspects of combining actors and objects onstage, and offering an approach to devising performance with materials.
She has led workshops in drama schools, theatre festivals and rehearsal rooms in England, Norway, Finland, Spain, Estonia, Greece, Czech Republic and Russia. From 1998-2005 she was puppetry skills teacher at the Central School of Speech and Drama (London), from 2005-2008 she taught visual theatre at the Institut del Teatre (Barcelona) and since 2010 she has been teaching in the puppetry department of the Turku Arts Academy, Finland.
As a freelance director and workshop leader, she continues to investigate the dramatic use of materials in theatre … everyday objects, puppets, moving scenography, animated costume, sticks, stones, water, car parts, toys … and whatever else you might suggest …
http://www.puppetcentre.org.uk/develop/listening-material-rene-baker/