Upcoming Events
29th November 2023, the Sussex Asia Centre will be joined by Dr. Rabia Khan, a postdoctoral research fellow at Global Studies, working on an Afghanistan Institute of Strategic Studies project funded by Research England and in conjuction with 'The Afterlives of Urban Muslim Asia'.
The seminar takes place in-person in Jubilee G35, 1-2.30pm GMT.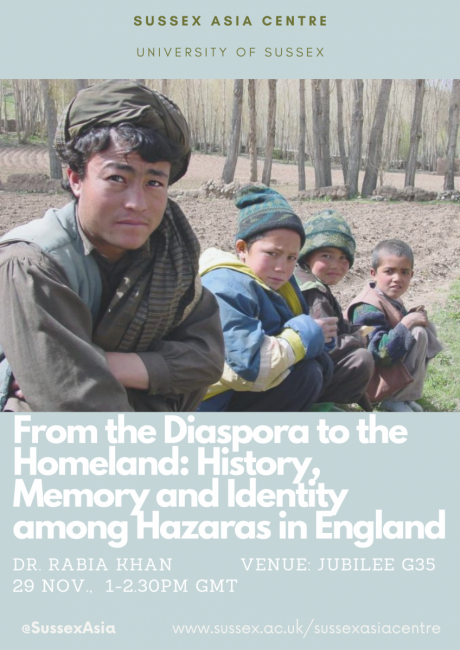 To find out more about the Afghanistan Institute of Strategic Studies please see AISS | Afghan Institute for Strategic Studies (aissonline.org). For further information on the 'The Afterlives of Urban Muslim Asia: Alternative Imaginaries of Society and Polity' funded project, see The Afterlives of Urban Muslim Asia: Alternative Imaginaries of Society and Polity : Research highlights : ... : School of Global Studies : University of Sussex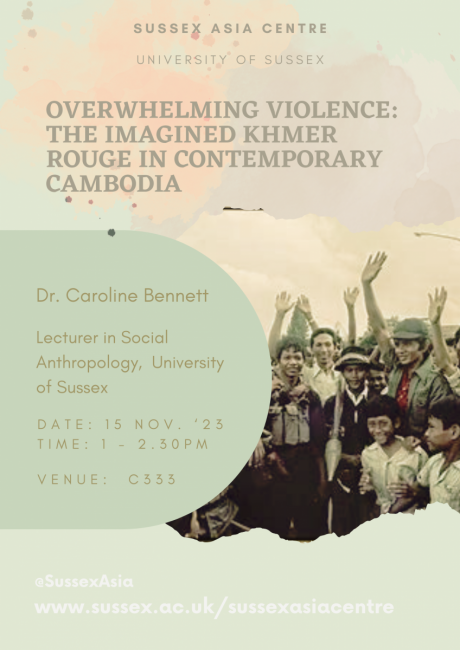 15th November 2023, Dr. Caroline Bennett joined the Sussex Asia Centre for a talk on 'Overwhelming violence: the imagined Khmer Rouge in contemporary Cambodia'.
The Transitional Justice framework of the ECCC works within a defined temporality: a political time that limits its jurisdiction from 1975-1979, disregarding events outside those bounds that actually comprise the Khmer Rouge regime. Choeung Ek Genocidal Centre, a national memorial and major tourist site to the Khmer Rouge situates itself in the same temporal framework. The current ruling party, the Cambodian People's Party, also asserts this temporality, presenting a clear distinction between 'Samay aPot': the time of Pol Pot, and Cambodia today - the time of Hun Sen. The transitional justice framework then, which aims to create a split between the violent past and the present, and a more 'just' and democratic present, actually enforces the political time of the CPP, in which political violence is rife, and democratic rule appears to be disintegrating. This juxtaposition is possible because of the presentation of the Khmer Rouge regime as a sublime event: an event (with its event-centred boundaries) so incomprehensible that it overwhelms all understandings, and subsumes all other violence. As long as their exists an imagined Khmer Rouge, and a highly publicised court system dealing with it, a multitude of violence can continue in everyday life. This chapter examines the aesthetics of violence through which the court, the current government, and the international imaginary, create a spectral Khmer Rouge, which enables violence to persist despite claims to the opposite.
Caroline is a Lecturer in Social Anthropology and International Development, with a focus on Human Rights, at the University of Sussex. She works on mass death and the treatment of human remains. She is particularly interested in genocide, conflict and violence, and the politics of the dead. Her long-term ethnographic research concentrates on the Cambodian genocide, considering relationships to the dead and their graves at the everyday, state, and international level. She also works on the treatment of human remains after mass death, research emerging from previous training as a forensic anthropologist.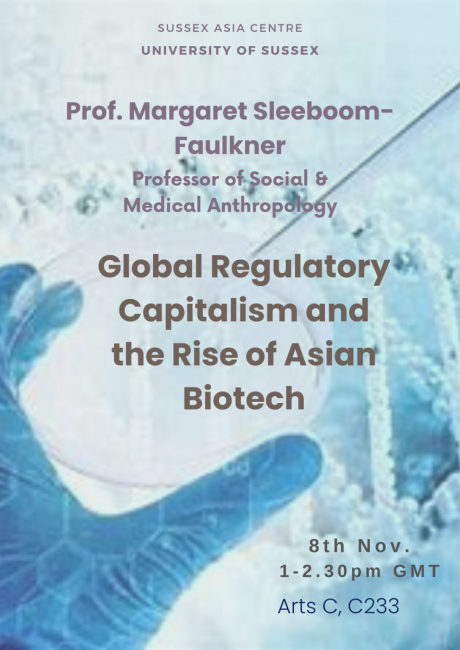 8th November 2023, Prof. Margaret Sleeboom-Faulkner gave a talk on 'Global Regulatory Capitalism and the Rise of Asian Biotech'.
Neoliberalism is presumed to enable free competition in an international environment. Not since the World War II, neoliberal societies have exponentially increased regulation, both at home and internationally. Initially, hegemonic countries could set the rules that enabled cut-throat competition between biotech products in jurisdictions internationally. But for some decades now this is no longer the case: Using anthropological case-studies from Asia and archival research, I illustrate how Asian countries have become crucial in the regulatory changes of biotechnological applications over the last decades. In this seminar, I show how in a global context of fierce competition and strategic alliances this form of regulatory competition has generated new concerns: First, regulation is instrumentalised on a global scale and does not have the exclusive function to protect the safety and expectations of patients and to safeguard the quality of scientific applications in jurisdictions; second, international science collaboration in itself has become a form of competition, catering for clashing interests of collaborative partners; third, there is no global institution that has sufficient authority to mediate the local interests of patients, science and healthcare provision. I suggest that radical changes in how we deal with health resources are called for.
Margaret is Professor of Social & Medical Anthropology here at Sussex.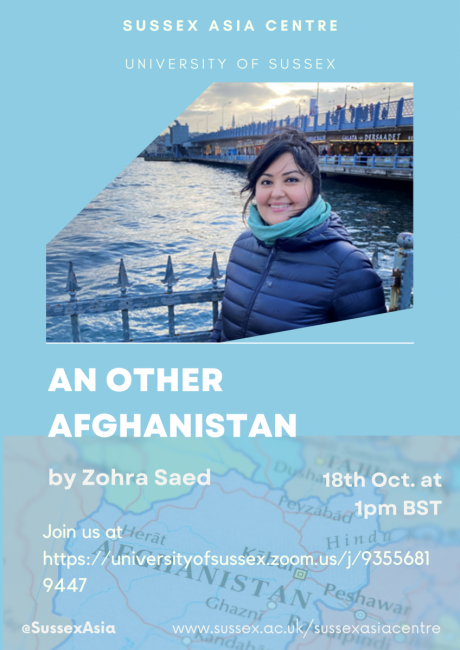 18th October 2023, Zohra Saed, Brooklyn-based writer and Afghan American poet. Zohra gave a talk on 'Turkic heritage in Afghanistan through personal family narrative'. Zohra Saed's poetry and essays have been published in numerous anthologies and journals. She is the co-editor of One Story, Thirty Stories: An Anthology of Contemporary Afghan American Literature (University of Arkansas Press), editor of Langston Hughes: Poems, Photos, and Notebooks from Turkestan (Lost & Found, The CUNY Poetics Documents Initiative); and Woman. Hand/Pen. (Belladonna Chaplet). Her essays on the Central Asian diaspora have appeared in Eating Asian America (NYU Press) and The Asian American Literary Review. She co-founded UpSet Press, a Brooklyn-based nonprofit indie press, with poet Robert Booras. Zohra is a Distinguished Lecturer at Macaulay Honors College, The City University of New York.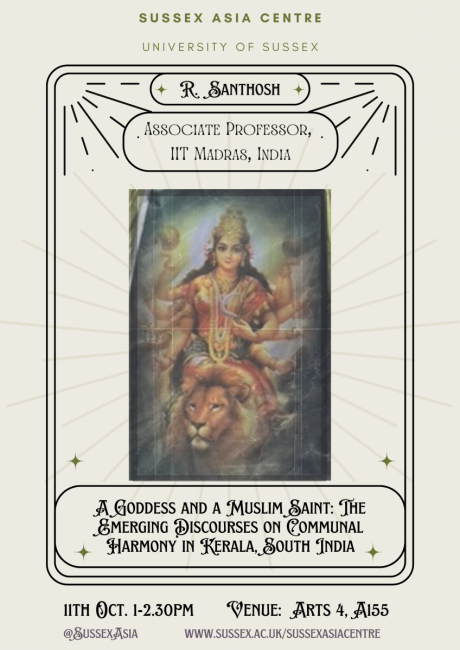 11th October 2023, Prof. R. Santhosh of the Indian Institute of Technology Madras, India presented a seminar on their paper: 'A Goddess and a Muslim Saint: The Emerging Discourses on Communal Harmony in Kerala, South India'.
This talk analyses discourses and practices celebrating a historical connection between a highly popular Muslim dargah and a Hindu temple in northern Kerala. The historical connection between Sayyid ʿAlawī Mawlā al-Dawīlah al-Ḥusaynī Thangal, popularly known as Mamburam Thangal and the Goddess of Kaliyatta kavu is celebrated through ritualistic processions and songs, especially among the Dalits, the ex-untouchable castes in the region. Within the larger institutional and ideological/theological transformations of the Dargha and the temple in recent times, these discourses lack official sanction and encouragement from the administrators of these places of worship. However, these processions and practices have moved beyond their ritualistic realm and have become celebrated symbols of communal harmony and peaceful religious coexistence in the region. This talk examines these transformations and argues that the production of communal harmony in contemporary Kerala, especially within the Muslim public and religious sphere, is closely connected to their claim to complete citizenship and a rightful position in the socio-cultural history of the country.
R. Santhosh is an associate professor at the Department of Humanities and Social Science, IIT Madras, India. Currently, he is affiliated with Sussex University as a British Academy Visiting Fellow. Santhosh has a deep interest in the entanglement of religion with the secular in contemporary India. He works primarily on Muslim communities in India with a special focus on intra-community contestations, forms of Islamic activism, religion and development, women's questions, and emerging Muslim politics. He also has a keen research interest in the emerging forms of new spirituality, identity questions and political mobilization among Hindus. His articles have been published in Modern Asian Studies, Ethnicities, Asian Survey, Economic and Political Weekly, European Journal of Cultural and Political Sociology, and Historical Sociology, among others.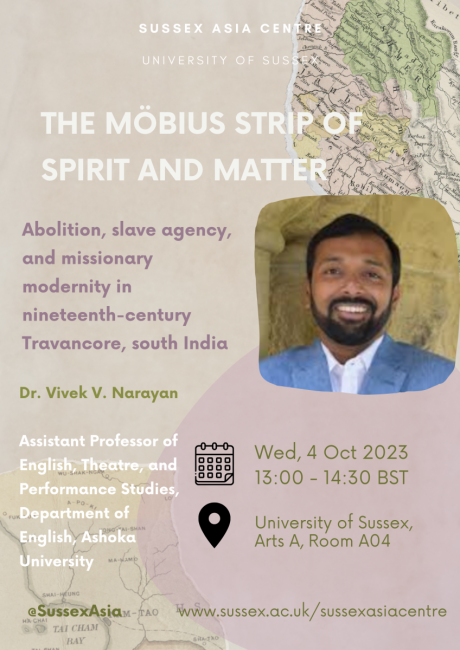 4th October 2023, Dr. Vivek V. Narayan of Ashoka University gave a seminar on his paper: 'The Möbius Strip of Spirit and Matter: Abolition, slave agency, and missionary modernity in nineteenth-century Travancore, south India'.
This paper argues that slave caste conversions in colonial-era Travancore must be read as a conjoining of the spiritual and the material within an encasted habitus best understood through the geometric metaphor of the Möbius strip. I develop my argument through three interrelated claims: first, that the language of spirituality was repurposed to articulate material claims; second, that many of the conceptual spaces that missionary discourse sought to enter were occupied by the Brahminical doctrines of caste; and third, that the slave castes recast Protestant theology within a situated intellectual habitus codified by Brahminical doctrine that compelled recent converts to insist upon transgression. I engage with Partha Chatterjee's influential spherical metaphor for sovereignty in the spiritual domain in anticolonial nationalism to reveal the faultlines between the situated social imaginaries of anti-caste struggles and the focus upon the nationalism in postcolonial theory. In doing so, this talk attempts to demonstrate a method of doing intellectual histories in the repertoire of embodiment that situates anti-caste struggles within transnational flows, locates these intellectual exchanges in the repertoires of everyday life, and shows that the ideas of unlettered people can, do - and, more importantly, did - take on universalistic ambitions.
Vivek is a scholar, performance-maker, and writer working on caste and anti-caste politics in south India. He is Assistant Professor of English, Theatre, and Performance Studies at Ashoka University and an alumnus of Stanford University, Royal Holloway, University of London, and St. Xavier's College, Mumbai. His book project, Stolen Fire: Caste Scripts and Anti-Caste Politics in South India, 1806-1941, views the long history of anti-caste struggle in colonial-era Travancore through the lens of performance. His writing appears in The Oxford Handbook of Modern Indian Literatures, Theatre Survey, J-CASTE, Modern Drama, The Georgia Review, Black Warrior Review, Muse India, The Caravan, AZURE, The Bombay Review, and The Hindu, among others, while his plays have been performed at various venues in India, the UK, and the US. He is currently a Charles Wallace India Trust Fellow at the Institute for Advanced Studies in the Humanities in Edinburgh.

Asia Centre News

Upcoming Events

Contact

Director:

Professor Magnus Marsden
T: +44 (0)1273 606755 ext2312
E: M.Marsden@sussex.ac.uk

University of Sussex Asia Centre
Room C246, Arts C,
University of Sussex
Falmer,
Brighton
BN1 9SJ,
UK