Welcome to the Centre for Social Work Innovation and Research (CSWIR)
Located within the School of Education and Social Work, CSWIR has been established to advance international profile and impact of research on innovative interdisciplinary approaches to social work. Our aim is to bring together social work scholars, professionals, and students, and provide a distinctive ground for research and innovation focusing on the changing nature of social relations of social work and other social action interventions.
As an innovation and research centre, CSWIR aims to:
promote social justice and rights
support protection and development of vulnerable populations under new global conditions of austerity and inequality
strengthen the re-articulation of social work as a distinctive mode of collaborative and participatory relationship-based social action.
In CSWIR, we benefit from cross-disciplinary internal, national, and international collaborations and links, and aim to extend and advance our partnerships with scholarly, professional, and governmental bodies.
In August 2018, Gillian Ruch, Professor of Social Work, took over directorship of the Centre. Gillian succeeds Barry Luckock who over the past four years has been responsible for founding the Centre and setting its direction of travel. Moving forwards, in collaboration with Social Work Lecturer, Dr Lisa Chen, who takes up the position of CSWIR Deputy Director, the CSWIR steering group and CSWIR membership, the Centre will continue to focus on its primary agenda of supporting innovation and research in social work.
The CSWIR steering group includes Professor Janet Boddy, Professor Jackie Cassell, Professor Jo Moran-Ellis, Professor David Weir and Paul Shuttleworth.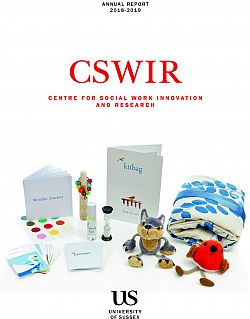 Download the CSWIR Annual Report: 2018/19.

See also: 'Talking to vulnreable children on their terms helps to build trust' in the Guardian's Social Care Network on Professor Gillian Ruch's research project, Talking and Listening to Children.
Social work in changing times
Social work aims to secure social justice and equality of life chances for people whose personal, family and wider social lives are under threat. It seeks to make its impact through the use of enabling relationships which are distinguished by their ethical integrity as well as by any particular type of technical knowledge, skill or method brought to bear to achieve change. The commitment of social work locally and globally to engage with people as 'fellow citizens' rather than simply subjects of concern stirs up much debate. What should be the scope of the professional role and the authority and resources invested in it? How should social work be organised and governed? Which modes and methods of practice work best?
Where the struggle for equality of social citizenship itself is expressed and mediated afresh, in the context especially of the globalisation and digitalisation of relationships, these debates are intensified. New modes of governance and practice in social work are being proposed locally and globally. The need for innovation is apparent in changing times. So too is the requirement that novel ways of addressing new threats and opportunities for social justice and social citizenship through social work intervention, are rigorously researched.
CSWIR has been established to encourage and support innovation in social work, understood as a theory and practice alike, which is evidence-based and ethically defensible.