Welcome to the Centre for Social Work Innovation and Research (CSWIR)
Located within the School of Education and Social Work, CSWIR has been established to advance the international profile and impact of research and innovative interdisciplinary approaches in social work. Our aim is to bring together social work scholars, professionals, and students, and provide a distinctive ground for research and innovation focusing on the changing nature of social relations of social work and other social action interventions.
As an innovation and research centre, CSWIR aims to:
promote social justice and rights
support protection and development of vulnerable populations under new global conditions of austerity and inequality
strengthen the re-articulation of social work as a distinctive mode of collaborative and participatory relationship-based social action.
In CSWIR, we benefit from cross-disciplinary internal, national, and international collaborations and links, and aim to extend and advance our partnerships with scholarly, professional, and governmental bodies.
**********
'Putting Kitbag To Work' wins funding from What Works for Children's Social Care
This press release, issued by What Works for Children's Social Care, on 29 Oct 2020 gives details of how the Centre for Social Work Innovation and Research and the International Futures Forum's 'Putting Kitbag to Work' campaign is one of seven which have been approved for funding from this organisation "...to help improve outcomes for children and families and build an evidence base in children's social care."
See more details about Kitbag.
**********
New report offers a child-centred approach to recording the experiences of looked-after children
A new and innovative model designed by CSWIR member, Rebecca Watts, entitled Me and My World, records the experiences of looked-after children through a child-centred approach. The model supports social workers and Independent Reviewing Officers to write their reports directly to the child, and foster carers to write a letter to the child in their care every six months
See more details and download a copy of the report on our Research and knowledge exchange page.
**********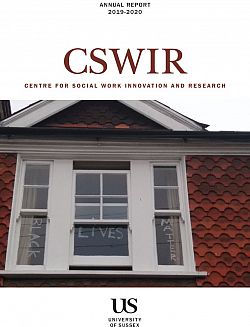 Download the CSWIR Annual Report 2019/20.