The explosion of literary and artistic activity at the beginning of the twentieth century provoked a fundamental rethinking of cultural and social values the reverberations of which continue to be felt. This new aesthetic of experiment and rupture affected all forms of expression and shaped the ways in which modernity was experienced and understood. Critics and theorists have increasingly understood Modernism as a plural phenomenon, one comprising many avant-garde movements and competing political agendas. New research on Modernism focuses on many previously neglected questions, including the interaction of aesthetic Modernisms with forms of nationalism and internationalism; the exploration of Modernist publishing, patronage and networks of support; and the continuation of Modernism within contemporary literary and artistic culture.
The Centre for Modernist Studies brings together faculty and students to explore key questions relating to the cultural forms of Modernism. Researchers in English, History, American Studies, History of Art, Film and Media, Music, and Philosophy contribute to an ongoing programme of conferences, seminars, readings and performances. In the recent past, amongst other events, we've hosted the Sussex Poetry Festival; a performance of "A"-24 by Louis Zukofsky, and one-day colloquia on Frank O'Hara, Elizabeth Bowen, and Mina Loy. We've sponsored talks by critics and theorists of Modernism including Rachel Bowlby, Gabriel Josipovici, Jean-Michel Rabaté and Michael Levenson.
Modernist Studies Association, 15th Annual Conference: Everydayness and the Event
University of Sussex, August 29-September 1, 2013
Sponsored jointly by: The Centre for Modernist Studies, University of Sussex and the University of Queen Mary, and the University of London
Director of MSA, Sussex: Sara Crangle
Core Sussex Coordinating Committee: Sara Crangle, Pam Thurschwell, Sue Currell
The Centre for Modernist Studies is pleased to host the International Modernist Studies Association Annual Conference in September, 2013 on the theme 'Everydayness and the Event'. Everydayness incorporates philosophical subjects such as time, space, and subjectivity; political questions about private versus public, ethics, race relations, and consumerism; psychoanalytic issues such as emotion and behaviour; aesthetic questions of ordinariness and genre (diary-writing, reportage, lists), and the often quirky minutiae of domesticity, including any and everything from objects, fashion, and food, to waste. For further details email msabrighton@gmail.com.
MSA news
The call for papers is now closed.
For more information, see the MSA website.
Modernist intimacies: a Sussex symposium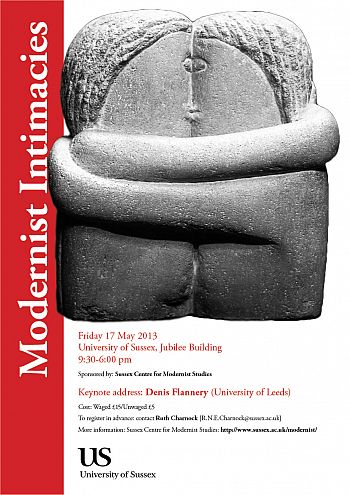 Friday May 17, 2013, 9:30-6:00 pm, Jubilee Building, University of Sussex
Keynote Address: Denis Flannery (University of Leeds)
Responding to recent scholarly constellations of modernism, affect and intimacy, this one-day symposium, hosted by the Centre for Modernist Studies seeks to explore new ways of thinking about modernist feelings and modernist intimacies. Are there such things as 'modernist feelings'? How might different modernist narratives of emotion in psychoanalysis, literary theory, philosophy and medicine be made to collide, disrupt and form new points of contact? How do modernist bodies and minds come together and apart?
Cost for the day will £15 waged/£5 unwaged. For registration information contact: Ruth Charnock rnec20@sussex.ac.uk. Programme available here.
PDF file of the conference poster is also available.