MAKING CONNECTIONS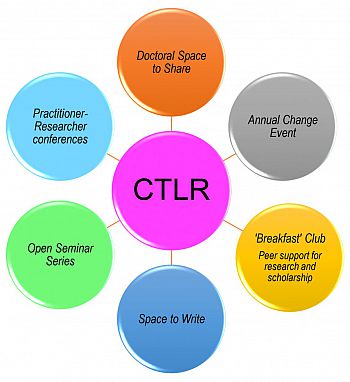 The Centre for Teaching and Learning Research (CTLR) is engaged with education in all its pedagogical and social complexity. The interests of members span local, national and international contexts and a range of formal and informal settings, running from Early Years to Higher Education and including Initial Teacher Education. Consistent with this, we aim to foster the development of more holistic, contextualised and systemic understandings of education in all its many forms. Members of CTLR are currently working with ECORYS on a national evaluation of Alternative Provision, funded by the Department for Education (DfE).
The Centre's strapline is Making Connections, reflecting its focus on bringing research, theory, policy and practice together with a view to promoting positive change. Each year we host an Annual Change Event that brings researchers, students and stakeholders together to promote understanding of how more equitable and inclusive approaches to teaching and learning might be achieved. We are also actively engaged in the development of locally-based practitioner researchers, hosting two conferences a year linked to our Masters in Education and Masters in Early Years programmes. CTLR is also strongly committed to supporting the development of doctoral researchers, including through its support for the ESW Doctoral Research in Progress seminar series.
Don't miss ...
REMOTE PANEL DISCUSSION EVENT
Date: Wednesday 27 Jan, 2021
Time: 1-3pm
Zoom link: https://universityofsussex.zoom.us/j/95332063139?pwd=WWlYdE1QQzlwdUpEVTA3S1RBUDd2QT09 (Passcode: 465399)
Developing Online Learning: Experiences so far!
In this session, a panel will focus on and discuss the development of online and blended learning that is an increasingly expected element of higher education teaching. Discussion will explore some of the challenges and opportunities that moving from traditional to online or blended delivery can entail for teaching, and how these have been approached across different roles and disciplines. We will consider the processes of both moving existing face-to-face provision online, and developing online content from scratch. Issues covered will focus less on the 'tools' and more on the 'pedagogy' including those around student access, engagement and inequalities. We will also consider the implications for teacher resources including the demand for hybrid approaches and ability to move rapidly between face-to-face and online models.
The session will include insights on key challenges and opportunities for online learning, with opportunities for discussion, and reflections from a panel of colleagues across the university who will share their experiences so far and invite your questions.
This event is hosted by the Centre for Teaching and Learning Research and the Higher Education Pedagogy Plus Postgraduate Certificate and forms part of the latter's programme for academic professional development. However, any/all interested parties are welcome to join.
Check out our Annual Report ...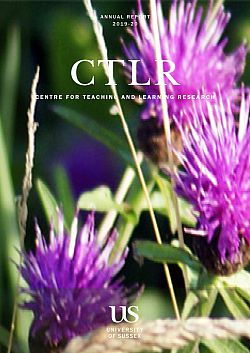 Find out what CTLR members have been doing over the last 12 months in the 2019/20 Annual Report..