The Centre for Teaching and Learning Research (CTLR) is engaged with research on all aspects of learning and teaching in a wide range of educational contexts, official and informal. It places particular emphasis on schooling, transitions, equity and inclusion.
The Centre has exceptional expertise in professional learning, collaborative practitioner enquiry and in investigating the relationship between theory, practice and policy from Early Years to Higher Education contexts and settings.
Launched: Sussex Research Network
Recently launched, the Sussex Research Network: Schools-University Partnership will engage schools in researching their own practice, learn from research, and engage in large-scale research projects with university-based colleagues.
Professor Colleen McLaughlin, Head of the Department of Education at the University of Sussex and leader of the partnership, said: "This form of partnership is a central plank in building worthwhile education. Working together in this way is an exciting and natural development of good links between schools and the Department. I am sure we will be the model for new forms of working in education."
Latest CTLR News
CTLR and the Department of Education at Sussex is delighted to welcome back 10 scholars from Kazakhstan who will be with us until August 2015. The group is engaged in an exciting new course which combines academic study, professional school engagement and English language enhancement.
Big thanks to our partner school hosts for their support: Varndean School - Brighton, Willingdon Community School - Eastbourne, Priory School - Lewes, Ratton School - Eastbourne, Chailey School - Lewes and Cavendish School - Eastbourne.
Thanks also to the wonderful Sussex Centre for Language Studies.
See courses linked to CTLR research themes on our Teaching page.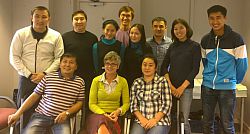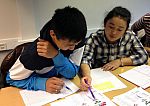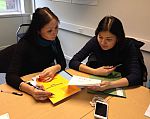 Professor Hampden-Thompson to join School as new CTLR Director
See news release regarding the appointment of Professor Gillian Hampden-Thompson to the Department of Education to lead the Centre for Teaching and Learning Research into a new era.
Highlights from the UKLA (United Kingdom Literacy Association) Conference at Sussex
See details of other CTLR research projects - current and past - on our
Research
pages
Upcoming events
Date: Monday 9th February, 2015
Speaker: Dr Judith Harford - University College, Dublin & Dr Peter Gray - Norwegian University of Science and Technology
Time: 5pm
Venue: Room 104, Fulton
Title: Emerging as a Teacher: Student teachers reflect on their professional identity