MAKING CONNECTIONS
The Centre for Teaching and Learning Research (CTLR) is engaged with education in all its pedagogical and social complexity. The interests of members span local, national and international contexts and a range of formal and informal settings, running from Early Years to Higher Education and including Initial Teacher Education.
The Centre's strapline is Making Connections, reflecting its focus on bringing research, theory, policy and practice together with a view to promoting positive change. Consistent with this, we aim to foster the development of more holistic, contextualised and systemic understandings of education in all its many forms.
CTLR News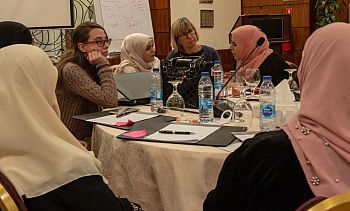 SUPPORTING THE DEVELOPMENT OF INCLUSIVE EDUCATIONAL PROVISION IN JORDAN
Education Lecturer, Dr Jacqui Shepherd, has been working with the Queen Rania Foundation in Jordan on behalf of the Ministry of Education to raise enrolment rates for out-of-school children with disabilities in Jordan. Despite past reforms, only five per cent of children with disabilities are currently enrolled in public schools.
Jacqui's brief was to review policies, strategies and programmes in relation to out-of-school children with disabilities and provide actionable recommendations to promote inclusion. The work was carried out over a six month period and entailed a scoping visit in September 2018 to visit four inclusive schools in or near Amman and meetings with the Ministry of Education, the Higher Council for People with Disabilities, principals, teachers, parents and children. Jacqui also conducted a desk-based review of international and national policies, institutional publications and research literature. A subsequent visit in January 2019 to run a workshop provided an opportunity for Jacqui to discuss her findings and recommendations with stakeholder representatives and international donors.
Following completion of a matrix on international best practice on inclusion and a final report for the project, Jacqui was commissioned to report on the Ten Year Plan for Inclusive Education produced by the Higher Council for People with Disabilities.
Contact Jacqui if you would like to find out more.