MAKING CONNECTIONS
The Centre for Teaching and Learning Research (CTLR) is engaged with education in all its pedagogical and social complexity. The interests of members span local, national and international contexts and a range of formal and informal settings, running from Early Years to Higher Education and including Initial Teacher Education.
The Centre's strapline is Making Connections, reflecting its focus on bringing research, theory, policy and practice together with a view to promoting positive change. Consistent with this, we aim to foster the development of more holistic, contextualised and systemic understandings of education in all its many forms.
CTLR News
UPDATE ON OUR POVERTY EVENT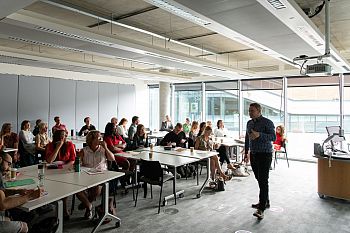 Check out our web page for CTLR's Annual Change Event, 'Child Poverty in Educational Contexts: Exploring implications for research, policy and practice' which took place on 10 July.
See also the Event Brief.
The free one day inter-disciplinary event brought together stakeholders and researchers interested in developing educational contexts to better meet the challenges posed by rising rates of child poverty in England. It aimed to create a space to think together about key questions such as:
How does poverty shape educational experiences across contexts in England today?
What can be done by whom to anticipate need and maximise opportunity?
The day included a number of talks and workshops which afforded rich insights into poverty across the life course.