"The Centre for Sexual Dissidence is what Sussex University is about. It's radical, it's political, and most of all it's critically engaged with the world we live in."
- Sharif Mowlabocus, Senior Lecturer in Media Studies and Digital Media
The Centre for the Study of Sexual Dissidence, or Sex Diss as it is affectionately known, is a space that brings together researchers and activists in queer and sexuality studies. Recent areas of discussion include: Gaydar; trans photography in Nepal; HIV-related activism and ACT UP; Chinese queer cinema; sexuality and digital culture; and sex worker rights in India. That's just a taste of the issues covered by our MA course, our academic staff, and our students.
If you want to study on the MA in Sexual Dissidence, learn with others as part of our reading group, experience interesting perspectives from our visiting speakers, join our film club, or be part of a diverse community of people interested in gender and sexuality, then explore what Sex Diss can offer you.
Read more in our welcome from the Centre's Directors, Rachel O'Connell and Samuel Solomon.

Upcoming Event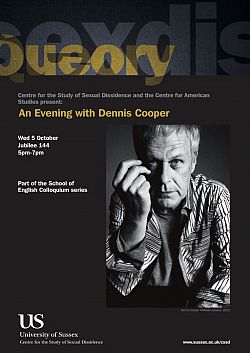 An Evening with Dennis Cooper
Wed 5 Oct, Jubilee 144, 5pm-7pm
Co-sponsored with the University of Sussex's Centre for American Studies. Part of the School of English Colloquium series.
Dennis Cooper, God help him, is a born writer. – William S. Burroughs
If Jean Genet and Paul Bowles could have had a child together, he might have grown up to be a writer like Dennis Cooper. – Michael Cunningham
Dennis Cooper goes to the limit of what can be exposed, described, represented, and shunned. – Avital Ronell
The Centre for the Study of Sexual Dissidence and the Centre for American Studies are delighted to welcome Dennis Cooper, celebrated and controversial American writer and artist, to talk about punk poetry, transgressive literature, and being Google's most hated blogger.
Cooper, who Bret Easton Ellis once called "the most dangerous writer in America", will read excerpts from his books and speak with Sussex's Dr. Diarmuid Hester, who has written extensively on his work. Hear about Cooper's notorious career and the death threats his writing provoked; why New York School poetry needed Joy Division; what it was like to be LA's first punk poet; and how you write a novel in GIFs (and why you'd give it away for free). A Q&A session will follow.
Dennis Cooper is a major experimental poet, novelist, and filmmaker. His life and work have intersected with almost every significant figure and movement in late-twentieth century American writing, art, and rock music. Don't miss this rare opportunity to see the American post-War avant-garde through the eyes of one of its most infamous and charismatic icons.