"The Centre for Sexual Dissidence is what Sussex University is about. It's radical, it's political, and most of all it's critically engaged with the world we live in."
- Sharif Mowlabocus, Senior Lecturer in Media Studies and Digital Media
The Centre for the Study of Sexual Dissidence, or Sex Diss as it is affectionately known, is a space that brings together researchers and activists in queer and sexuality studies. Recent areas of discussion include: Gaydar; trans photography in Nepal; HIV-related activism and ACT UP; Chinese queer cinema; sexuality and digital culture; and sex worker rights in India. That's just a taste of the issues covered by our MA course, our academic staff, and our students.
If you want to study on the MA in Sexual Dissidence, learn with others as part of our reading group, experience interesting perspectives from our visiting speakers, join our film club, or be part of a diverse community of people interested in gender and sexuality, then explore what Sex Diss can offer you.
Read more in our welcome from the Centre's Directors, Rachel O'Connell and Samuel Solomon.
"Sexual…relating to the instincts, physiological processes, and activities connected with physical attraction or intimate physical contact between individuals…"
"Dissidence…disagreement or challenge to official policy…" (Oxford Dictionaries Online)
Download our Spring 2016 Calendar HERE!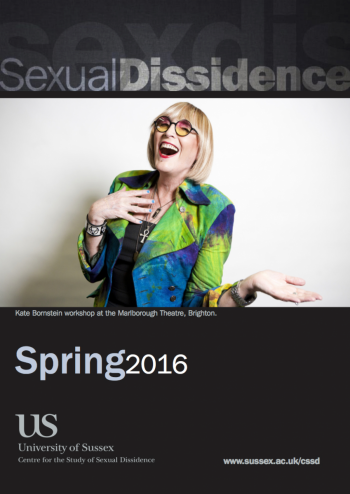 Our next event:
Queer Fragilities
Sara Ahmed (Goldsmiths, University of London)
Tue 2 February, Creativity Zone, Pevensey III, Room C7, 5pm-7pm
This lecture offers a meditation on how fragility as a thread, a queer connection, between what is deemed breakable. I will be sharing some shattering stories. In a shattering story there is often a too, a too that falls on what falls: fragility as the quality of being too easily breakable. The lecture explores how queerness is understood as self-shattering, how clumsiness can provide an ethics, and offers some reflections on how queer crip politics can affirm fragility as a source of militancy as well as connection.
Sara Ahmed is Professor of Race and Cultural Studies and Director of the Centre for Feminist Research at Goldsmiths. Her recent publications include Queer Phenomenology: Orientations, Objects, Others (2006), The Promise of Happiness (2010), On Being Included: Racism and Diversity in Institutional Life (2012) and Wilful Subjects (2014). Her lecture is drawn from her book Living a Feminist Life, which is forthcoming with Duke University Press in Spring 2017.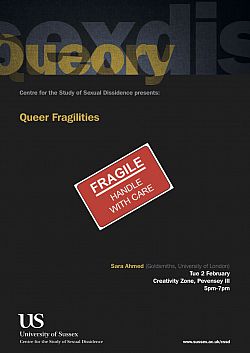 Upcoming Deadline:
After PrEP: Ethical Sexualities, Viral Memories, and New Socio-Medical Landscapes in HIV Prevention
Cheryl Overs (Monash University), Alex Pollard (BSMS), Akshay Khanna (Sussex), Alvaro Martinez Lacabe (Sussex), Paul Boyce (Sussex)
Thu-Fri 2-3 June, the Institute of Development Studies (IDS), University of Sussex
Co-sponsored with the Brighton and Sussex Medical School (BSMS), the Institute of Development Studies (IDS), the University of Sussex School of Global Studies.
Pre-Exposure Prophylaxis (PrEP) is marking a milestone in contemporary HIV prevention technologies and strategies globally. Questions emerge as to how imaginaries of sexual rights and freedom are being advanced by the synergy of community activism on PrEP, public health objectives, sexual rights rhetoric, state and extra-state governmentalities, and biomedical marketing. This workshop will explore how such concerns map differently over the bodies and experiences of differently gendered and sexual experiencing subjects, with regard to different sexual practices and relations, in respect of race and ethnicity, in different country, cultural, and socio-economic contexts.
For further information contact: prepsussex@gmail.com