In the 1980s, 'rights' and 'justice' were generally domestic political matters; 'wars' were predominantly inter-state; and international humanitarian law an impotent ideal. Since the 1990s, however, the predominant form of 'war' has been intra-state; 'rights' have become an ostensibly global language; and the experiences of the victims of political violence has been addressed with new developments in international justice and 'truth acknowledgement exercises'.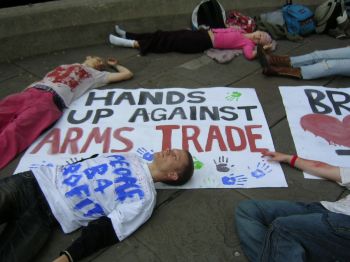 The spread of 'rights talk' has transformed the nature and practices of social movements as well as the political rhetoric of governments. It has profoundly affected identities, the ways selfhood is conceived and articulated (through new categories such as 'minority', 'indigenous person') and altered how less powerful, and sometimes more powerful groups, address and interact with state and transnational bodies.
Drawing on rich thematic and regional expertise across a number of disciplines, the University of Sussex has been at the forefront of responding to these changes in the global landscape.
Research at Sussex has questioned whether 'violence' is a self-evident, descriptive concept and how it needs to be approached in relation to the social, political and historical contexts in which it is embedded. The experience and meanings of violence change - but how? Similarly, research at Sussex on 'justice' has sought to understand how different stakeholders relate to international criminal tribunals, truth commissions and human rights institutions.
This is part of a broad research agenda on rights, justice and political violence based on complementary and collaborative research that crosses disciplinary boundaries.
The Centre brings together faculty and students from a number of Departments at Sussex including:
Purposes of the Centre
fosters individual and collaborative research and publication by faculty in the area of rights, justice, violence and war;

disseminates significant research through its Seminar Series (eight each year), annual workshop and 'Working Papers' series;

facilitates collaboration with researchers and practitioners beyond the University of Sussex;

encourages the recruitment and success of Doctoral and Post-Doctoral researchers in the centre's thematic areas.
The Centre hosts a number of events including a fortnightly seminar in the Autumn and Spring terms, an annual workshop in the summer term and other occasional events. For details of forthcoming events seen the news and events boxes at the right of this page.
You can also see a full list of this term's seminars:
Justice and Violence research seminar series, Spring 2013 [PDF 65.03KB]
Also this term:
Human Rights and Conflict Film series, Spring 2013 [PDF 42.33KB]
For details of past events see our Events Archive