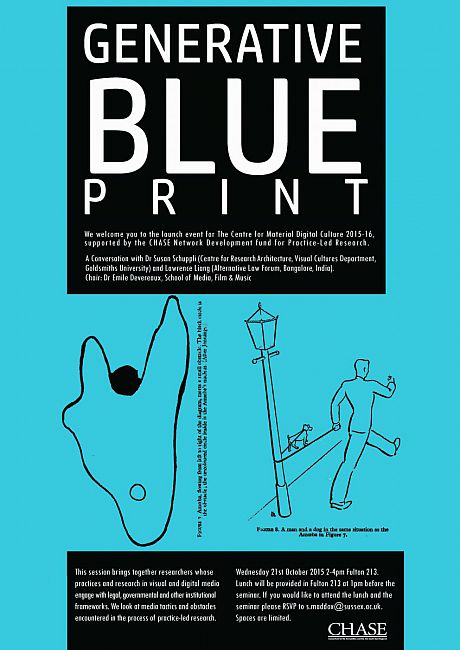 GENERATIVE BLUEPRINT
A CONVERSATION ABOUT PRACTICES
Dr Susan Schuppli [Centre for Research Architecture Goldsmiths, University of London]
Lawrence Liang [Alternative Law Forum, Bangalore, India]
The CHASE Network Development fund for Practice-Led Research and The Public Culture Hub welcome you to the launch event for The Centre for Material Digital Culture 2015-16. Doctoral researchers are encouraged to consider visual and other practical approaches to their research; practice-led researchers are invited to consider ways of extending their methods in new directions.
This session brings together researchers whose Practices and research in visual and digital media engage with legal, governmental and other institutional frameworks. We look at media tactics and obstacles encountered in the process of practice-led research. What are the cultural practices of Law and how might Visual Practices intervene in writing practices?
Chaired by Dr Emile Devereaux [Centre for Material, Digital Culture, School of Media, Film & Music]
Dr Susan Schuppli, Centre for Research Architecture, Department of Visual Cultures, Goldsmiths, is a creative practitioner, curator, and scholarly writer whose research focuses on the evidential dimensions of media materials emerging out of sites of political violence and conflict. Of particular interest are projects that examine architectures of media in recognition of the increasing significance that media plays in our access to and analysis of spaces of political conflict. From the micro-scale of buildings and infrastructure to the macro-scale of borders and global flows, space is understood as an elastic medium constantly reshaped by political and mediatic forces. Her book publication, Material Witness, is forthcoming with MIT Press.
http://susanschuppli.com/
http://www.forensic-architecture.org/
Lawrence Liang, Co-founder of the Alternative Law Forum in Bangalore, India, is a lawyer and scholar whose key areas of interest are sexuality and gender law, media law, popular culture and piracy.
https://altlawforum.academia.edu/lawrencelaing
PLEASE NOTE THIS SEMINAR INCLUDES LUNCH AT 1pm BEFORE THE SEMINAR. PLEASE EMAIL s.maddox@sussex.ac.uk if you would like to attend the lunch and seminar.