Professor Keith Jones: Pro-Vice-Chancellor (Research and Enterprise)
Keith joined the University of Sussex in October 2020 as Pro-Vice-Chancellor (Research and Enterprise).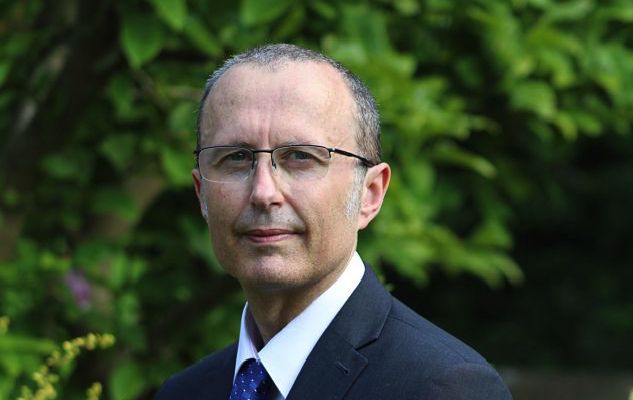 Previous to his present appointment Keith has held senior university leadership positions both in the UK and Australia. He joined the University of Sussex following posts as Executive Dean in the Faculty of Sciences at the University of Adelaide in Australia and as Head of School in Biological Sciences at the University of Southampton. Prior to these he held Professorial roles at the University of Newcastle-upon-Tyne in the Institute for Cell and Molecular Biosciences and the University of Newcastle Australia, where he was co-Director of the Priority Research Centre in Reproductive Biology.
His personal research is in the study of how oocytes grow into mature eggs and the process by which fertilization is triggered. Keith is currently Editor-in-Chief of the journal Molecular Human Reproduction, and he has contributed over 60 research articles, 20 reviews and 5 book chapters to his field. In the UK he has received funding from the BBSRC, MRC, Wellcome Trust, and Leverhulme Trust; and while in Australia from the ARC and NHMRC.
He has been a member of the BBSRC Genes, Development and STEM approaches to Biology Committee as well as the ARC's College of Experts. In 2012 while at Newcastle Australia he also served on the national assessment panel for ERA.
He holds an Honorary Professorship from the Chinese Academies of Sciences, Institute of Zoology, in recognition of his contributions to his field.
As a first-in-family to attend university and parent of two daughters, Keith is passionate about the importance of gender equity, diversity and inclusion in academia. He helped Biological Sciences in Southampton secure a Bronze then Silver Athena SWAN award during his tenure there and was part of the University of Adelaide's team to be given a SAGE (Science in Australia Gender Equity) award.
Publications
Research articles since 2010
Manil-Ségalen M, Łuksza M, Kannaan J, Marthiens V, Lane SIR, Jones KT, Terret ME, Basto R, & Verlhac MH (2018) Chromosome structural anomalies due to aberrant spindle forces exerted at gene editing sites in meiosis. Journal Cell Biology 217:3416-3430
Wu, T, Lane SIR, Morgan SL & Jones KT (2018) Spindle tubulin and MTOC asymmetries may explain meiotic drive in oocytes. Nature Communications 9:2952
Lane SIR & Jones KT (2017) Chromosome biorientation and APC activity remain uncoupled in oocytes with reduced volume. Journal Cell Biology 216:3949-3957
Lane SIR, Morgan SL, Wu T, Collins JK, Merriman JA, ElInati E, Turner JM & Jones KT (2017) DNA damage induces a kinetochore-based ATM/ATR-independent SAC arrest unique to the first meiotic division in mouse oocytes. Development 144:3475-3486
Hamdan M, Jones KT, Cheong Y & Lane SIR (2016) The sensitivity of the DNA damage checkpoint prevents oocyte maturation in endometriosis. Scientific Reports 6:36994
Zarate-Garcia L, Lane SIR, Merriman JA & Jones KT (2016) FACS-sorted putative oogonial stem cells from the ovary are neither DDX4-positive nor germ cells. Scientific Reports 6:27991
Collins JK, Lane SIR, Merriman JA & Jones KT (2015) DNA damage induces a meiotic arrest in mouse oocytes mediated by the spindle assembly checkpoint. Nature Communications 6:8553
Lane SIR & Jones KT (2014) Non-canonical function of spindle assembly checkpoint proteins after APC activation reduces aneuploidy in mouse oocytes. Nature Communications, 5:3444
Yun Y, Holt JE, Lane SIR, McLaughlin EA, Merriman JA & Jones KT (2014) Reduced ability to recover from spindle disruption and loss of kinetochore spindle assembly checkpoint proteins in oocytes from aged mice. Cell Cycle 13:1938-47
Holt JE, Pye V, Boon E, Stewart JL, García-Higuera I, Moreno S, Rodríguez R, Jones KT & McLaughlin EA (2014) The APC/C activator FZR1 is essential for meiotic prophase I in mice. Development 141:1354-65
Yun Y, Lane SIR & Jones KT (2014) Premature dyad separation in meiosis II is the major segregation error with maternal age in mouse oocytes. Development 141:191-208
Jamsai D, O'Connor A, DeBoer KD, Smith SJ, Clark B, Browne CM, Merriman JA, Yuen WS, Koopman P, Jones KT & O'Bryan MK (2013) Loss of GGN leads to pre-implantation embryonic lethality and compromised male meiotic DNA double strand break repair in the mouse. PLoS One 8(2): e56955
Merriman JA, Lane SIR, Holt JE, Jennings PC, García-Higuera I, Moreno S, McLaughlin EA & Jones KT (2013) Reduced chromosome cohesion measured by interkinetochore distance is associated with aneuploidy even in oocytes from young mice. Biology of Reproduction 88(2):31
Lord T, Nixon B, Jones KT, Aitken RJ. (2013) Melatonin prevents post-ovulatory oocyte aging in the mouse and extends the window for optimal fertilization in vitro. Biology of Reproduction 88(3):67
Seah MKY, Holt JE, García-Higuera I, Moreno S & Jones KT (2012) The APC activator FZR1 is needed for preimplantation mouse embryo development. Journal of Cell Science 125:6030-7
Holt JE, Lane SIR, Jennings P, García-Higuera I, Moreno S & Jones KT (2012) APCFZR1 prevents non-disjunction in mouse oocytes by controlling meiotic spindle assembly timing. Molecular Biology of the Cell 23:3970-81
Yuen WS, Merriman JA, O'Bryan MK & Jones KT (2012) DNA double strand breaks but not interstrand crosslinks prevent progress through meiosis in fully grown mammalian oocytes. PLoSOne 7(8): e43875
Lane SI, Yun Y & Jones KT (2012) Timing of anaphase-promoting complex activation in mouse oocytes is predicted by microtubule-kinetochore attachment but not by bivalent alignment or tension. Development 139:1947-55
Merriman JA, Jennings PC, McLaughlin EA & Jones KT (2012) Effect of aging on superovulation efficiency, aneuploidy rates, and sister chromatid cohesion in mice aged up to 15-months. Biology of Reproduction 86(49):1-6
Liu W, Yin J, Zhao G, Yun Y, Wu S, Jones KT & Lei A (2012) Differential regulation of cyclin B1 degradation between the first and second meiotic divisions of bovine oocytes. Theriogenology 78:1171-81
Chang HY, Jennings PC, Weaver J, Verrills NM & Jones KT (2011) Essential role of protein phosphatase 2A in metaphase II arrest and activation of mouse eggs shown by okadaic acid, dominant negative PP2A and FTY720. Journal of Biological Chemistry 286:14705-12
Holt JE, Tran SMT, Stewart JL, Minahan K, García-Higuera I, Moreno S & Jones KT (2011) The APC/C activator FZR1 co-ordinates the timing of meiotic resumption during prophase I arrest in mammalian oocytes. Development 138:905-13
Jennings PC, Merriman JA, Beckett EL, Hansbro PM & Jones KT (2011) Increased zona pellucida thickness and meiotic spindle disruption in oocytes from cigarette smoking mice. Human Reproduction 26:878-84
Jamsai D, Sarraj MA, Merriner DJ, Drummond AE, Jones KT, McLachlan RI & O'Bryan MK (2011) GGN1 in the testis and ovary and its variance within the Australian fertile and infertile male population, International Journal of Andrology 34:624–32
Lane SI, Chang HY, Jennings PC & Jones KT (2010) The Aurora kinase inhibitor ZM447439 accelerates first meiosis in mouse oocytes by overriding the spindle assembly checkpoint. Reproduction 140:521–30
Holt JE, Weaver J & Jones KT (2010) Spatial regulation of APCCdh1 induced cyclin B1 degradation maintains G2 arrest in mouse oocytes. Development 137:1297-304