Summer graduation
The University of Sussex summer graduation, due to take place from Monday 20 July until Friday 24 July 2020, has been postponed.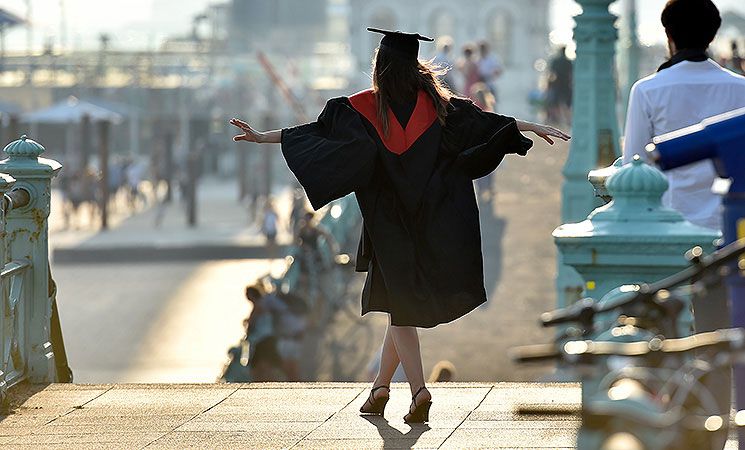 Ceremony schedule for 2020
Coronavirus
With regret, we have decided to postpone our July 2020 graduation ceremonies, due to concerns around Coronavirus (Covid-19).
At present, it is unknown how long the UK will be facing social distancing and travel restrictions as a result of these unprecedented times. Therefore we have taken the prudent decision that we would rather act now to prevent you and your guests having to make plans that may increase risk.
We sincerely apologise for any inconvenience caused. We are planning to invite students due to graduate in July 2020 to an extended winter 2021 graduation. If this is not possible due to government restrictions, we will invite students to an extended summer 2021 graduation.
Sussex Grad at Home
Congratulations to the Sussex Class of 2020
Video transcript

Sanjeev Bhaskar here, your Chancellor.

Massive congratulations on your results, really well done. Whilst this summer's ceremonies have been postponed, I look forward to seeing you at your graduation ceremony next year.

Now this is Josh. Hello Josh! He's a second-year student and he's also a digital media guru. He's going to be showing you this print-off Sussex Grad at Home DIY kit.

Remember that famous concrete sign as you walk into campus? Well now you can make your own! Cut around the dotted line and fold along the creases. Now glue the edges and ta-dah! Yes, it's smaller than the real one, but it's also much easier to carry.

I would love to attend your home ceremony if you'll invite me! Cut along the edges, easy round the head there Josh. Possibly even better than the real thing. You can tag me @tvsanjeev on Instagram or Twitter.

A Sussex celebration wouldn't be right without seagulls. There, it's like being on campus again. And some bunting, because who doesn't love bunting? Find anything that approximates to a gown and cap and voila!

Be as creative and fun as I know you Sussex students are. Tag @sussexuni and use the hashtag #SussexGradAtHome or you can email your videos or pics to graduation@sussex.ac.uk

We'll be sharing your home ceremonies throughout 'Graduation week' starting on July 20th. If you don't have a printer don't worry. From July 20th there will be some exciting graduation filters on Instagram. See you soon!
Use our Sussex Grad at Home kit [PDF, 1.5 MB] to bring some of that Sussex spirit to your living room.
---
Information about Summer Graduation 2020
---
You might also be interested in: