Summer graduation
The University of Sussex summer graduation is due to take place in July 2023 at the Brighton Centre.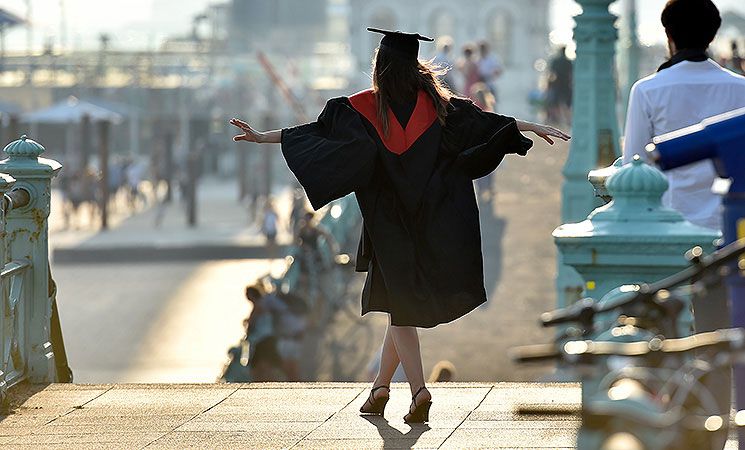 Important information
Covid-19
All our ceremonies will take place subject to prevailing UK Government national and/or local guidance in relation to Covid-19 and large-scale indoor events.
Find out our Covid safety policy.
Travel, accommodation and other costs
We recommend that you do not make any non-refundable travel or accommodation bookings and respectfully remind you and your guests of their responsibility for all bookings made in these circumstances. We are unable to reimburse any costs relating to attending graduation such as travel and accommodation payments.
Find out our terms and conditions.
Ceremony schedule for 2023
Monday 17 July 2023
Ceremony 1 at 1.30pm
Engineering and Informatics
Ceremony 2 at 4.30pm
Global Studies
Institute of Development Studies
Tuesday 18 July 2023
Ceremony 3 at 10am
Life Sciences
Ceremony 4 at 1.30pm
Law Politics and Sociology
Ceremony 5 at 4.30pm
Law, Politics and Sociology
Politics
Sociology and Criminology
Mathematical and Physical Sciences
Wednesday 19 July 2023
Ceremony 6 at 10am
University of Sussex Business School
Ceremony 7 at 1.30pm
University of Sussex Business School
Ceremony 8 at 4.30pm
University of Sussex Business School
Thursday 20 July 2023
Ceremony 9 at 10am
University of Sussex Business School
Ceremony 10 at 1.30pm
Media, Arts and Humanities
Art History
Drama
English Language and Linguistics
English Literature
History
Philosophy
Sussex Centre for American Studies
Ceremony 11 at 4.30pm
Media, Arts and Humanities
Cultural Studies and Journalism
Creative and Critical Practice
Film Studies
Media
Music
Friday 21 July 2023
Ceremony 12 at 10am
Psychology
Ceremony 13 at 1.30pm
Education and Social Work
Psychology
All postgraduate taught and research programmes
Brighton and Sussex Medical School
---
Key dates and deadlines
March 2023 – invites sent to personal and University email addresses
12 April 2023 – deadline to confirm your place and book your tickets
28 April 2023 – deadline to apply for a refund for unwanted guest tickets
2 May 2023 – from 10am extra tickets go on sale
23 June 2023 – deadline to book your gown and photography
PhD students
If you're a postgraduate research student who wants to graduate at a summer ceremony, you'll have to do the following by these dates:
5 June – corrections must have been submitted to the Research Student Administration Office
30 June – submit a final PDF copy of your thesis and the completed ETHOS Library form to the Research Student Administration Office.
For more information, email researchstudentoffice@sussex.ac.uk or visit the Research Student Administration Office website.
Attending graduation
Read our information about attendance and eligibility if you need advice about visas, money or any fees that you owe.
Collecting your certificate
If you're attending your ceremony, you will collect your certificate on graduation day, unless you have already received it before the ceremony.
If you choose not to attend your ceremony, you can either collect your certificate from the University or have it sent to you. Certificates are normally sent out after your graduation ceremony has taken place either by recorded delivery, or UPS if you have an international address.
If you have questions about receiving your certificate, contact the Student Systems and Records Office.
---
You might also be interested in: