Attendance and eligibility
Find out how you get invited to graduation and get advice if you think there will be a problem attending a ceremony.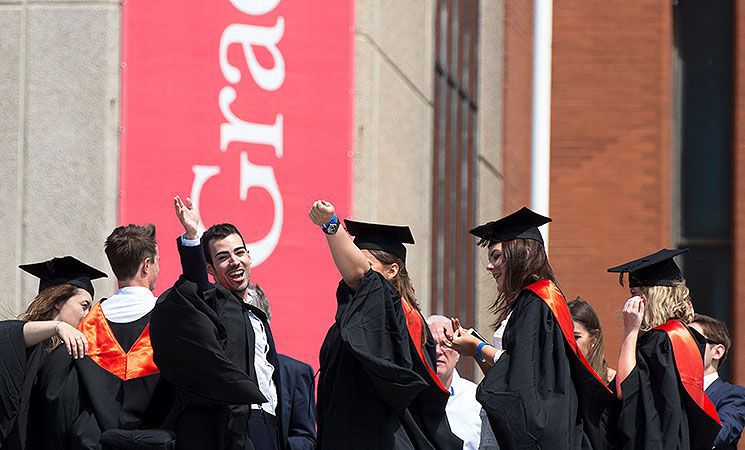 Attending a graduation ceremony
For summer graduation, you're invited on the condition that you pass your course.
If you have already passed your course, you're automatically eligible.
You will be invited to one of several ceremonies taking place after your course has finished.
Find out how to book your place.
PhD students
If you have completed your degree, you can choose when you wish to graduate. Check our key dates and deadlines for summer and winter ceremonies.
Resitting assessments
Some students earn enough credits to graduate but want to take resits that have been offered. You can still attend graduation and resit. If you are reclassified after your resit, you will be issued with a replacement certificate.
If you cannot attend
If you are unable to attend your graduation ceremony and would like to come to another one, email graduation@sussex.ac.uk.
If you can't make it and don't wish to attend another ceremony, log into Sussex Direct.
Select the Study tab and then the Graduation option and confirm your details.
Important: If you don't do this, you cannot receive your certificate.
Collecting your certificate
If you are attending your ceremony, you will collect your certificate on graduation day.
If you are not attending your ceremony, you can choose whether to collect your certificate from the University or have it sent to you. Certificates will be sent out after your graduation ceremony has taken place either by recorded delivery, or UPS if you have an international address.
If you have questions about receiving your certificate, contact the Student Systems and Records Office.
Getting a visa
You might need a new visa to come back and graduate if you left the UK after your course finished.
Find out how to get a visa for graduation. If you're bringing friends or family from abroad, they might need to apply for a visa as a graduation guest.
If you have not paid your tuition fees
You can read our policy about debt (under the section titled Academic Debt) if you think you owe money ahead of your ceremony.
If you need financial help
You can apply for a grant to assist with covering the cost of two guest tickets, gown hire and a basic photography package.
Download and fill in a Financial Assistance Application Form [DOCX 23KB] and return it to the Student Life Centre.
---
You might also be interested in: