Photography
Find out how to get your picture taken at a University of Sussex graduation ceremony.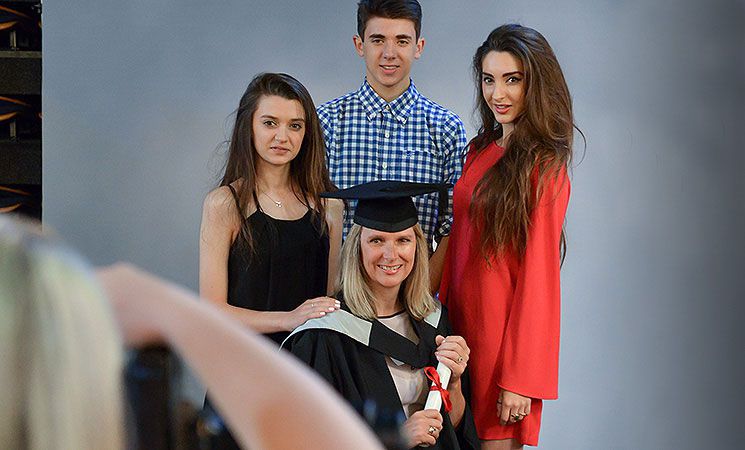 Getting your picture taken
You can have your photograph taken either before or after your graduation ceremony. If you have your photograph taken before your ceremony, you'll be able to spend more time celebrating afterwards.
Our official photographers, Ede & Ravenscroft, install a studio in the Brighton Centre, open before and after your ceremony.
Pre-paying online
We recommend pre-paying for your photographs through the Ede & Ravenscroft website at the same time as ordering your gown. This will make the process quicker for you on graduation day.
Ordering on the phone
You can also pre-book a photography by dialling:
01223 861854 between 9am and 5pm, Monday to Friday
1800 101223 861854 on a textphone to access the RNID Typetalk system if you have a hearing or speech impairment
+44(0)1223 440949 if you're an international student. This is the Ede & Ravenscroft 24-hour line for details of how to order.
For any photography queries please complete the online form and someone from Ede & Ravenscroft will get back to you.
Taking your own photographs and videos
You are welcome to take your own photographs and videos in the venue – and share them on social media.
However, you should:
not obstruct aisles or exits for health and safety reasons
consider other guests – do not distract them or block their view.
Filming
We film all our ceremonies. You can watch a ceremony online after the event.
Buying photos after the ceremony
You have an opportunity to buy a picture of you crossing the stage, captured by a professional photographer.
These are on display in the drinks reception after your ceremony. You can purchase them framed or unframed and walk away with them on the day. Alternatively, you can buy them online afterwards.
---
You might also be interested in: