On the day
Read our step-by-step guide to make sure you've got everything covered for your graduation day.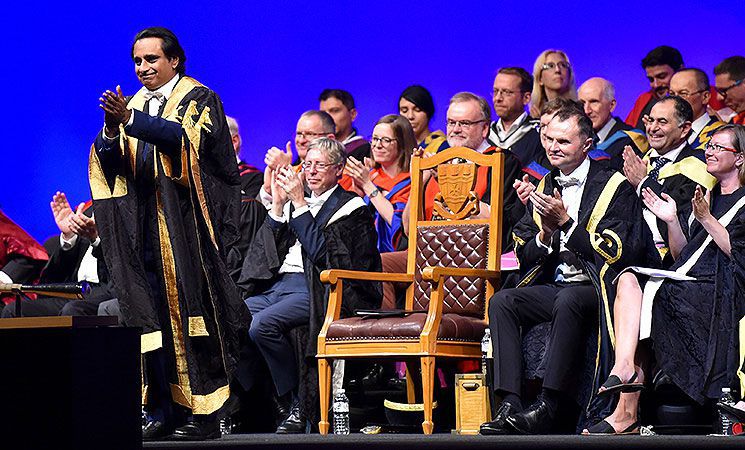 What to do on graduation day
A map of the venue [PDF 1.21MB] and this guide covers what to do on graduation day.
You need to:
Arrive in good time

You should arrive no later than 30 minutes before the start of your ceremony. Allow plenty of time for any transport issues around Brighton. It's best to plan how to get to the venue in advance.

Register and collect tickets

Bring your final confirmation email or a form of identification. You can show us emails on your phone; you don't need to print them out. If you have friends or family with you, they can wait in the guest area while you do this.

Gown collection

In the robing room you can collect your gown and get professionally dressed by a robing steward. You need to show your Ede & Ravenscroft gown confirmation email to collect your gown.

Get your picture taken

Go to the photography room to get photographed. You'll need to show your Ede & Ravenscroft photography confirmation email if you have a pre-booked package. Pre-book your photo package to save time on the day. On the way to the photography room, there's a free cloakroom for you and your guests to use.

Take your seat in the auditorium

There's a café and seating area on the ground floor of the Brighton Centre. Once the auditorium opens, you can make your way up the stairs (or use the lift) to take your seat. If you have guests, they will sit together in a separate part of the auditorium.

Walk across the stage

You will be directed to the stage by our team. When your name is called, you will cross the stage, collect your certificate (if you have not already received it) and return to your seat. Only your name and course is read out – not the outcome of your degree (for example, a First or 2:1). Names of graduands not attending will not be read out.

If you have been awarded a prize (such as a prize for best performance or best research project), this will be read out but you'll be given your actual prize on another day by whoever has awarded it.

You collect your certificate on graduation day as part of your ceremony, unless you have already received it before the ceremony. If you have questions about collecting your certificate, contact the Student Systems and Records Office.

Attend the drinks reception

Mingle with your friends, family and tutors. Browse merchandise including photos and visit the alumni stand among other things.

Time to celebrate

You've worked hard and now it's time to celebrate. Some people have a meal in Brighton or take advantage of our graduation discounts and offers.
See a student graduation walk-through
Timing on the day
| Ceremony time | 10am | 1.30pm | 4.30pm |
| --- | --- | --- | --- |
| Arrival – register, collect tickets, collect gown | From 8am, latest 9.15am | From 11.30am, latest 12.45pm | From 2.30pm, latest 3.45pm |
| Auditorium doors open | 9.30am | 1pm | 4pm |
| Graduands to be seated | 9.40am | 1.10pm | 4.10pm |
| Ceremony starts | 10am | 1.30pm | 4.30pm |
| Ceremony ends | about 12 noon | about 3.30pm | about 6.30pm |
| Drinks reception ends | 1.30pm | 5pm | 8pm |
Arriving late
If you turn up with less than 30 minutes until the start of your ceremony, you will be issued with a late ticket. You'll still graduate but you won't be seated with your friends and your award will be presented separately at the end of the ceremony.
If, due to unforeseen circumstances (such as a major transport incident), you do arrive late, we will do everything possible for you to cross the stage. Try to call 01273 877015 to let us know you will be late. You would sit with other late arrivals.
Live webcast
You can direct friends and relatives to a live webcast of your ceremony. Webcasts are also available to download later on or buy on DVD.
---
You might also be interested in: