SPRiG Seminar Series
Our SPRiG Seminar Series provides an opportunity for SPRiG members to meet and discuss the latest research, critical approaches and service-user perspectives. They are free to attend and all are welcome. See here for a list of upcoming seminars.
We ask our speakers to share their slides with us where possible. Here you can find a list of previous SPRiG seminars, and links to download the slides.
2020
---
EMPOWER: Early signs Monitoring to Prevent relapse in psychosis and prOmote Wellbeing, Engagement and Recovery | May 27th
Professor Andrew Gumley, Professor of Psychological Therapy, University of Glasgow
Related papers: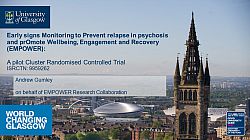 Trauma-Focused CBT: Conceptual underpinnings, key interventions, and extending its reach | February 26th
Dr Nick Grey, Clinical Psychologist and Clinical Research Fellow, Sussex Partnership NHS Foundation Trust
Glossary of trauma-related terms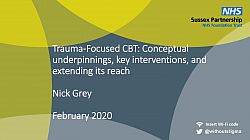 2019
---
Therapists' experience of hope working with complex clients | November 20th
Dr Catarina Sacadura, Research Clinical Psychologist, Sussex Partnership NHS Foundation Trust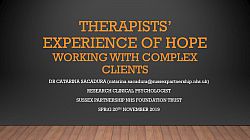 Treatment choices in psychosis | October 30th
Professor Kathryn Greenwood, Clinical Psychologist, Senior Research Fellow, University of Sussex and Sussex Partnership NHS Foundation Trust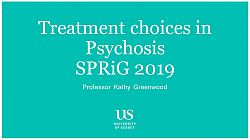 Metacognition and psychosis-spectrum experiences in clinical and non-clinical populations | September 25th
Dr Emma Palmer-Cooper, Lecturer in Psychology, University of Southampton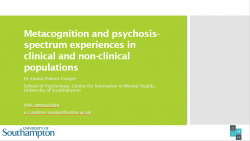 Trading Places: Understanding psychosis risk amongst migrants and their descendants | March 6th
Dr James Kirkbride, Sir Henry Dale Fellow (Wellcome Trust and Royal Society) and Reader in Epidemiology in the Division of Psychiatry at University College London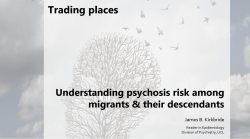 Caring for Caregivers (C4C): Pilot randomised Controlled Trial of Positive Written Disclosure for Carers of People with Psychosis | January 30th
Dr. Christina Jones, Senior Lecturer, University of Surrey.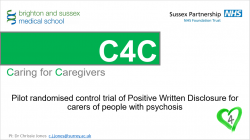 2018
---
Hearing the Voice: Exploring the Phenomenology, Cognition and Neuroscience of Non-Clinical Hallucinatory Experiences | November 28th
Dr Ben Alderson-Day, Assistant Professor, Durham University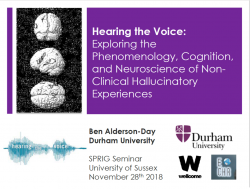 "What is a mental health crisis?": Insights from Section 136 in Sussex | January 31st
Professor Gillian Bendelow, Professor of Sociology of Health and Medicine, University of Brighton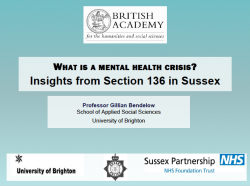 Changing our thinking about distressing paranoia: the SlowMo Study | January 24th
Professor Philippa Garety PhD CPsychol FBPsS, Professor of Clinical Psychology, King's College, London. Clinical Director and Joint Leader, Psychosis Clinical Academic Group, King's Health Partners and South London and Maudsley NHS Foundation Trust.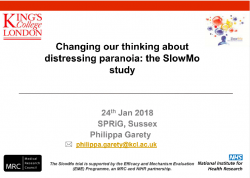 2017
---
New research on the pros and cons of long-term antipsychotic treatment and an outline of the RADAR study | September 27th
Dr Joanna Moncrieff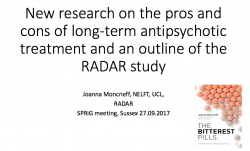 The use of peer-delivered intervention following psychiatric crisis | June 28th
Dr Oliver Mason, Reader in Clinical Psychology, University of Surrey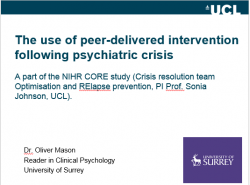 2016
---
Computer assisted therapy for auditory hallucinations: the AVATAR clinical trial | October 26th
Professor Tom Craig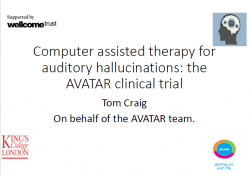 Soteria: Being with, not doing to. Combining compassion and evidence in approaches to psychosis | April 28th
Katy Baboulene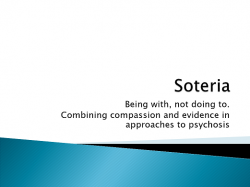 2015
---
Overcoming barriers to implementation of psychological therapies for psychosis | January 29th
Dr Kathryn Greenwood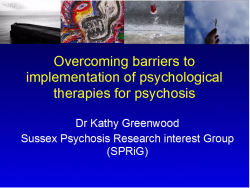 2014
---
Social inclusion for young people with and without psychosis | March 27th
Dr Clio Berry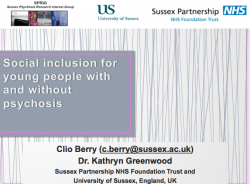 Accounts of conspiracy beliefs within the general population: A Grounded Theory | February 24th
Dr Louise McCusker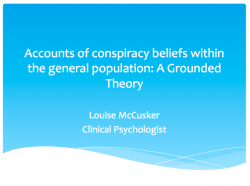 2013
---
Social recovery in early psychosis: Assessment and intervention | December 5th
Dr Jo Hodgekins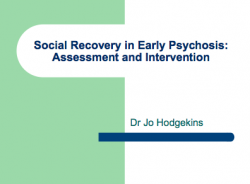 Cannabis use reduction and relapse prevention in psychosis | September 26th
Alyssa Milton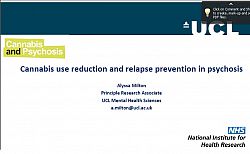 Social cognition in early psychosis: a potential target for early intervention? | April 19th
Dr Andrew Thompson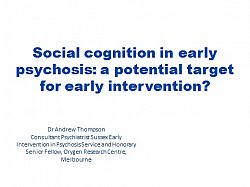 Parents' communication to primary school-aged children about mental health & ill-health | March 22nd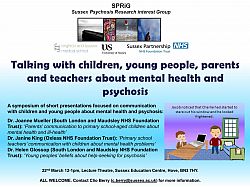 How do teachers communicate with children about mental health problems and what influences this? | March 22nd
Dr Janine King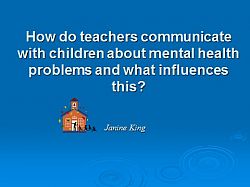 Young peoples' beliefs about help-seeking for psychosis | March 22nd
Dr Helen Glossop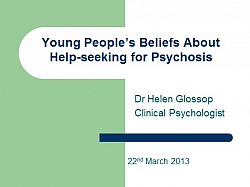 Cognitive therapy for psychosis... or 'Good Clinical Practice' | January 25th
Professor David Kingdon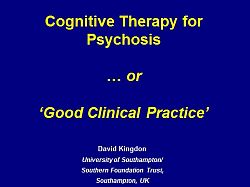 2012
---
Childhood maltreatment and psychosis | November 30th
Dr Helen Fisher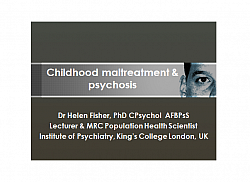 The therapeutic relationship and patient-reported outcomes in the treatment of patients with psychosis | September 13th
Professor Stefan Priebe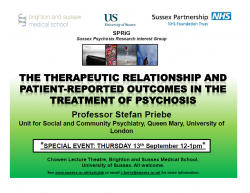 Molecular mechanisms underlying the behavioural effects of cannabis: Modelling a risk factor in schizophrenia | June 29th
Dr Cathy Fernandes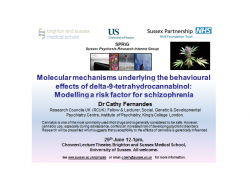 The role of perseverative thinking processes in paranoia | April 27th
Dr Kate Cavanagh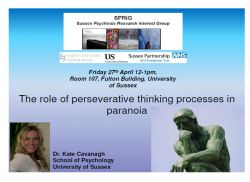 Appraisals, psychotic symptoms and affect in daily life, and changes during CBT | February 24th
Dr Emanuelle Peters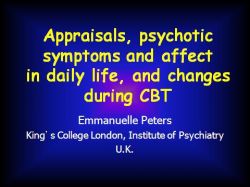 Reading faces: The relationship between individual differences in psychosis proneness and face processing | January 27th
Dr Sam Hutton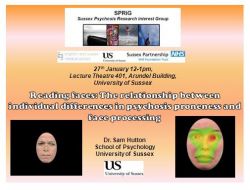 2011
---
Towards a theory of mental health professionals' understanding of psychotic experiences | November 25th
Dr Clark Davison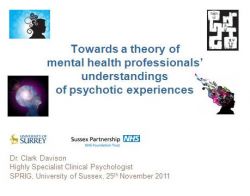 Early detection of psychosis in Brixton Prison | September 30th
Manuela Jarrett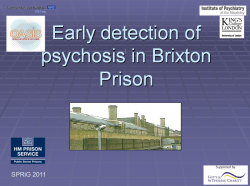 Prevalence of autism spectrum disorders & autistic traits in a youth mental health service | June 25th
Dr Rick Fraser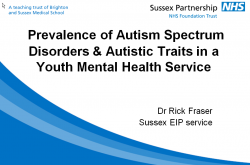 The experience of hearing voices: Daring to talk back | April 1st
Dr Mark Hayward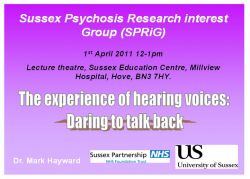 Predicting psychosis using neurobiology: Where are we now? | February 25th
Professor Stephen Wood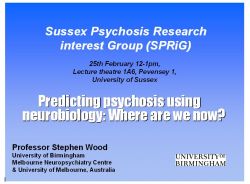 2010
---
Attachment in psychosis and therapeutic relationships | November 26th
Dr Katherine Berry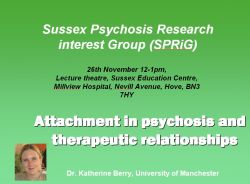 Non-SPRiG Presentations
Occasionally, our members will present at conferences, events and seminars outside of SPRiG. Here you can find a collection of slides from those events.
2012
The route to psychosis: What differentiates individuals with psychotic experiences with and without a 'need for care'? | June 14th
Sussex Partnership NHS Foundation Trust Research & Development Conference
Dr Emanuelle Peters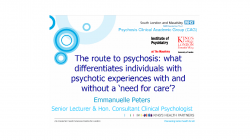 Early intervention for Stigma: Talking to children about severe mental illness | May 31st
Clinical and Developmental Research in Progress, University of Sussex
Dr Kathryn Greenwood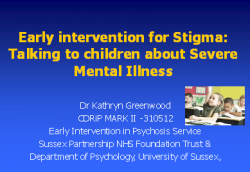 2011
---
Food for thought: Psychological approaches to cognitive decline in schizophrenia | June 23rd
Sussex Partnership NHS Foundation Trust Research & Development Conference
Professor Til Wykes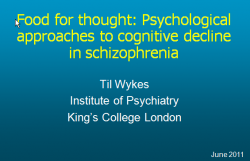 Improving engagement of young people in early interventions: the EYE project | June 23rd
Sussex Partnership NHS Foundation Trust Research & Development Conference
Dr Kathryn Greenwood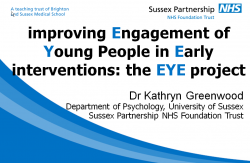 Impaired functioning in schizophrenia: Models, Mechanisms and Measurement | June 9th
Clinical and Developmental Research in Progress
Dr Kathryn Greenwood