The SPRiG group (i) generates and initiates new cutting edge clinical and empirical psychosis research, as well as (ii) hosting nationally and locally relevant, funded psychosis research generated elsewhere and screened through SPRiG to be appropriate to our local services, and (iii) supports student research including DPhil students and MSc Students in Foundations of Clinical Psychology and Mental Health at the University of Sussex; and Clinical Psychology Doctoral students from the Universities of Surrey and Canterbury (Salomons).
SPRiG research encompasses all Sussex Partnership NHS Foundation Trust research that falls within the Psychotic Experiences theme, and is a collaboration between Sussex Partnership NHS Foundation Trust and researchers from Brighton and Sussex Medical School and the Department of Psychology, University of Sussex.
Many of our research studies will have direct implications for client care and service delivery in the near future. SPRiG research with a more direct and immediate impact includes studies which focus on new or improved therapeutic interventions to help people who experience psychosis. Other studies will be focused on developing a theory relating to psychosis and recovery from psychosis or finding out more about a research area that will have clinical implications farther in the future. Many studieswill have direct and timely implications for clinical services in the Sussex area as well as nationally, and potentially, internationally.
Clinical implications of specific projects:
SPRiG generated (funded or unfunded) studies
The EYE Project (improving Engagement of Young people in Early interventions) (SPRiG Director: Dr. Kathryn Greenwood, E: k.e.greenwood@sussex.ac.uk)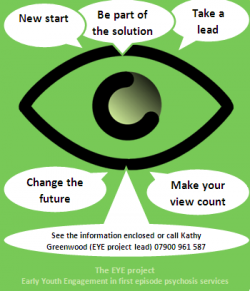 The EYE Project is focused on exploring reasons why people who have experienced a first episode of psychosis disengage from the specialist services.

designed to help with this kind of experience. The primary aim of the project is to work with young people, carers and professionals to develop current services in order to be as accessible to young people as possible. It is anticipated that this will maximise the engagement of young people with Early Intervention in Psychosis services and will allow other service providers to learn from what will be accomplished in Sussex.
The study and subsequent youth-focussed shaping of EIP services aims to increase the number of people who engage and the quality of their engagement experience, thus affecting long term outcomes for service users. Service users and families will benefit from more information and options for engagement to better meet their needs, leading to better outcomes. Clinicians will be better equipped to engage with young people and their families. They will receive user-friendly, pragmatic guidance and tools in the form of training, consultancy, a booklet and a website to help them engage more easily with young people and their families. This will result in more effective and efficient approaches to engagement, fewer failed attempts and more service user and staff satisfaction. The study will pilot the intervention and assess the feasibility of delivery to improve engagement in EIP services. It will report on outcomes and will inform the development of a randomised controlled trial. This study will be operating in Sussex over the next 3 years.
Mindfulness for Voices (M4V) (Leanne Bogen-Johnston, E: Leanne.Bogen-Johnston@sussexpartnership.nhs.uk
M4V, a National Institute of Health Research study which is worth £183,000, aims to investigate the effectiveness of a psychological intervention that uses mindfulness meditation within group based therapy to help people diagnosed with schizophrenia who hear voices. The intervention incorporates elements of CBT but emphasises the principles and practices of mindfulness meditation.
Research Assistants are currently recruiting service users distressed by hearing voices from Sussex and Hampshire into a randomised controlled trial. If mindfulness therapy is effective, then support will be offered to mental health teams to provide group therapy to people. By offering training in the mindfulness for voices approach, the study aims to facilitate local services with setting up and running mindfulness for voices groups. This study is currently running in the Sussex area.
Written Emotional Disclosure (WED) for Carers (Charlotte Wilcox, E: charlotte.wilcox@sussexpartnership.nhs.uk)
The WED study for Carers is investigating the benefits of writing tasks for psychological and physical wellbeing. This pilot randomised controlled trial (RCT) is trialling a diary-based intervention with parent carers of people experiencing psychosis. It is currently running in Sussex.
SPRiG hosted (funded) studies
Hosting research studies from other institutions, such as the IMPACT trial from the Institute of Psychiatry, also enable SPRiG researchers and clinicians to impact on other cutting edge interventions and large scale studies, whilst also gaining knowledge and resources that will impact on clinical care.

CIRCuiTS (Computerised Interactive Remediation Training of Cognition Training for Schizophrenia) (Philippa Case, E: philippa.case@sussexpartnership.nhs.uk)
The CIRCuiTS study investigates the effectiveness of a newly designed computer based therapy for people diagnosed with schizophrenia who report having problems with their memory, attention or planning. The computer program is based upon cognitive remediation therapy, an evidence based intervention for the cognitive impairments associated with negative symptoms of schizophrenia. This study is currently running in the Sussex area.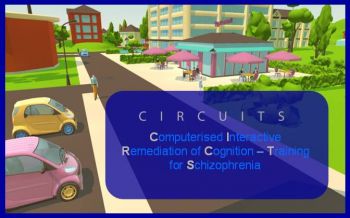 IMPACT (Improving physical health and reducing substance use in psychosis) (Philippa Case, E: philippa.case@sussexpartnership.nhs.uk)
The IMPACT study has led to the development of a manualised intervention to improve physical health for people who experience psychosis. Training using this intervention will be provided to mental health professionals in the Sussex area to use with mental health service users in the future. This study is currently running in the Sussex area.