2019
March 6th 2019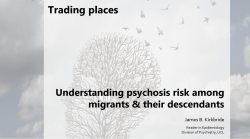 Dr James Kirkbride, Sir Henry Dale Fellow (Wellcome Trust and Royal Society) and Reader in Epidemiology in the Division of Psychiatry at University College London.
Trading Places: Understanding psychosis risk amongst migrants and their descendants.
Slides: available here.
January 30th 2019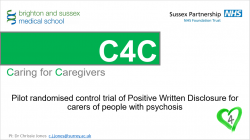 Dr. Christina Jones, Senior Lecturer, University of Surrey.
Caring for Caregivers (C4C): Pilot randomised Controlled Trial of Positive Written Disclosure for Carers of People with Psychosis.
Slides: available here.
Psychosis research presentations: