PGCE courses
Train to be a teacher on one of our teaching courses. We offer a range of routes into teaching, including primary and secondary school teaching.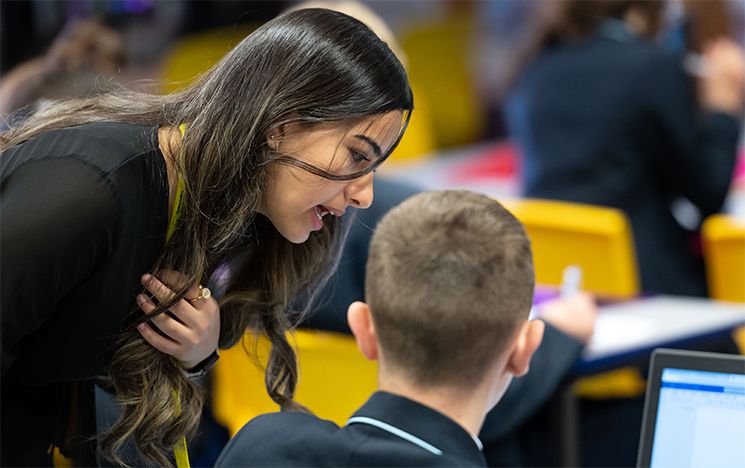 Our PGCE courses prepare you for a successful career as a teacher.
Experienced mentors and professional tutors will run your school-based teacher education. You'll learn to teach in schools in Sussex, Brighton & Hove, Surrey, Hampshire or Kent. University tutors will support you throughout the year.
We have a proud history of innovation for all our teacher training. We pioneered the model of school-based teaching over 50 years ago, which has now been adopted by all training providers in England.
You can also study on our Early Years Education (with Early Years Teacher Status) MA. This Government-funded course allows recent graduates and practitioners that are already employed in Early Years settings to train as Early Years teachers in one academic year, alongside studying for a full academic Master's degree. Find out more:
What is a PGCE?
A PGCE (Postgraduate Certificate in Education) is a qualification that will give you qualified teacher status (QTS), allowing you to teach in UK schools. You'll combine the practical experience of school placements with learning the cutting-edge theory behind teaching and education. You can choose to study full-time or part-time.
As part of the application process, you will need to submit a personal statement and attend an interview. Learn more about how to apply for teacher training.
Find out more about teacher training at Sussex.
Contact iteadmissions@sussex.ac.uk if you have any questions about our courses.
Our PGCE courses
On our PGCE courses you'll train to be a teacher through a combination of taught sessions at the University and school-led professional development and classroom practice. You'll start your course with a two to three week induction in September, followed by a programme of lectures, seminars and workshops. These involve presentations, group work, micro teaching, classroom modelling and peer teaching, where you'll explore different ideas and reflect on your own experiences.
Over the course of the academic year, you will undertake two periods of professional practice in two different school, supported by a mentor (in secondary courses, this will be a subject specialist). They'll offer you tutorial support and develop a programme of practice-based professional studies for you. Your progress will be assessed through observations, feedback and discussion. You will create and maintain a portfolio of evidence demonstrating how you have met the various Teachers' Standards.
You will benefit from an initial 'serial placement', where your working week is divided between four days in school and a day of reflection at the University. Towards the end of the course, you will experience a full-time teacher's timetable during a 'block placement'.
You will engage with the theoretical foundations of classroom practice, and demonstrate the depth of your professional knowledge by completing three academic assignments during the course. Successful trainees will be recommended for Qualified Teacher Status (QTS).
Learn more about our each of our postgraduate teacher training courses:
Explore more subjects at Sussex: