Summer School: Global Health and Medical Studies
Discover our Global Health and Medical Studies Summer School modules below, and if you're unsure what to study, follow our top tips for how to choose a module.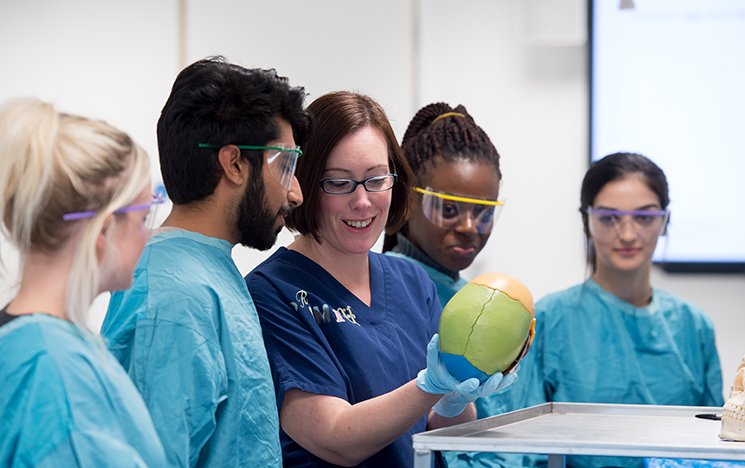 Browse our modules
You can see our Global Health and Medical Studies modules below.
Session One
1 July - 19 July 2024
Global Health: Critical Reflections

Module code: IS446

(This module is multidisciplinary and there is no requirement for prior medical knowledge)

The health and wellbeing of people differs widely across the globe. Do you want to know why such differences exist and what you could do to reduce such disparities and contribute to make this world a better place to live in?

In this summer school, we will explore the social, political, economic and cultural elements that explain global health disparities. We will introduce you to the concepts of globalisation and global health, illustrate the global burden of disease, and by doing so, we will deepen your understanding of the inequities and inequalities between and within countries and why we think they exist. Then, we will focus on the main global health stakeholders and ´global health´ governance. We will explore diverse science paradigms that have dominated the way we analyse and comprehend the process of being healthy and ill, as well as how we approach global health issues. We will touch on concepts such as determinants of health vs determination of health (a Latin-American theoretical construct), decolonialism and equitable discourses in global health. We will demonstrate using current global health case studies in the field and highlight the research skills and evidence needed to inform policy and practice. The course will be delivered by global health experts at BSMS and our collaborators from Universidad del Rosario, School of Medicine and Health Sciences, Bogotá, Colombia led by Maria Cristina Quevedo-Gomez.

Topics may include:

Introduction to global health
Global burden of disease
Unequal world: colonialism, power, justice and ethics in global health
Stakeholders in global health (global health governance)
Doing global health research: equitable partnerships, collaboration and community participation - Practical examples from UK, Latin America and Sub-Saharan Africa
Culture, cultural competence and global health
Global health in action- learning through film (film from the field)
Latin-American scholars' contribution to global health theory and action-research

Learning outcomes:

Demonstrate excellent understanding of current global health problems and their contributing factors
Demonstrate ability to critic terminologies and concepts used in global health e.g., equity, public health versus global health, developing versus developed countries, international health vs global health, interventions vs collective social action, social determinants approach vs social determination approach etc.
Understand the role of social, cultural, political, economic and other elements as determinants of health
Critically evaluate the diverse scientific and social paradigms that inform how we approach global health issues and employ a critical lens is assessing the role of decolonial discourses, power and equitable partnerships in global health
Demonstrate understanding of global health research process including participatory action-research and the challenges of doing research in global contexts

Teaching method: Seminars, Workshops and Lectures
Assessment: Observation 1 40%, Observation 2 40%, Reflective statement 20%
Contact hours: 40 hours
Credits: 15 Sussex Credits
Level: 5

Fundamentals of Medical Imaging with hands-on MRI

Module code: IS453

Medical Imaging is an umbrella term encompassing different techniques that depict the human body in order to diagnose and monitor medical conditions. Medical imaging plays a central role in medicine and global healthcare and has become indispensable in assessing and documenting the course of a wide range of diseases and response to treatment. Furthermore, medical imaging provides scientists with the tools necessary to develop, test, and track novel treatments for diseases such as cancer, dementias, cardiovascular and cerebrovascular diseases.

Medical imaging is arguably the most multi-disciplinary field in modern science and technology. Development, implementation, and application of imaging methodology requires expertise from engineering, computer scientists, chemists, biologists, clinicians -- to mention a few. Medical imaging is also one of the areas where AI tools may prove crucial in narrowing the healthcare disparities across the globe. This course is designed with this diversity of students' backgrounds in mind.

The course will cover the fundamental principles of medical imaging, including the basics of the 4 major medical imaging methods: Ultrasound, X-Ray CT, PET, and MRI. The focus will be on MRI and how it is used to capture both the anatomy and function of the human brain. The course will also provide hands-on experience with acquiring brain images using a 3T MRI scanner. Students will learn how to process and characterize MRI images from healthy volunteers. Functional MRI (fMRI) data will be used to learn the basics of statistical analysis used in neuroscience research.

Students will have the opportunity to interact with the MRI team and also with clinicians and neuroscientists who use the MRI for research.

Learning outcomes:

Describe the fundamental physical principles that result in the image intensity variations seen in X-Ray, Ultrasound, Magnetic Resonance imaging (MRI), Positron Emission Tomography (PET) and Single Photon Emission Computed Tomography (SPECT)
Acquire anatomical images of the brain using a 3T MRI scanner and describe how mathematical concepts such as spatial resolution, signal to noise ratio (SNR), point spread function (PSF), are used to interpret the images.
Design a simple functional MRI paradigm (fMRI) and acquire fMRI images on a 3T scanner.

Describe how spatial and temporal resolution interact in fMRI acquisitions.

Apply mathematical tools, such as Fourier transform, and available software to analyse the fMRI images acquired on a 3T scanner.

Teaching method: Lecture and MRI scanning lab sessions
Assessment: Take home exam (30%), lab report (30%), presentation (30%), participation and engagement (10%)
Contact hours: 36 hours
Credits: 15 Sussex Credits
Labatory Fees: £250
Level: 5
The University of Sussex reserves the right to cancel modules due to staff availability, student demand, minimum enrolment, or updates to our curriculum. We'll make sure to let our applicants know of such changes to modules at the earliest opportunity.
---
---
You might also be interested in: