Studying during the COVID-19 crisis
Read about one of our international students' experiences of studying during the outbreak of the coronavirus pandemic.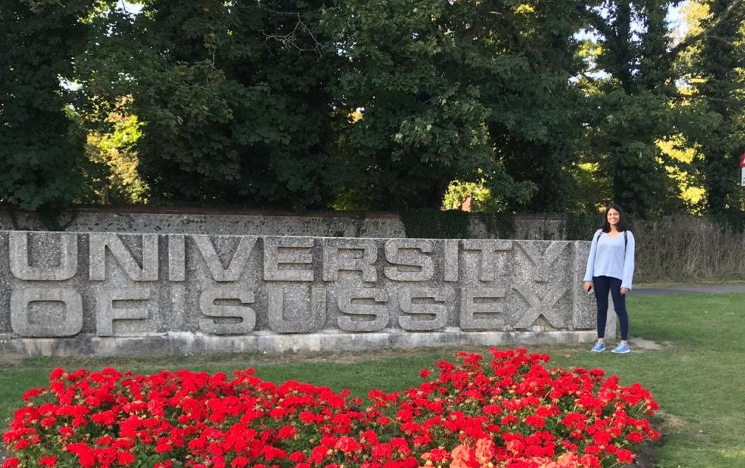 Shreya's story
On 12 March 2020, I received an email from my department informing us that all teaching would move online given that COVID-19 had been declared a global pandemic. I panicked! I was unsure of what to do – should I return home to India or stay in the UK? Do I stock up on essentials? What will my classes be like? I had absolutely no idea.
Almost immediately we received a series of emails from both my department and the University reassuring us that all essential services on campus, like the Co-op where I do most of my grocery shopping, and restaurants like Eat Central and Arts Piazza, my go-to dining options, would remain open. Campus and university-managed accommodation would also stay open. I was relieved as I continued to have my accommodation and did not have to worry about using public transport to stock up.
The only thing I would now have to get used to was online classes. My first online lecture was great. We used Microsoft Teams to set up a virtual classroom that came equipped with a handy whiteboard. It was not very different from a regular classroom setting, except that I was now able to "attend" class from my bedroom! Students would either post their questions on a chat group or unmute their mics to speak. The breakout sessions post the lecture for our seminars are conducted through video-call and the discussions were just as lively and animated. The mandatory five-minute break half-way through class was granted as usual, and we would unmute at the end of the class to applaud our lecturer – a tradition we decided to continue!
Of course, technical glitches did occur. A lecturer accidentally delivered her lecture for five minutes on mute, until we pointed it out to her on the chat! In another instance, a student was playing music during class (I now understand the importance of the "mute all participants" button), and I was briefly logged out of the chat thanks to my weak internet connection.
I should mention that I attended most of last week's lectures from India. Apart from getting used to the time difference and my spotty internet connection at home, I have had no trouble in class. The University has been very understanding of my needs and is recording the lectures so that I can replay it at a later date.
Overall, this new format of teaching has been working well for me. The virtual chat groups give us a space to continue discussions beyond the classroom, I can pose questions without having to disrupt the flow of the class, and I can set-up online meetings with my advisors. I raise all my concerns on email and the response time is so quick, I sometimes wonder if everyone is working round-the-clock! While I do miss my friends, I am still able to keep in touch as regularly as before through the multiple online platforms despite physically social distancing.
Personally, I like the University's approach in recognising that this is a learning process for everyone – our lecturers, for the students and for the University itself. They have been very accommodative and open to feedback and we have also been consulted on how classes should be conducted. Our department, for instance, recently held a virtual meeting where we could raise our concerns about meeting deadlines and other issues faced by international students while at home. I find this participatory approach inclusive and encouraging.
We are also continuously updated and made aware of any changes. When there is so much uncertainty around us, I find these emails to be comforting. We are constantly reassured that services even if not available physically, continue to be delivered online. For example, although the library is shut, we continue to have access to the thousands of online books and journals available. We can still make use of Skills Hub – a platform to learn new skills such as writing a dissertation to numeracy and statistics. The Student Life Centre is also offering its services and consultations online.
Over a week has passed since that dreadful email and in hindsight, I feel silly to have panicked. My learning has been mostly uninterrupted despite the pandemic thanks to the University's approach in adapting to these circumstances.
Advice and guidance
Have questions about coronavirus and how it may affect your studies? Visit our coronavirus advice and guidance pages on Student Hub.