Book Brighton Pride accommodation
Find out about staying in student flats at the University of Sussex over Brighton Pride weekend.
Cheap rooms for Pride 2019
Staying in student halls gives you a cost-effective alternative to hotels in Brighton.
Similar to a cheap hotel in the city centre, you get a clean, secure room with bedding and self-catering equipment included – with the bonus of having the South Downs on your doorstep to wind down.
Travel
Our campus is a nine-minute train journey from Falmer to Brighton Station. You can also travel on frequent all-night university bus routes into the city centre.
Find out how to get to the University of Sussex.
Parking
Parking on campus is free on weekends.
If you need parking during the week you can buy parking scratchcards from our Online Shop at a discounted rate of £2.50 a day. Buy these before you arrive and present the receipt at the Housing Office reception to collect your parking vouchers. You need to buy a minimum of two vouchers.
Find out more about visitor parking hours and restrictions.
Breakfast
You can add breakfast as an option to your room booking.
It is served in a restaurant in the centre of campus and offers a great full English breakfast with a wide selection of fruit and pastries plus tea and coffee.
It's served between 8am and 11pm. There's a supplementary charge for breakfast on top of your normal room booking. Choose this option when you fill in the form.
Room options
We have two residences available.
East Slope
Location: five minutes from the centre of campus
Opening hours: 24-hour reception
This is our newest building, which opened in 2018. There are five single bedrooms and two bathrooms on each floor. There are bedrooms on two floors and a shared kitchen on the ground floor in each of these townhouse-style flats.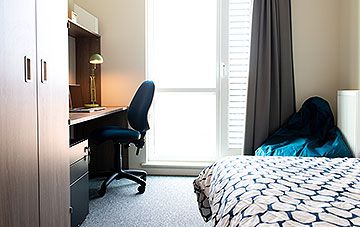 Swanborough
Location: centre of campus
Opening hours: 8.30am until 5pm, then collect keys from York House on campus
These flats are next to our Co-op supermarket and restaurants. There are six or seven bedrooms and a shared kitchen in each flat. Each bedroom has its own bathroom.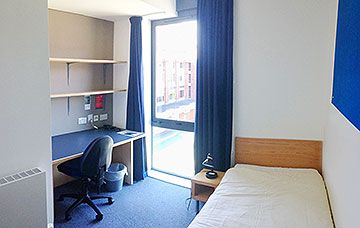 Cost
The prices, per night, are:
£47 – standard room
£57 – en suite room.
The minimum booking is two nights.
How to book
You have to apply to stay in our housing. We will then get back to you with a room offer and payment instructions, depending on availability.
---
You might also be interested in: